I love a good family recipe, and this one is just wonderful! Sweet potato pie is an all-American favorite, and this version from the Gaspard family is smooth, rich, and melt-in-your-mouth scrumptious. The dough is very crisp, and a nice contrast to the texture of the sweet potato, which has a custardy consistency that is just plain elegant. The garnish – a few coins of cooked sweet potato sprinkled with sugar and browned in the oven – add a toothsome sweetness to the tart that really puts it over the top. If you're looking to change up your Thanksgiving meal a bit, these sweet potato tarts are WHW –  White House worthy – and by that, I mean this is the kind of dish you could expect to find on a White House buffet.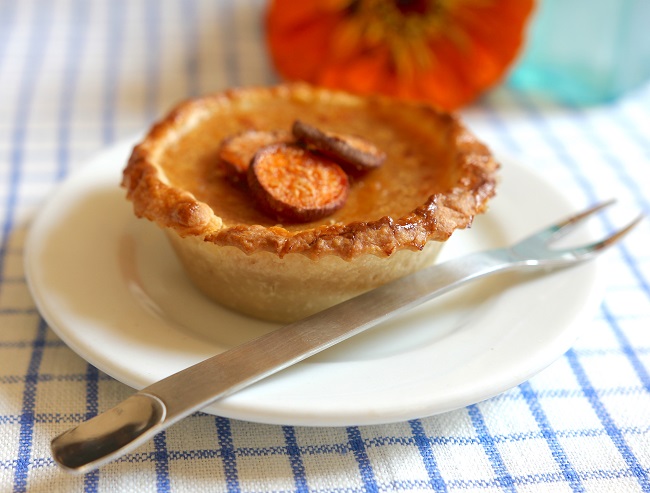 This comes to us from a Beverly Gaspard, matriarch to a Southern family (now located in LA!), all of whom relish a good Sunday night supper, especially together.
Beverly's Sweet Potato Tarts
Serves: Makes 12 tarts 
Prep time: one hour and thirty minutes, including one hour baking time 
Preheat oven to 325 degrees

Ingredients
1 8-ounce package of cream cheese
8 ounces of butter
1 cups flour
2 large sweet potatoes, plus one small, thin sweet potato for garnish
1 ½ cups sugar
1 6-ounce can sweetened condensed milk
5 eggs
1 Tablespoon cinnamon
1 Teaspoon nutmeg
1 Tablespoon vanilla
Directions
To make the dough:
Using the dough hook attachment of a mixer, mix cream cheese and butter. 
Add flour, a little at a time, until well-incorporated.  Press together to form a ball, wrap with plastic wrap and refrigerate for one hour.

For the filling:
Wash and scrub two sweet potatoes and cook with skin on until tender when a fork is inserted. 
Cool slightly.

Whip potatoes in mixer, and add sugar, milk, eggs, cinnamon, nutmeg and vanilla.  Mixture will be thin.

Spray muffin tins with non-stick spray.
Pinch off a small piece of dough and roll out to a round that will fit into each muffin tin. 
Pat dough along bottom and sides of each muffin mold.  Fill ¾ full with sweet potato mixture.
Bake at 325 degrees for 50 minutes until custard is firm and crust is golden brown.

For the sweet potato coins:
Roast a small sweet potato until soft when a fork is inserted into it (about 40 minutes) at 325 degrees. 
Allow to cool, then peel sweet potato and slice into coin-sized rounds.
Place on small baking sheet and sprinkle with sugar. 
Put sweet potato coins into a 450 degree oven until they brown (about ten minutes).  Remove from oven and place several coins on each tart as a garnish.