If Leonardo da Vinci ate pizza, this would have been his go-to pie, and not just because it's a delicious combination of Italian ingredients.  Spelt was the type of wheat grown in ancient and medieval Europe.  It's enjoying a food renaissance now because spelt requires less fertilizer to grow well, and thus has been embraced by organic food growers.  It's a much more flavorful wheat, crunchy and nutty, combining so beautifully with the flavors of fresh herbs, strong cheeses, olive oil, and sausage… all of the ingredients found in this pizza.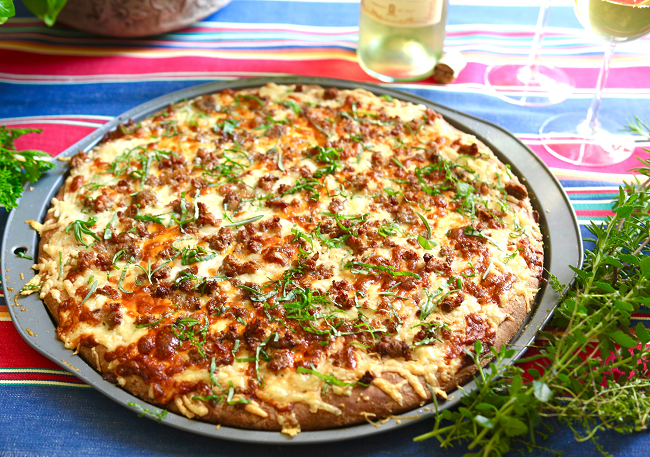 Spoiler alert: there are no tomatoes in this pizza, and you won't even notice because the combination of cheeses, in conjunction with the fresh herbs that are both in the dough and sprinkled on top just before serving, give so much flavor.  I used a mild Italian sausage, which was the perfect foil for the sturdy spelt taste, but if you like things spicier, hot Italian sausage would stand up nicely to the herbed dough.  It's a masterpiece!
Herbed Spelt Pizza with Italian Sausage
Serves: Makes one large pizza
Prep time: 30 minutes
For the pizza dough:

Ingredients
2 cups spelt flour
3 teaspoons quick-rising yeast
1 teaspoon salt
2 teaspoons sugar
1 teaspoon fresh rosemary, minced
1 tablespoon fresh basil, minced
2 tablespoons olive oil
1 cup warm water
1 tablespoon cornmeal
For the topping:
Ingredients
1 cup gouda cheese, shredded
½ cup fontina cheese, shredded
½ cup mozzarella cheese, shredded
½ pound milk Italian sausage, well-cooked and drained
1 tablespoon fresh basil, minced
1 tablespoon rosemary, chopped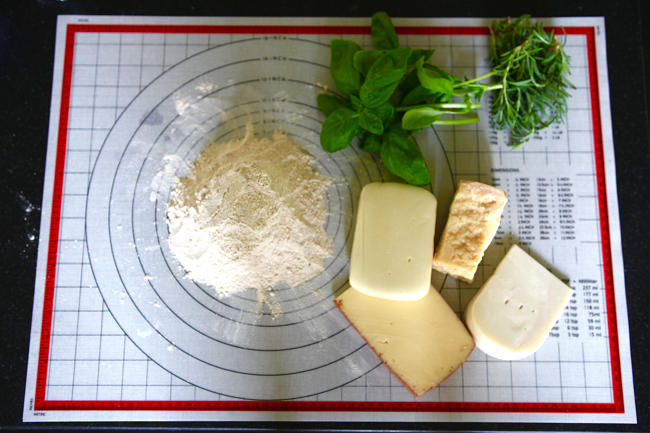 Directions
Preheat oven to 400 degrees.
To make the dough, mix flour, yeast, salt, sugar, rosemary and basil together.
Mix olive oil and warm water together and add to dry ingredients. 
Knead until smooth and allow dough to stand, covered for 15 minutes.

Spread cornmeal on the bottom of a greased pizza pan.
Press dough into the pan.
Top the dough with the cheese and sausage and bake for 20 minutes.
Garnish with basil and rosemary and serve.