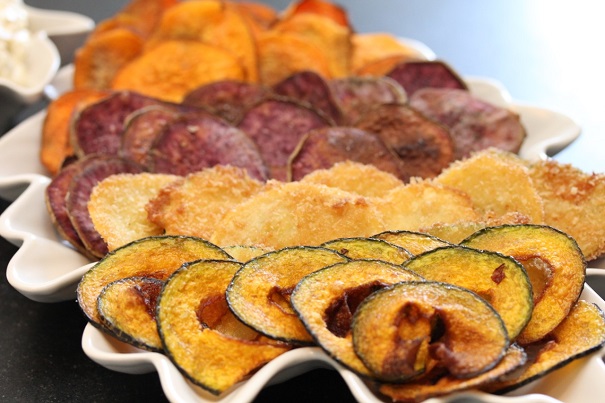 Serves: 4
Prep time: one hour for 4 veggies, 15 minutes for dip

Ingredients
1 large Japanese sweet potato (any sweet potato will work, but the Japanese yams are the brightest yellow inside), sliced thin
1 medium purple yam, sliced thin
1 large zucchini, sliced think
½ kabocha squash, sliced thin
1 teaspoon olive oil
salt
sprinkling of cayenne for the sweet potatoes
vegetable oil for frying kabocha squash and zucchini
1 cup flour
1 egg, beaten
1 cup panko crumbs
Directions
Using a mandolin, slice the vegetables as thinly as possible.

For the purple and yellow sweet potatoes, toss lightly with olive oil and salt.
Spread chips out on two baking sheets with silicon baking sheets underneath.
Chips should not overlap. Roast at 400 degrees, ten minutes on each side. Do not allow chips to turn brown.


Salt chips again, adding a light sprinkling of cayenne to the sweet potatoes.
Bread zucchini with salt, pepper, flour and then panko crumbs.
Heat one inch of vegetable oil in heavy-bottomed pan to high heat. Fry in batches for about one minute each, until golden brown. Drain on paper towels.

For kabocha squash, heat oil to medium high heat and fry for one minute.
Drain oil on paper towels and salt.
Sweet Onion and Yogurt Dip
Ingredients
1 tablespoon butter
1 tablespoon olive oil
2 sweet onions, chopped
½ teaspoon garlic, minced
2 teaspoons sugar
½ cube of chicken bouillon dissolved in ½ cup water
16 ounces plain Greek yogurt
8 ounces fat free cream cheese
Directions
Heat butter and oil in large skillet over medium heat.
Add onions, salt and pepper, garlic, sugar, and chicken broth and combine, stirring occasionally.
Let onions cook at medium low until brown, and cool.
In a separate bowl, mix yogurt and cream cheese until smooth, and fold in onion mixture.
Serve.