It's time to redress the excesses of the past few weeks with some clean eating! I find most veggie burgers disappointing; they either lack texture or lack taste, and you can't fake it by adding barbecue sauce to the mix. Here's a veggie burger that I can get on board with – the trick comes from SeriousEats.com (thank you!): they roast the black beans in the oven before assembling the burger. This takes the moisture (and hence the mushiness) out of the burger. I added toasted and ground mushrooms, and left the chilis and adobos behind as a matter of personal taste. Love them on a tostada or taco, but not so much on a cheeseburger.
My husband, who will do a lot of things for me, will not eat a veggie burger – until now. He wants all the flavor, texture and firmness of beef, and he wants it to taste exactly like a burger from Shake Shack. This is a pretty good, no-guilt approximation. I hope you'll give it a try.
You can make these and freeze them, to save time later.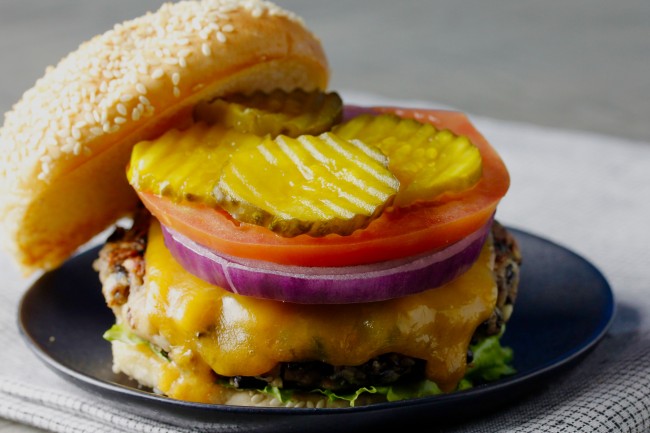 Prep time: 30 minutes 
Serves: 4 

Ingredients
2 15-ounce cans of seasoned black beans
½ cup feta cheese, crumbled
10 mushroom caps, sliced and roasted until dry
3 tablespoons vegetable oil
1 cup onion, finely chopped
2 cloves of garlic, minced
1 cup roasted cashews
2 eggs
2 tablespoons mayonnaise
¾ cup panko breadcrumbs
salt and pepper to taste
cheddar cheese slices
sesame seed buns
butter for spreading on the insides of the buns
1 tablespoon of butter for buns
sweet pickles, purple onion, iceberg lettuce and other condiments you like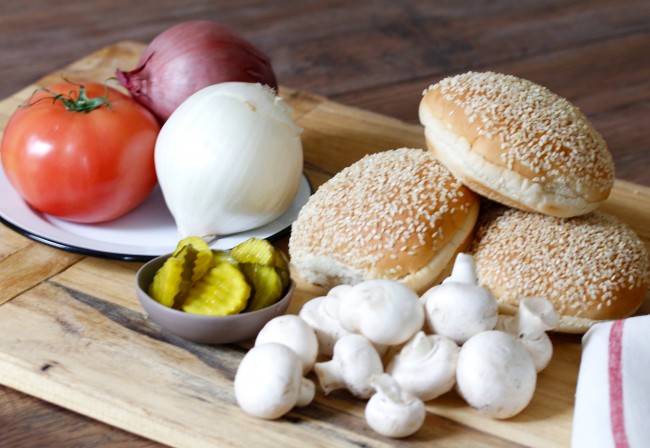 Directions
Preheat oven to 350 degrees.
In a baking sheet, spread drained beans on a foil liner.
Roast about 20 minutes until beans are split open.
Remove from oven and allow to cool.

While beans are roasting, heat 2 tablespoons of oil to medium high and cook onion until soft.
Add garlic and cook another few minutes.
Put cashews in a small frying pan at medium heat and roast until they become fragrant – 5-7 minutes.
Put sliced mushroom caps into a 350 degree oven and roast to dry them out – about ten minutes.
Process cashews in a good processor until chopped, then add mushroom and process until both are well ground. Add cashews, mushrooms, breadcrumbs, eggs, and mayonnaise to onion and garlic mixture.
Put beans and feta cheese in food processor and pulse briefly until they are very roughly chopped.
Transfer to cashew/mushroom/onion mixture and form into patties.
Wrap individually and freeze, or if cooking immediately, heat remaining vegetable oil in a large frying pan.

Cook on low heat, turning only once – allowing 3-4 minutes per side.
Add cheese for melting. While cheese is melting, spread butter lightly on insides of buns and toast in a large frying pan at medium heat.
Assemble burger using all your favorite condiments and serve.