I keep a list of food holidays on my desk, both because it's inspiration for this blog, and because it gives me an excuse to make something like a chocolate milkshake in the middle of the day for no apparent reason. Today is National Chocolate Milkshake Day, as you probably surmise. After I take food photos, which is a bit of a frantic process when it involves something melty like ice cream or a cocktail, the food remains, waiting to be consumed. Usually I can throw plastic wrap over whatever I'm cooking and save it for the next meal, but this milkshake needed immediate attention. It took four of us to drink it because I had foolishly chosen a 24-ounce glass to put it in – but what is a milkshake without the proper glass?
Chocolate and cherries are a particularly good flavor combination. I pureed some of the cherries and mixed them into the milkshake, but I also stirred big chunks of dark cherries into the shake after it had been blended, so the cherry flavor is almost as strong as the chocolate flavor. It took longer to eat than it did to make.
I see that there is a National Ice Cream Cone Day coming up soon.  Can't wait to get in on that!  Stay tuned…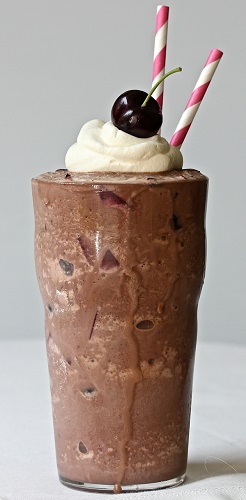 Serves: 2 large shakes
Prep time: 5 minutes

Ingredients
3 scoops of your favorite chocolate ice cream
½ cup pureed sweet cherries
5 ice cubes
1 and ½ cups skim milk
¼ cup roughly chopped, pitted cherries
Whipped cream as garnish
1 pitted cherry as garnish
Directions
Mix ice cream, pureed cherries, milk and ice in blender.

Blend quickly, just enough to mix up the ingredients without making the mixture too liquid.
Stir in the roughly chopped cherries by hand.
Pour into glass, adding whipped cream and a cherry for a garnish.
Serve immediately.