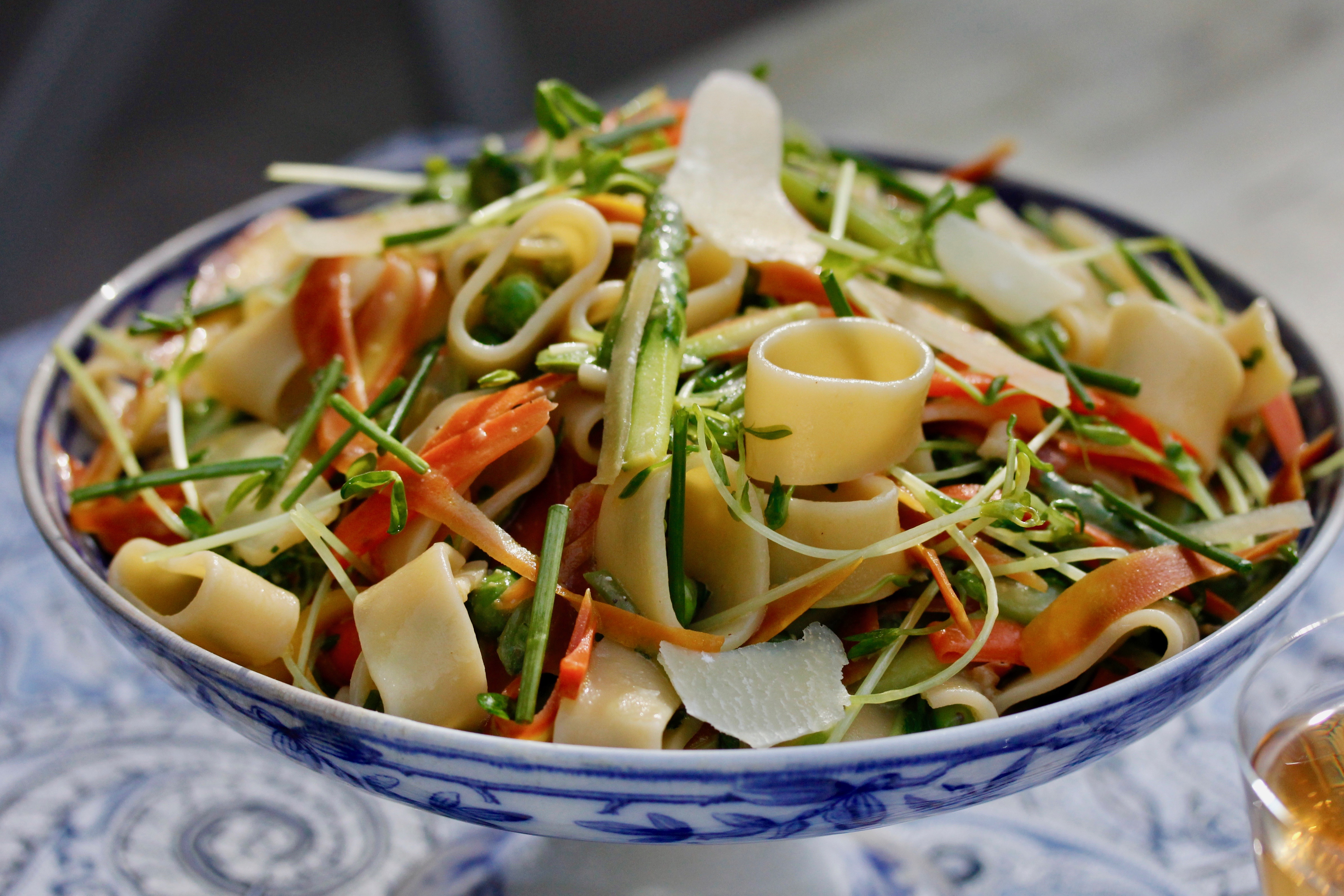 There are four things that a great pasta recipe needs: not too many ingredients, it can't be too complicated, it needs at least one healthy veggie, and of course it needs the pasta itself – that one soul-soothing thing that is so deeply satisfying. I don't think I've ever met anyone who doesn't like pasta.
I just found this recipe in Food and Wine magazine and wanted to share because it meets all the criteria, and it's delicious. Spicy, crunchy, soothing – it will be gone within five minutes of putting it on the table. I hope you love it as much as I do.
Spring Veggie Pasta
Serves: 4
Prep time: 30 minutes
As adapted from Food and Wine magazine

Ingredients
1 pound fresh asparagus, shaved into long pieces
6 ounces multi-colored carrots, shaved
1 cup fresh peas
12 ounces pasta (I used capelli)
12 T. cold unsalted butter, cut into small pieces
1 T. garlic, finely chopped
¼ c. water
¼ c. salt
4 ounces sugar snap peas
1 c. pea shoots
¾ c. parmesan cheese, finely grated, and more for garnish
2 T. fresh chives
1 t. lemon zest plus 2 teaspoons fresh lemon juice from 1 lemon
Directions
Shave asparagus and carrots into thin ribbons and set aside.
Cook pasta in a pot according to directions, until al dente.
While pasta is cooking place carrot ribbons in a strainer and lower into boiling water with pasta, cooking about 20 seconds until tender. Remove strainer from pot and drain carrots and set aside.
Melt 1 T. butter in a large skillet at medium heat and add garlic; cooking one minute. Add ¼ c. water and gradually whisk in 5 T. butter, allowing it to simmer. Stir in salt, but do not let butter brown.
Lift cooked pasta from skillet, saving the cooking liquid and setting it aside. Increase heat under skillet to medium-high. Add snap peas, peas, asparagus ribbons and remaining butter, stirring and shaking skillet, and add ¼ c. reserved cooking liquid until a creamy sauce forms – 2 to 3 minutes.
Remove skillet from heat and add pea shoots, chives, cheese, and lemon zest and lemon shoots and stir until mixture is thoroughly combined. Garnish with additional cheese and pea shoots and serve hot.