As I was noodling over what constitutes the perfect Christmas Day dinner, I received a number of recipes from Laura Bush via email. One of her meal suggestions was just the ticket: it used high quality ingredients to create simple and flavorful foods of various textures that complimented each other, and ended a luscious chocolate dessert to round out the experience. This is a quintessential American meal, and would make a satisfying and memorable holiday dinner, whatever your holiday might be.
When I worked at the White House, Laura Bush was always keenly interested in all aspects of the holiday preparations. She started thinking about the decorations for the public rooms in August, and reviewing guest lists in September. By October the Christmas card and holiday invitation designs were complete, with her approval, and the invitations started to flow in November. It is customary to send out written invitations three weeks prior to an event, and as the entertaining began just a few days after Thanksgiving, we were all focused on Christmas well before the President was pardoning the Thanksgiving turkey.
The menu for each of the Christmas buffets was carefully thought through, followed by a full dress rehearsal of the meal, to taste each dish and make sure the presentation was beautiful. We liked to create a bountiful-looking table with serving dishes of various heights and shapes for visual interest. The dessert table was in a separate location in the State Dining Room, and groaned with cakes, puddings, decorated cookies, tarts, and old-fashioned treats. Guests could try a bit of everything, and take a souvenir cookie for the road.
I think you will love this meal – it was certainly a big hit here at the Bermans. With many thanks to Laura Bush for her delicious recipes.
THE MENU
Grilled Beef Tenderloin with Horseradish Cream
Sauteed Mushrooms
Fresh Asparagus
Mashed Potatoes
Chocolate Tart with Pecans, Berry Sauce and Orange Segments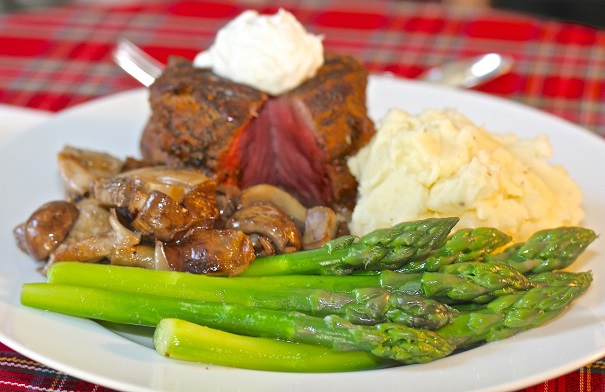 Serves: 6
Prep time: 45 minutes

Ingredients
6 four-ounce beef tenderloin filets, trimmed and cleaned
2 tablespoons of olive oil
1 cup whipping cream
1 small jar horseradish
Directions
Season both sides of tenderloin with Montreal steak seasoning (recipe for seasoning below)
Drizzle with olive oil and marinate at room temperature for thirty minutes.
Grill filets over medium high heat, two minutes per side, and finish in a 440 degree preheated oven for five minutes.
Directions
For the horseradish cream:
Whip one cup of whipping cream to medium peak. Add horseradish and combine.
Ingredients
Montreal Steak Seasoning:
2 tablespoons paprika
2 tablespoons pepper
2 tablespoons salt
1 tablespoon powdered garlic
1 tablespoon onion salt
1 tablespoon dried coriander
1 tablespoon dill
1 tablespoon crushed red pepper flakes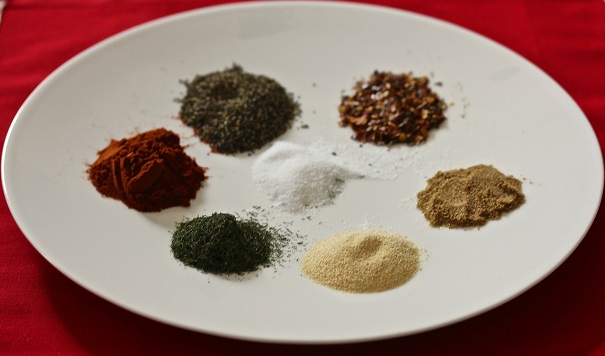 Directions
Combine ingredients and mix well.
Serves: 6
Prep time: 30 minutes

Ingredients
3 pounds Yukon Gold potatoes
½ stick of butter
1/3 cup cream or milk
Water for boiling potatoes
salt and pepper to taste
Directions
In a large pot, peel, quarter, and boil potatoes in salted water until fork tender.
Drain water from potatoes and mash with a potato masher, adding butter, cream or milk, and salt and pepper to taste.
Serves: 6

Ingredients
Prep time: ten minutes
1 pound assorted mushrooms, sliced
½ cup white wine
2 tablespoons olive oil
Directions
Saute one pound of sliced mushrooms in 2 tablespoons oil until browned.
Add ½ cup white wine and stir until reduced.

Asparagus
Serves: 6
Prep time: 8 minutes

Ingredients
2 bunches asparagus
Water for boiling
Directions
In a large pot, trim the ends of the asparagus stalks away (about 1/3 of the woody stalk).
Bring water to boil and drop asparagus into the water, allow to boil until fork tender, about 6 minutes, depending upon the thickness of the asparagus.
You want the asparagus to be easy to chew, but not soggy. Remove from water to stop the cooking. Serve.

Serves: 6
Prep time:
Tart Crust:

Ingredients
½ cup sliced toasted almonds
½ cup graham cracker crumbs
¼ cup sugar
3 tablespoons melted butter
Pecan Chocolate Filling:

Ingredients
1 ½ cup butter
¾ cup sugar
¾ cup heavy cream
6 egg yolks
12-ounce bag of chocolate morsels
1 cup pecans, chopped
Directions
Spray 9-inch springform pan with cooking spray.
Mix almonds, graham cracker crumbs, sugar and butter together.
Place crust ingredients in pan and pat down on bottom and sides of pan, going up the sides about ½ inch.
Place on baking sheet and bake for ten minutes at 350 degrees for ten minutes.
Remove from oven and allow to cool.
Heat cream, butter and sugar in saucepan and bring to a boil. Remove from heat and add chocolate morsels, stirring until completely melted.
Allow mixture to cool a bit before adding egg yolks. Stir until mixture is smooth.
Place toasted pecans on top of tart crust and pour chocolate mixture over bottom of tart.
Place in oven at 350 degrees for 8 minutes.
Remove from oven and allow to cool for 4 hours in refrigerator.
Remove side of pan and with a knife dipped in hot water, slice into 12 equal portions.
Serve with Berry Sauce and top each slice with 3 orange segments.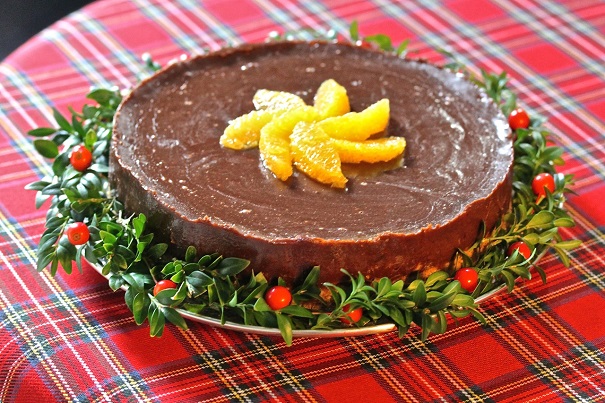 Berry Sauce:

Ingredients
10-ounce bag of frozen blueberries
10-ounce bag of frozen raspberries
½ cup sugar
½ cup white wine
Directions
Heat all ingredients in large saucepan until it comes to a boil.
Remove from heat and strain mixture through a fine mesh strainer.
Gently press to remove all seeds.
Remove all seeds. Allow to chill.