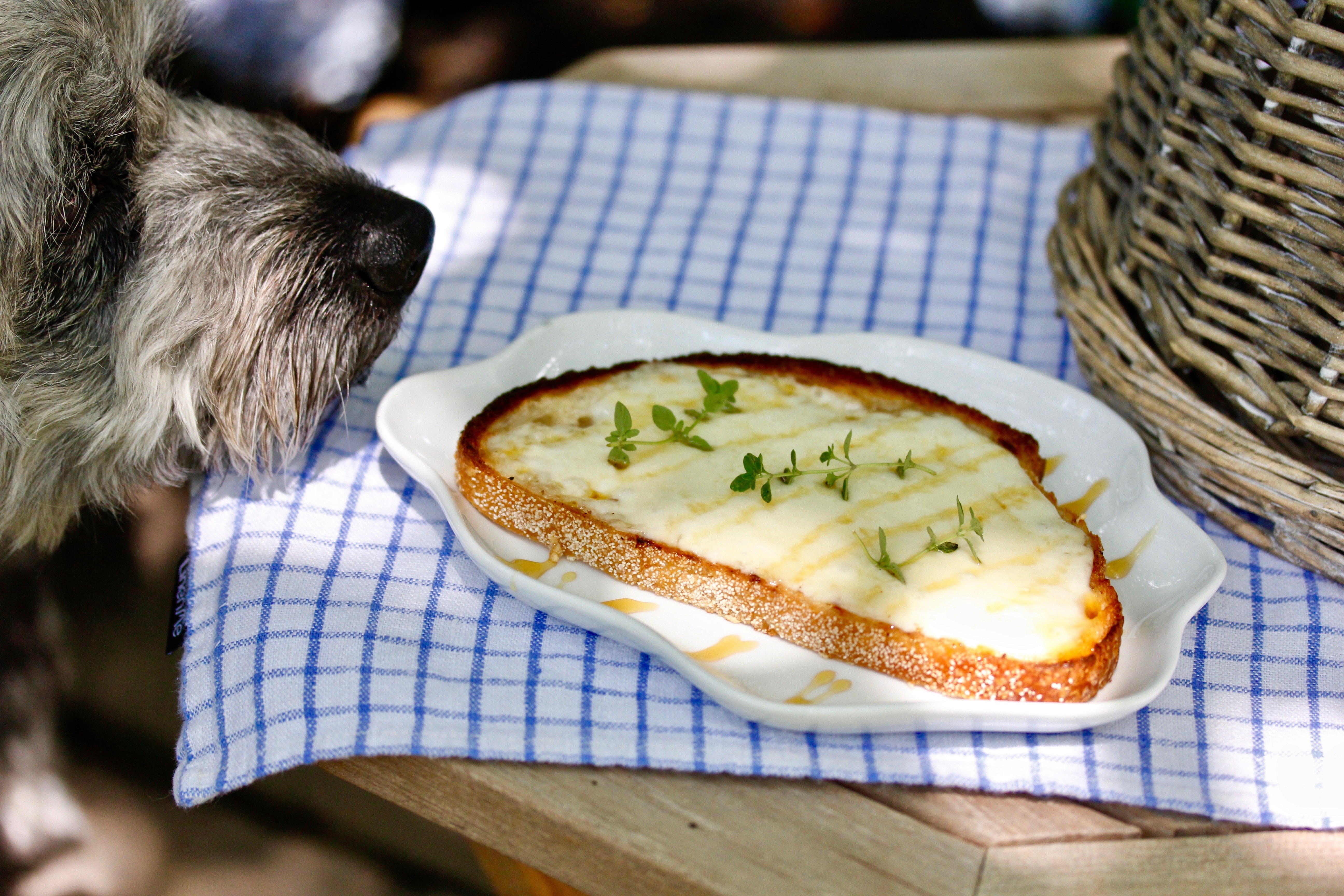 I wouldn't call this a recipe – just another way of making a really delicious grilled cheese. I'm always looking to cut corners on calories, and removing one piece of bread makes me feel like it's ok to have a grilled cheese. But I like every snack, sandwich, dessert and meal to feel a little special. (Another dieting trick – if you feel satisfied by what you're eating, it's easier to stick to a diet.) For example, have you ever tried mixing a couple of tablespoons of Cool Whip with some plain yogurt and a squeeze of chocolate syrup? It's not exactly cherries jubilee, but it's a low-cal way to feel like you've gotten a satisfying treat without ruining the hard work of dieting that you've already done.
But to get back to this sandwich – use a good bread (it doesn't have to be fresh because it's grilled), a good Gruyere or Taleggio cheese, and a little honey to drizzle on top. That's it. Put it under the broiler for a couple of minutes and then add whatever you like for flavor – lavender, thyme, even basil and tomato if you leave off the honey – and you'll have the best knife-and-fork grilled cheese you ever ate!
Open-faced Grilled Cheese with Honey
Serves: 1
Prep time: 10 minutes
Ingredients
1 large piece of bread, sourdough or any artisanal bread is great
Butter, softened for spreading on bread
Several healthy slices of gruyere or taleggio cheese
Honey for drizzling on sandwich
Sea salt and fresh pepper
Thyme, lavender buds or tomato and basil as garnish
Directions
Butter both sides of the bread and place in a medium-heat frying pan.
Brown the bread on both sides and remove from heat. Preheat broiler to 450 degrees.
Transfer bread to a baking sheet and cover bread with cheese.
Slip into broiler for 2 minutes, or until the cheese begins to brown. (You can also do this on a grill – even better!)
Remove sandwich from heat and drizzle with honey. Add lavender or thyme. (Leave off the honey if you want a basil/tomato grilled cheese)
Eat immediately.