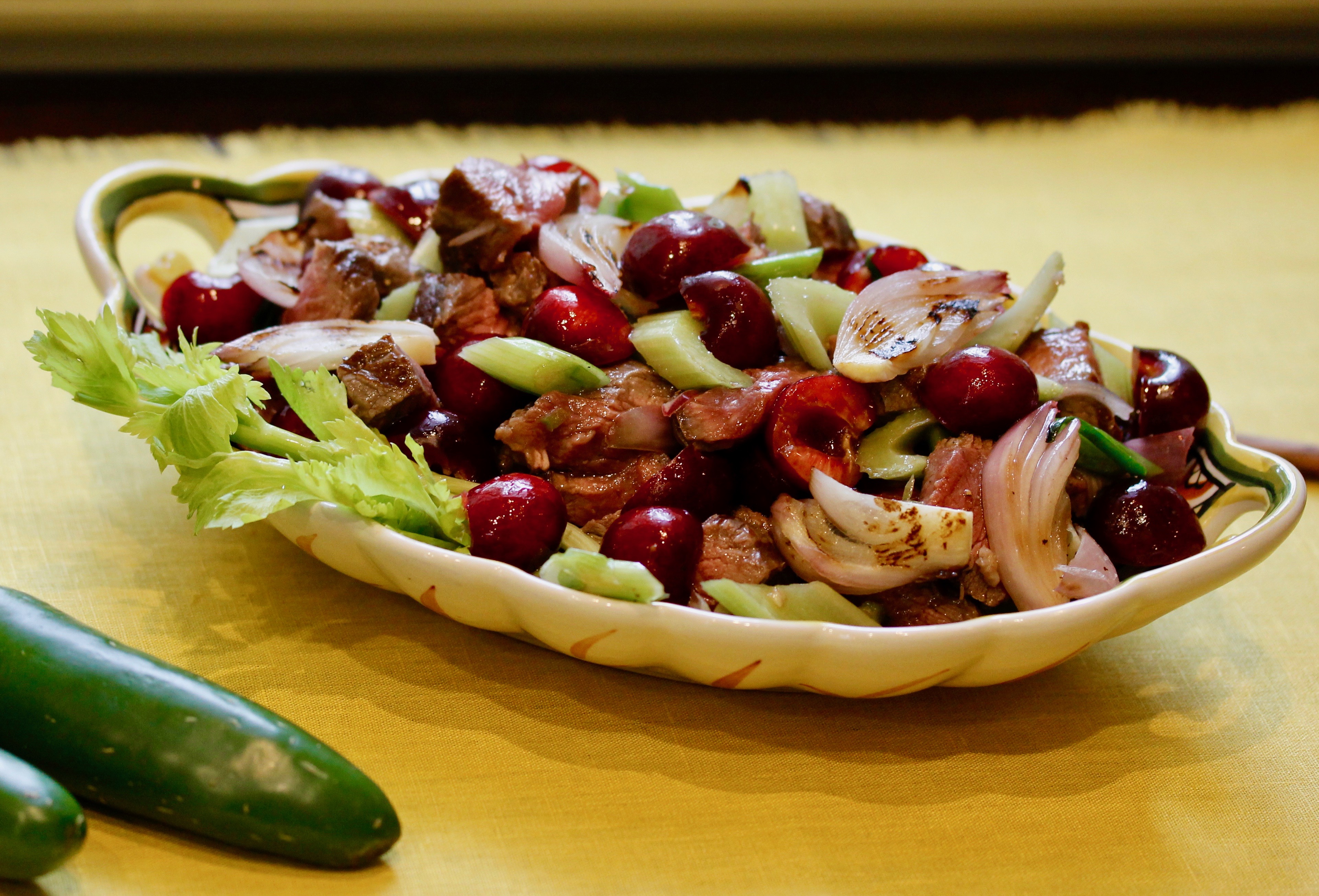 It's satisfying when a really unusual flavor pairing turns out to be even better than you imagined. Steak and fresh cherries? Really? And celery? And yet it works in a savory-sweet-hot combination that will have you scraping your plate. The cherry juice combines with the steak juices in a way that will make you want to sing! The presentation is gorgeous, all reds and browns and bright green. And then there's the jalapeño, which makes everything just pop! This makes a fabulous buffet entrée on a summer day. All you need is a cherry pitter to make assembly easier, then grill a steak, add the cherries, celery, etc. and you've got a really hearty, fresh salad.
Steak Salad
Adapted from Food and Wine
Serves: 4
Prep time: 30 minutes
Ingredients
1 one-pound sirloin steak, cut into 4 individual steaks
½ cup olive oil and more for brushing
Salt and pepper
1/3 cup fresh lime juice
3 shallots, grilled and then thinly sliced
1 jalapeño, stemmed, seeded and minced
1 garlic clove, minced
6 celery ribs, thinly sliced (save leaves for garnish)
2 cups sweet cherries, pitted and halved
Directions
Light a grill and preheat to high. Brush steaks with olive oil and add salt and pepper to taste. Grill steaks, turning until browned and rare inside. Grill shallots for several minutes – just long enough to soften then – and slice thinly. Remove Steak from heat and allow to rest for 5 minutes before slicing into small chunks.
In a small bowl, whisk ½ cup olive oil with lime juice, jalapeño and garlic.
In a large bowl, toss the steak with the celery, cherries and half the dressing. Add salt and pepper and garnish with celery leaves. Serve with additional dressing on the side.