Sometimes a recipe begins in one place and ends up somewhere else – and more often than not it's a do-over (and over again). This time, things turned out even better than I dreamed! What began in concept as a galette in a skillet became instead a cherry coffee cake with the crispest top, the scent of which would raise any sleepyhead from their bed on a weekend morning. A cast iron pan of this not-too-sweet-cake left on the counter with a pot of strong coffee is all anybody could ever hope for at breakfast, especially when the cake's been topped with a dollop of yogurt. It reminds me of the blueberry cake that is one of AT's all-time favorite recipes with followers – simple to make, multiple textures from cookie crisp top to warm, juicy cherries supported by a cakey base, and delicious all day long! You're going to love this – I promise.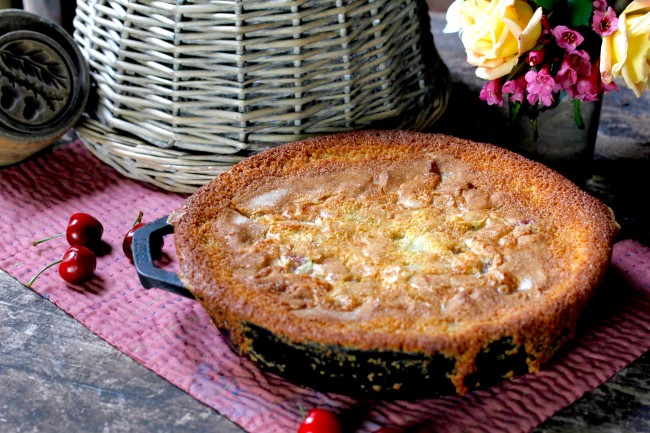 Serves: 8-10
Prep time: 1 hour, 15 minutes (it takes a while to pit cherries)

Ingredients
4 cups fresh cherries, pits removed
1/2 cup almond flour
1 cup flour, plus more for dusting the inside of the skillet
6 tablespoons unsalted butter, plus a little more to cover the inside of the skillet
3/4 teaspoon salt
1/4 teaspoon baking soda
3/4 teaspoon baking powder
1 cup buttermilk
1 ¼ cup sugar plus 2 tablespoons sugar for sprinkling
2 eggs
Vanilla ice cream or plain yogurt as a garnish.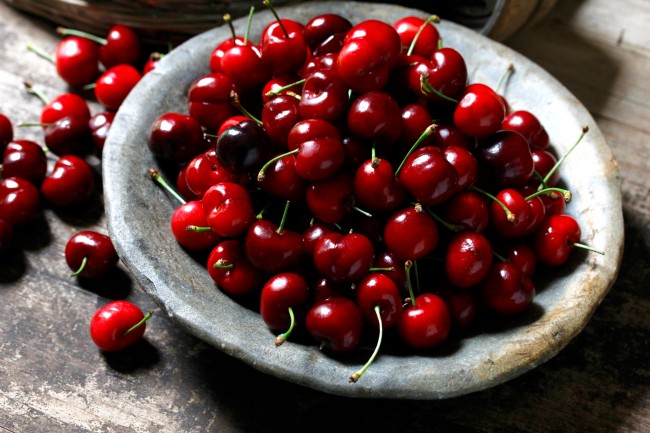 Directions
Preheat oven to 350 degrees. Butter and flour a 10-inch cast iron skillet and dust with flour.
Mix together almond flour and wheat flour, baking powder, baking soda, and salt in a large bowl. In a mixer, beat butter and sugar at medium speed until pale and soft – about 4 minutes. Beat in the egg, half the buttermilk, then add the flour mixture gradually. Add remaining buttermilk and beat until well combined.
Spoon half the batter into the skillet. Drop half the cherries on top of the batter, then spoon in the rest of the dough. Top the dough with remaining cherries and sprinkle with 2 tablespoons of sugar.
Bake 50 minutes until golden brown and a cake tester inserted into the center comes out clean. Allow to cool before serving, and garnish with vanilla ice cream or plain yogurt.