I thought I knew about fish and chips – crisped on the outside, warm and flaky inside, thick chips littered with salt and a splash of vinegar – but this version is different and delightful. The recipe is from Nelly Salvacion, the best Asian chef I know, and it has a totally different set of flavors; the chickpea batter is tasty and light, and the mint, yogurt, cilantro, and lime dip gives it a completely different culinary context. She quick-fries everything twice, which makes both the fish and the chips extra crispy and golden. You're going to love this!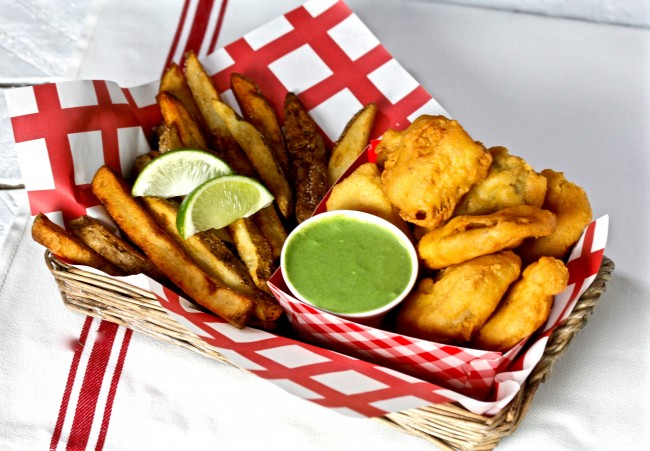 Serves: 4
Prep time: 1 hour

Ingredients
1 1/2 pounds cod fillets (tilapia, haddock, or any firm white fish)
1 teaspoon coarse sea salt
1 teaspoon lemon pepper
½ cup rice flour
Chickpea Batter: 
Ingredients
1 cup chickpea flour
¼ teaspoon cayenne pepper
½ teaspoon garlic powder
½ teaspoon salt
¼ teaspoon ground black pepper
1 cup sparkling water
1 beaten egg
2 cups canola oil for frying
Chips: 
Ingredients
4 russet potatoes
2 cups canola oil for frying (you can use the same oil you use for the fish)
salt and pepper to taste
Dipping Sauce: 
Ingredients
½ cup yogurt
1 bunch mint – chopped
1 cup cilantro – chopped
juice of a lime
½ teaspoon salt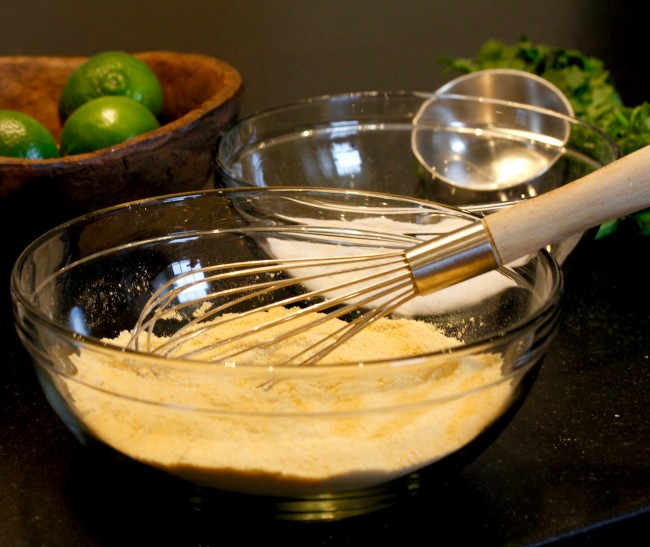 Directions
Mix yogurt, mint, cilantro, lime juice and salt in a blender or food processor until well combined. Set aside.
Wash fish thoroughly and cut into 1 ½" by 1 ½" pieces and pat dry. Season with salt and lemon pepper. Dust with rice flour and set aside.
For the batter: 
Whisk dry ingredients together. Add eggs and sparkling water. Lightly whisk together (do not over-mix or it will be too heavy.)
Heat about 3 inches of oil in a deep frying pan on medium heat.
Dip the fillets in the batter and fry in batches. Flip over with tongs when the edges start to turn light brown. Transfer to draining rack as pieces are finished frying.
When the fish has been fried, increase heat to high and fry the fish a second time until golden brown. Drain oil by placing fish on a baking rack.
To make the chips: 
Scrub, but do not peel, potatoes and cut into ¼ inch thick slices. Plunge in a bowl of cold water. Drain and pat dry. Fry the potatoes in medium-hot oil in a deep pan until potatoes are light tan in color. Transfer the cooked chips to a baking rack to drain.
When all potatoes have been cooked through once, increase heat of oil to medium-high and fry a second time until golden brown. Allow potatoes to drain of oil and sprinkle with sea salt and pepper. Serve with fish immediately.