This is a nice make-ahead breakfast or brunch meal if you have weekend guests getting up at different times of the morning wanting breakfast, and you don't want to be standing in the kitchen, spatula in hand, waiting for their orders. The virtue of a raised waffle (besides the fact that there's less work in the morning – you just heat waffle iron and pour) is that they get crisp and stay crisp. You can warm up a raised waffle hours after it's been cooked, and it will still be crunchy and delicious.  The sliced oranges and ginger cinnamon syrup (no maple syrup needed) can also be made ahead of time. This syrup recipe is especially handy for the times when you're out of maple syrup and don't realize it until the pancakes are being flipped on the griddle. You can always make your own syrup with favorite spices and flavorings.
The basic waffle recipe came from Food52 Genius Recipes; if you haven't looked at the Food52 blog, you should, because they're doing innovative things with food every day – a great resource for creative cooks.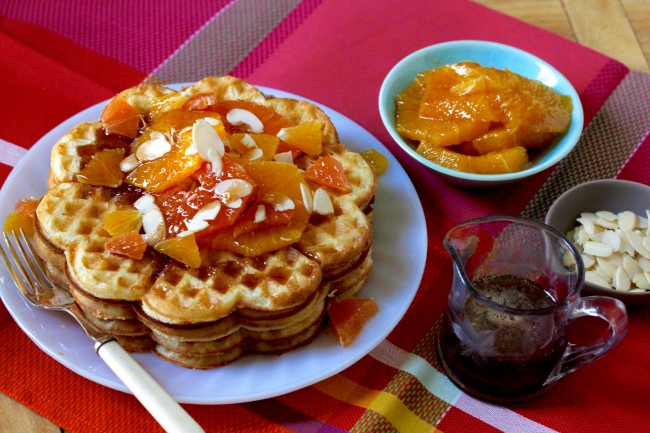 Waffles adapted from Food 52 Genius Recipes
Prep time: 20 minutes plus time for batter to rise overnight
Serves: 4

Ingredients
1 envelope dry yeast (1/4 ounce)
2 cups milk, warmed
½ cup warm water
½ cup butter, melted
1 teaspoon salt
1 teaspoon sugar
2 cups flour
2 eggs
¼ teaspoon baking soda
2 drops almond extract
2 tablespoons sliced, toasted almonds
3 oranges, peeled and sliced across the segments
For the syrup: 
Ingredients
1 cup water
½ cup sugar
1 teaspoon fresh ginger, grated
1 cinnamon stick plus ½ teaspoon cinnamon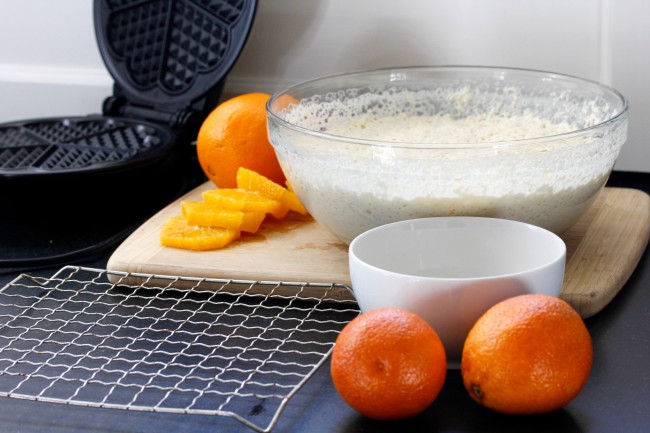 To make the  waffles:  

Directions
Place warm water in a large mixing bowl (dough will double in size) and sprinkle in yeast. Allow to dissolve, about 5 minutes.
Add flour, sugar, salt, butter, almond extract, and milk to the yeast mixture and beat until smooth and free of lumps. Cover with plastic wrap and allow to stand overnight at room temperature (batter will keep several days in the refrigerator as well.)
Add eggs and baking soda to batter just before making waffles, stirring them in and then pouring about ½ cup of batter into a hot waffle iron. Bake several minutes until crisp and brown (the underside is always more evenly cooked, if you're looking for a prettier presentation.)
Slice oranges and top waffles with oranges and cinnamon ginger syrup.
For the cinnamon ginger syrup:
Heat water, ginger, sugar, and cinnamon in a saucepan, bringing it to a boil. Reduce heat and simmer for 15 minutes until thick and fragrant. Remove cinnamon stick. Drizzle the warm syrup over the oranges and waffles and serve.