A barbecued rack of ribs deserves a strong accompaniment, a potato salad worthy of the name – redolent with smoky bacon and the sweet-sour tang of balsamic vinegar. This is a very masculine potato salad, if a potato salad can have a gender; it's what you serve with a 20-ounce Porterhouse or a full rack of ribs, with an icy beer in a frosted glass on the side. This recipe is deeply flavored by herbs, sautéed green onions, and crisp bacon bits. If you're looking for a do-ahead, non-mayo potato salad now that picnic season's in full swing, this is the one for you.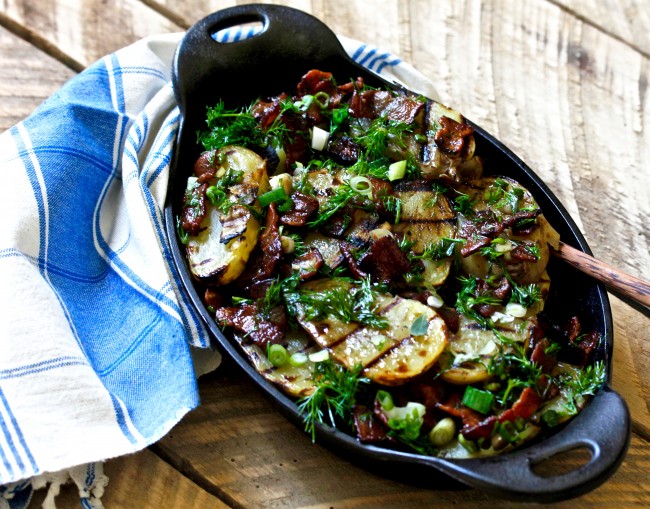 Serves: 4
Prep time: One hour

Ingredients
2 pounds Yukon gold potatoes, thoroughly washed, skins left on
2 tablespoons olive oil for brushing oil on potatoes, plus one teaspoon for drizzling on salad
3 slices center cut bacon, cut into 1" thick slices and fried until crispy
3 tablespoons grapeseed oil
¼ cup chopped dill
2 tablespoons green onions, sliced thinly
1 tablespoon fresh marjoram, chopped
3 tablespoons balsamic vinegar
1 teaspoon salt
½ teaspoon fresh pepper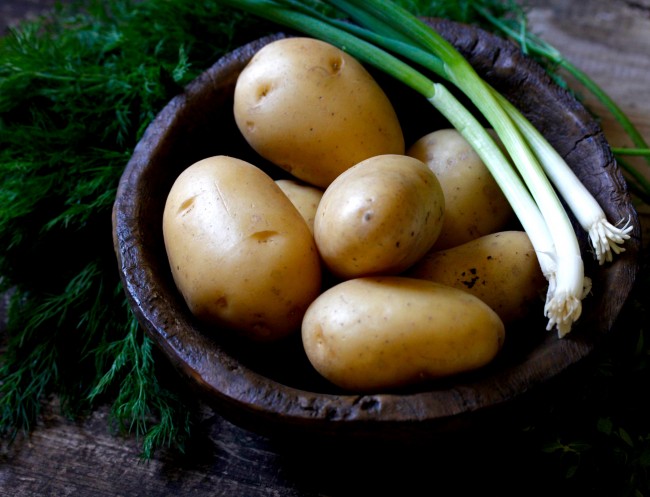 Directions
Parboil potatoes in a large cook pot half-filled with water for 15 minutes. Potatoes will not be cooked through. Drain potatoes and allow to cool. Cut potatoes lengthwise in half-inch thicknesses and brush with olive oil. Sprinkle with salt.
Fire up the grill to high heat and grill potatoes until cooked through – about another 3 minutes on each side.

Drain well-cooked bacon, and remove most of the bacon drippings from the frying pan. Add grapeseed oil and balsamic vinegar. Add potatoes and herbs, season with salt and pepper and serve at room temperature or hot.