One late afternoon my daughter and I fell into a little café in Walton Street in London, looking for a cup of tea and something sweet to give us the energy to push on through one of our "lists of things we have to do while we're here." There's something about travel that gets the adrenaline humming – maybe it's knowing you might never come this way again, so you don't want to miss a thing. We were already falling behind on our list when we encountered this blacker-than-black chocolate pudding that looked like sort of a pudding but was maybe a cake, almost as if they'd taken a cake out of the oven too soon. The insides were soft and warm and full of the richest chocolate flavor, though not too sweet. We shared a piece and plotted a strategy for getting the recipe for America's Table, but, sadly, the girl behind the counter had no idea about how the pudding was made.
I started researching English puddings and playing around with a recipe. It just didn't seem logical – most recipes said the last step is to pour a couple of cups of hot water over the batter before putting it in the oven and that seemed like a recipe for disaster. And it was. It failed the first few times because I used too much water, but eventually it worked. I added some whipped cream flavored with a bit of rum, for texture, and garnished with violets, which are edible. (You could also use candied violets.) The deep chocolate flavor is achieved through the use of extra dark chocolate cocoa, which I bought online at the King Arthur flour website. (Here's the link: http://www.kingarthurflour.com/shop/items/black-cocoa-12-oz) You could also add fresh fruit to this to make it beautifully colorful. It's a great recipe, once you get past the fact that you have to dump water all over it in order to get it to work!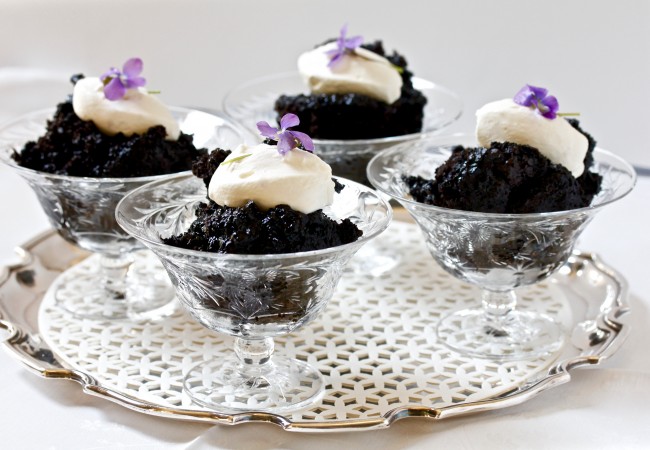 Prep time: 1 hour
Serves: 4-6

Ingredients
1 cup flour
6 tablespoons baking cocoa – preferably the noir, darkest chocolate version
1 cup sugar
 ¼ teaspoon salt
¾ cup whole milk
2 teaspoons baking powder
1 teaspoon vanilla
2 tablespoons canola oil
1 cup dark brown sugar
1 cup hot water
For the rum cream: 
Ingredients
¾ cup heavy whipping cream
2 tablespoons powdered sugar
1 teaspoon white rum (colored rum is also fine but it will darken the color of the whipped cream)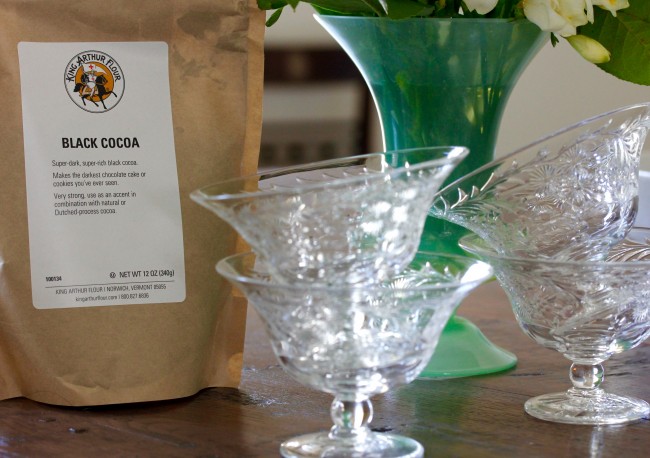 Directions
Preheat oven to 350 degrees.
Mix together flour, sugar, 3 tablespoons of the dark cocoa, salt and baking powder.
In a separate bowl mix together milk, canola oil and vanilla, and add to flour mixture. Batter will be very thick and hard to stir.
Put batter into an ungreased 8 inch by 8 inch baking pan.
Mix together the dark brown sugar and remaining cocoa in a blender or food processor so they are thoroughly combined. Sprinkle sugar/cocoa mixture over batter evenly.
Gently sprinkle water over the top of the batter, as evenly as possible. Do not stir water into the batter – allow it to sit on top of it.
Bake for 35 minutes.

While pudding is baking, whip the cream to firm peaks, adding sugar gradually. Mix in rum and refrigerate to make the whipped cream nice and cold.
Serve pudding warm with a dollop of rum cream on top.