No matter how you spell it – crozetti, corzetti, curzetti – this northern Italian pasta is delightful. I was walking through Georgetown one day and saw that a new shop called Via Umbria had opened up. I thought it was an Italian kitchenware shop, but it turned out to be so much more. There was beautiful Italian food to eat there or take away, a wine room with a generous tasting going on, and lots of great Italian pastas – including this disc-shaped Ligurian pasta stamped with various symbols or initials, depending upon the whim of the pastamaker. It made me start thinking immediately about what would be good with croxetti; they're a substantial pasta, so they need accompanying ingredients with strong flavors to stand up to the big carbs.
I went with flavors from the sea – mussels, clams, and shrimp, seasoned with lemon and fresh parsley and pepper. It's a 'cover-of-Gourmet-magazine' looking meal, served with some pinot grigio and a fresh baguette, glistening with olive oil and dunked into the delicious seafood broth. You can make this with any kind of pasta – linguini would be especially nice – but if you want croxetti, here's a link to buy it online: http://www.gourmet-food.com/gourmet-food/croxetti-pasta-105114.aspx?gclid=CJDMvPOu68sCFRFZhgodyNAGKw
It's fresh, easy, and elegantly simple. Enjoy!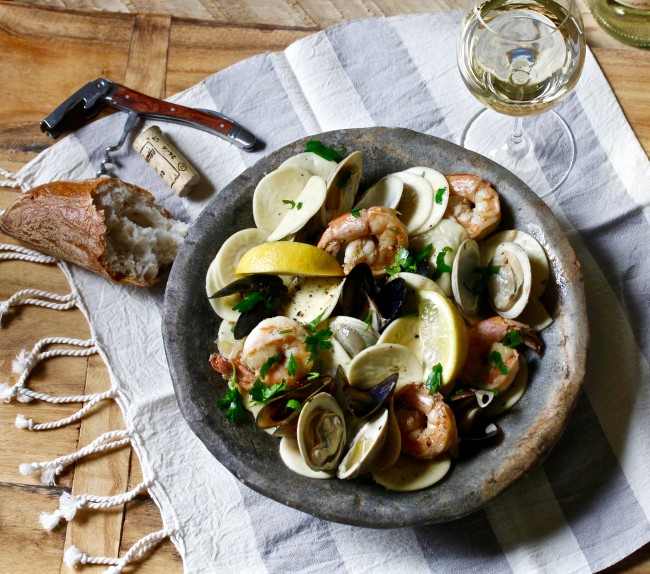 Serves: 4
Prep time: 30 minutes

Ingredients
½ pound croxetti pasta or linguini
4 tablespoons butter
4 shallots, sliced thinly
4 cloves garlic, minced
zest of one lemon plus several slices of lemon for garnish
2 tablespoons lemon juice
1 cup pinot grigio or other white wine
1 pound shrimp, peeled and deveined (leaves tails on)
1 pound clams, thoroughly washed
1 pound mussels, thoroughly washed
1 tablespoon plus 1 teaspoon salt
½ teaspoon fresh pepper
¼ cup flatleaf parsley, chopped
olive oil for drizzling over top of pasta as garnish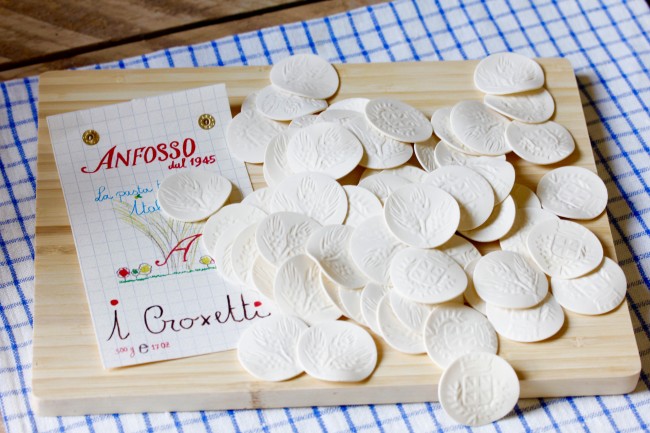 Directions
Fill a large pot half full with water and bring to a boil. Add 1 tablespoon salt and slip pasta into water. Cook croxetti for 9 minutes until al dente, stirring occasionally to keep pasta from sticking together. Drain pasta and set aside.
Melt butter in a large sauce pan at medium high heat. Add shallots and garlic, and cook until golden brown. Add shrimps, mussels, and clams. Stir for one minute and add white wine, 1 teaspoon salt, lemon zest, lemon juice, and pepper. Cover and cook until clams and mussels open up – about 5 minutes. Add pasta and stir loosely, topping with parsley and drizzling with olive oil. Serve with bread.
Note: if a mussel or clam does not open after thorough steaming, do not eat it – discard it.