There's a wonderful Greek restaurant in Malibu called Taverna Tony's, where they serve an addictive dip with warm pita bread that's so good we barely have room left to eat all the Greek deliciousness that follows. I always say to the waiters, "What's in this stuff?" – like there's some secret ingredient that explains why we – and everyone at the tables around us – are scraping the bowl and licking our fingers. The friendly waiters patiently reel off the ingredients, and still we marvel at how such ordinary items can combine to make such an extraordinarily good dip. I went home and played around with it and came up with my homage to Tony's Greek dip. Don't leave anything out – the avocado, the red caviar – it all comes together perfectly. You're going to love this!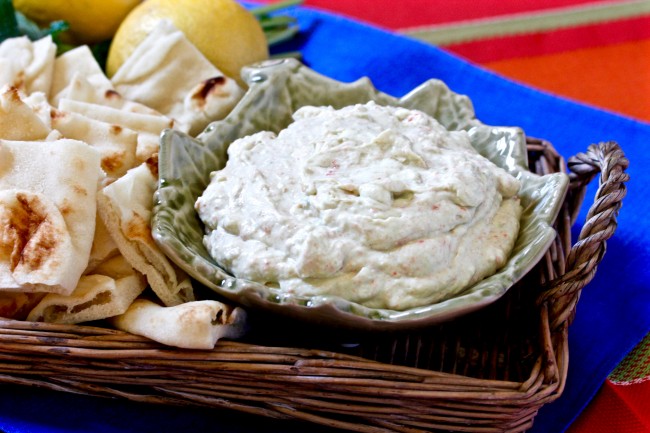 Serves: 4-6
Prep time: 15 minutes

Ingredients
1-8 ounce package of cream cheese
juice of one large lemon
2 tablespoons red caviar
1 avocado, peeled and cut into chunks
2 tablespoons olive oil
2 cloves garlic, crushed
3 tablespoons onion, grated finely with juice
2 packages of pita bread, heated in the oven until warm
Directions
In a food processor, combine cream cheese, olive oil, lemon juice, garlic, onion, avocado and caviar. Process until completely combined and serve with warm pita bread or naan.