When I was a kid, we had a big strawberry patch that needed to be picked clean every June, beginning just as school was out for the summer. My brother and I hated that patch. When the fruit was ready, we'd spend long mornings bent over in the hot sun picking berries –  itchy, sweaty, back-breaking work – which my parents then gave away to friends and neighbors. One especially hot summer when the season was over, the straw that served as bedding for the berries caught fire and the whole patch burned away in a matter of minutes. My brother and I stood at the back of the garden and cheered while we watched it burn. I remember my father coming out of the house, looking grim. He was a child of the Depression and was more than disappointed that we hadn't tried to put out the fire. Lesson learned.
This recipe reminds me of my grandmother's strawberry kuchen: the juicy, baked strawberries burst in the mouth in a sweetly acidic way that blends well with the nice, firm dough. The hazelnut and almond crust is a great choice when baking with soft summer fruits, whose juices can easily overwhelm the crust and make it mushy. Cinnamon is a natural pairing with strawberries, so the ice cream is a nice complement. If you don't want to make ice cream, you can flavor whipped cream with a few sprinkles of cinnamon to get a similar result. Enjoy!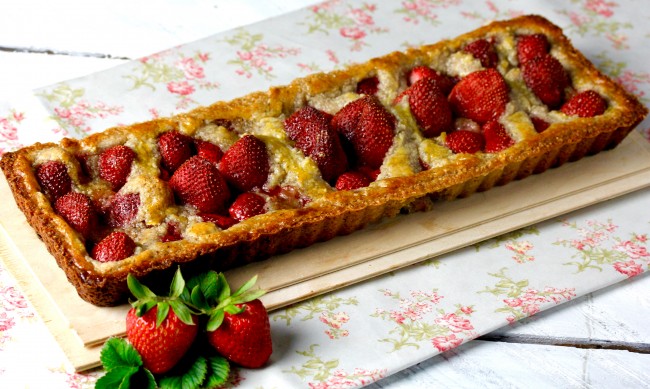 Adapted from Country Life magazine
Serves: 6
Prep time: One hour prep time plus one hour for dough to chill and several hours for ice cream to freeze
For the nut dough: 

Ingredients
1 cup flour
1 cup almonds, ground finely
¾ cup hazelnuts, ground finely
1 teaspoon baking powder
1 cup sugar plus 2 tablespoons for sprinkling on berries before baking
1 teaspoon cinnamon
½ teaspoon cloves
juice and zest of one lemon
2 egg yolks, plus one yolk for eggwash on pastry before baking
1 cup butter
1 ½ pounds strawberries, washed and hulled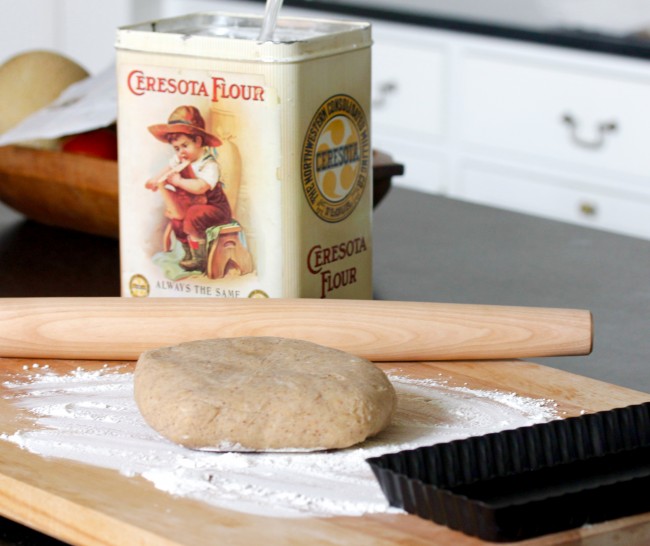 Directions
Mix flour, baking powder, sugar, almonds, hazelnuts, cinnamon and cloves and tip onto a floured surface.
Make a well in the center and add egg yolks, lemon juice and zest.
Cut the cold butter into small pieces and add, mixing with fingers, rubbing the butter in until it becomes a smooth ball of dough.
Wrap in plastic wrap and chill in refrigerator for at least one hour.
Preheat oven to 350 degrees.
Wash and hull strawberries and line on a silpat-covered baking sheet.
Sprinkle berries with sugar lightly and roast in oven for 15 minutes. Allow them to cool.

Using ¾ of the chilled dough, roll out the dough to fit the baking container you'll be using (Anything with a removable bottom will make it easier to get the tart out of the pan after baking).
Use remaining quarter of dough to roll out and cut thin strips.
Add strawberries to dough, use strips of dough to create a lattice pattern that you like.
Brush dough with egg yolk and refrigerate for 30 minutes. Bake for 45 minutes, allowing tart to cool slightly before removing from pan. Serve with cinnamon ice cream.
For the cinnamon ice cream:
Ingredients
1 ¼ cups heavy cream
1 1/8 cups whole milk
1 tablespoon cinnamon
1 cup sugar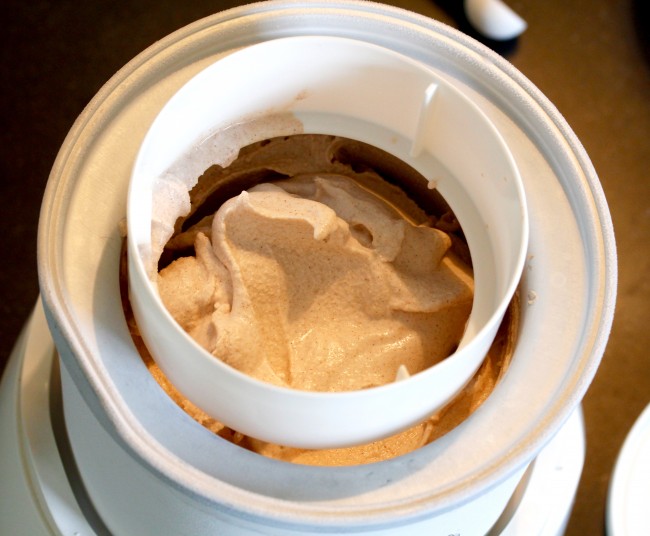 Directions
Mix the cream, milk, cinnamon and sugar together in an ice cream maker and set to stir according to machine directions. Remove ice cream from maker and store in refrigerator.