I'm always on the hunt for a really great chicken-based burger – one that stands up to the weight and flavor of a cheeseburger – and this is it. The combination of bacon and ricotta in the burger is so good I don't know why this hasn't replaced McDonald's Big Mac. It couldn't be more simple: just mix up ground chicken, ricotta, and bits of crispy bacon, throw it on a hot grill, add your favorite condiments and a brioche bun, and be sure you don't leave out the sriracha and vegenaise sauce – it's heaven!
This will be a hit at a Memorial Day picnic, offered with lots of crunchy veggies to pile on top, and they would also make great sliders if you're looking for a casual cocktail treat. Any way you serve it, you're going to love it! And if you're ever in LA, it's worth a ride out to Malibu to gaze at the ocean and tuck into the amazing healthy food being served at Malibu Farm.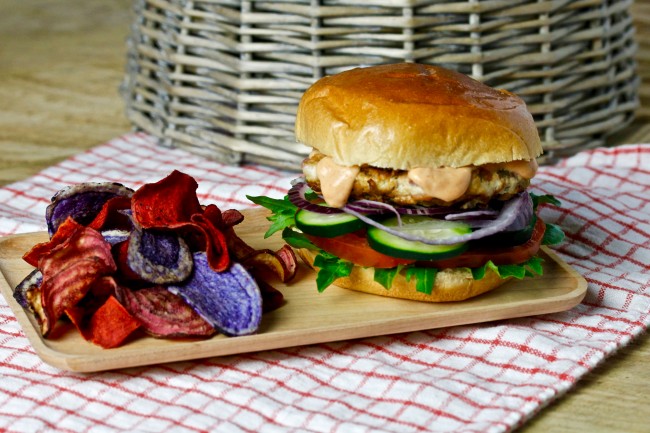 Adapted from the Malibu Farm Cookbook
Serves: 4
Prep time: 20 minutes

Ingredients
1 pound ground chicken
4 slices bacon, crisply cooked, drained and broken into bits
¾ cup ricotta cheese
juice and zest of one lemon
½ cup chopped parsley
¼ cup red onion
¼ cup grated Parmesan cheese
1 teaspoon salt
½ teaspoon ground pepper
brioche burger buns
For the sriracha aioli:
½ cup vegenaise or mayonnaise
2 tablespoons sriracha sauce
For the garnish:
Fresh sliced cucumber
Arugula
Tomato slices
Red onion slices
Bean sprouts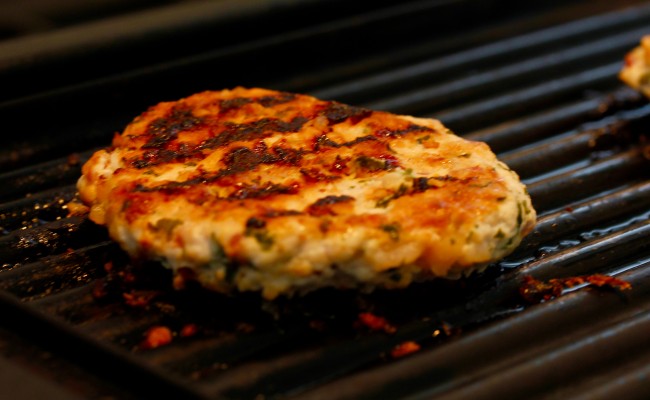 Directions
Mix ground chicken, bacon bits, lemon juice and zest, parsley, pepper, salt, parmesan cheese, and ricotta cheese by hand until fully combined.
Form into 4 burger patties. Saute in a pan or grill for a few minutes on each side until burgers are browned.
Toast buns, add arugula, tomatoes and onions to the bottom, topping with the burger and finishing off with the sriracha sauce. Serve.

These burgers freeze well, so make a double batch – you'll be glad you did.