I love multi-purpose recipes, and I love re-purposing the kitchen accessories and serving pieces I have to make the most of them – and this recipe does both. The gazpacho is smooth in texture but strong in flavor, and while it makes a great appetizer – particularly with the addition of a mustard cream garnish (a great recipe from The Paris Cookbook by Patricia Wells) – I found that adding some vodka to the mix gave me a whole new kind of cocktail shooter. I have a beautiful vodka and caviar server which I was given as a gift many years ago, and now I know why I haven't used it before – it's really a gazpacho shooter-and-crudites server (at least that's how I should have been using it). Now there's both a reason and a recipe.
However you decide to serve it, I think you're going to love it!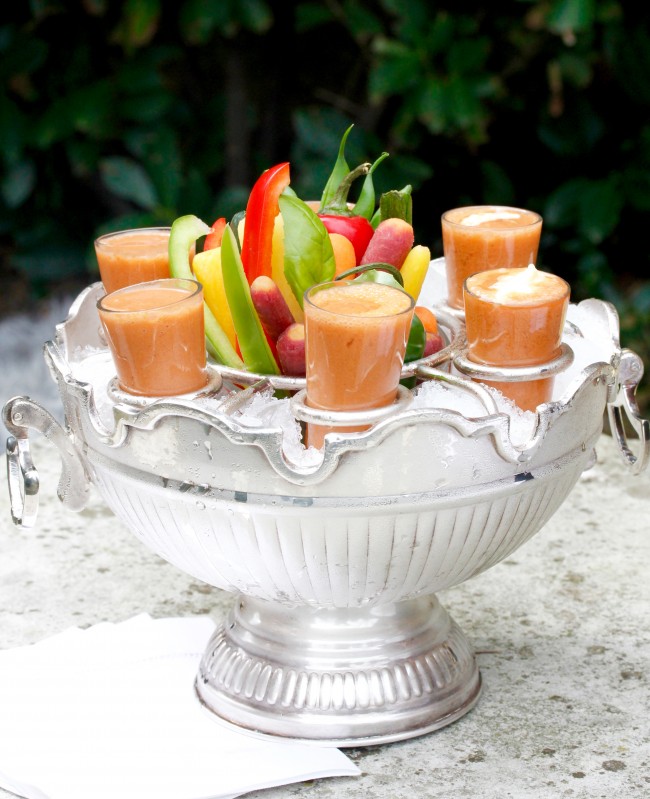 Serves: 4
Prep time: One hour
For the gazpacho: 
Ingredients
3 pounds ripe tomatoes, quartered and seeded
2 red bell peppers, trimmed of seeds and roughly chopped
1 tablespoons sugar
1 medium cucumber, peeled, seeded and chopped
2 cloves garlic, crushed
¼ cup sherry vinegar
1 tablespoon olive oil
sea salt to taste
4 shots vodka – optional if serving as a cocktail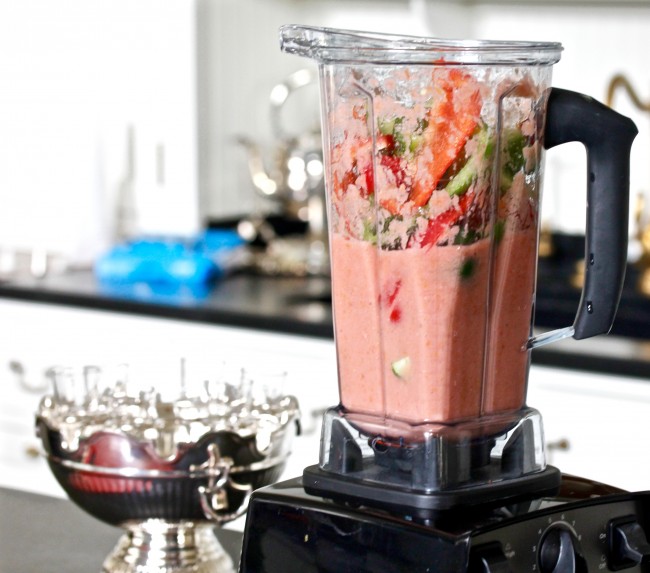 Directions
Puree tomatoes in a food processor, adding peppers, cucumbers, garlic, vinegar, olive oil, sugar, and salt.
Put the mixture though a mesh sieve to remove any chunks – mixture should be completely smooth.
If you're serving this as a cocktail, add vodka. Refrigerate for at least three hours until gazpacho is very cold. Served in chilled containers, and garnish with mustard cream.

For the mustard cream:

Adapted from Patricia Wells' The Paris Cookbook
6 egg yolks
2 cups whole milk
1 cup cream
1 1/2 tablespoons Dijon mustard
Whisk egg yolks and set aside. In a saucepan, cook milk over medium heat until bubbles begin to form at the edges.
Whisk the hot milk into the egg yolks, stirring constantly, and return mixture to saucepan.
Set aside a mixing bowl with a mesh sieve on top, to have it ready for the cooked mustard cream.
Put saucepan on low heat and stir constantly until sauce begins to thicken.
Remove from heat and continue stirring for several more minutes until cooking is completed.
The texture will be like heavy cream. Stir in the cream and mustard to combine and pass mixture through the sieve. Cool.
Transfer mixture to an ice cream maker and freeze.
Mustard cream will be the consistency of ice cream, but will melt slowly in the cooled gazpacho.