Good balsamic vinegar – the real deal, made in only two places in Italy and aged for anywhere from 12 to over 25 years – is an investment.  Someone recently gave me a bottle of balsamic vinegar – the $20, not the $275 version – and it's been a joy to cook with it. This week on America's Table both recipes feature balsamic vinegar, thusly named not because it has balsam in it, but because it is thought to have restorative effects. This recipe is adapted from the  Food52 Genius Recipes cookbook, and I think you'll love it – especially if you like sweet and sour flavor combinations. These ribs are tender and tasty, and without tomatoes in the barbecue sauce, the rich roasted pork flavor comes through.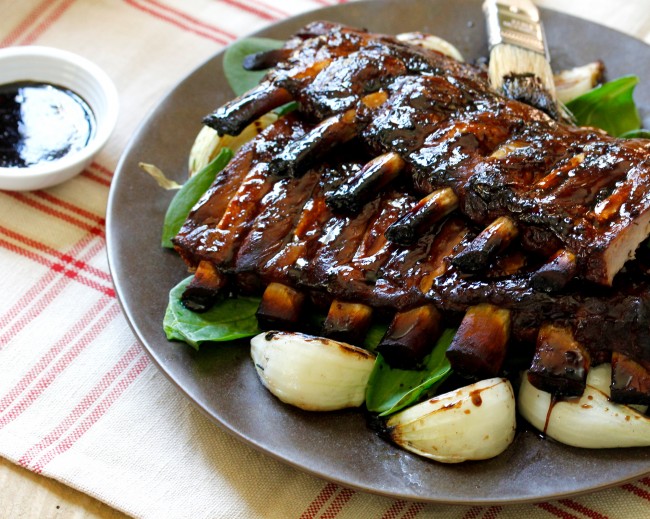 Adapted from Food52 Genius Recipes
Serves: 4
Prep time: 2 1/2 hours, plus overnight to marinate ribs

Ingredients
4 pounds baby back pork ribs
2 cups water
1 cup brown sugar
1 1/2 cups balsamic vinegar
4 cloves garlic, crushed
2 teaspoons salt
1 teaspoon freshly ground black pepper
1 teaspoon cayenne pepper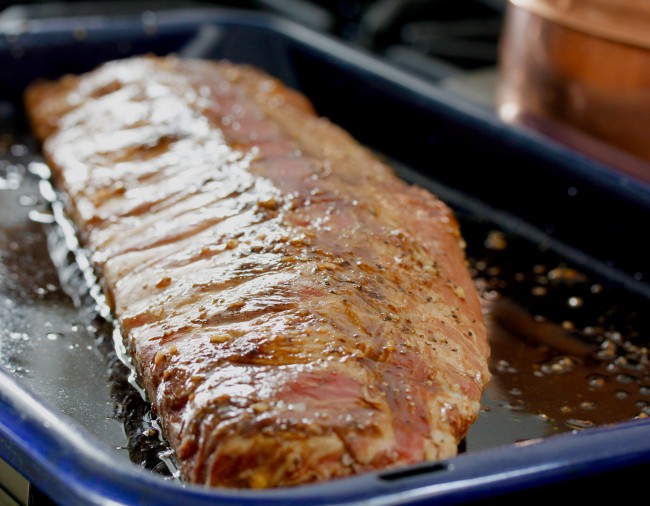 Directions
Mix together in a paste: ½ cup brown sugar, garlic, salt, cayenne, black pepper and ½ cup balsamic vinegar. Rub paste over ribs and transfer to a roasting pan, meat side up. Cover and marinate in refrigerator overnight. Preheat oven to 350 degrees. Pour 1 cup of water into roasting pan with ribs and cover with foil, roasting for two hours. Ribs should be tender. Move ribs to a platter and set aside.
Add 1 cup of water to roasting pan and scrape off the sides and bottom of the pan, removing any fat and transferring the liquid to a skillet. Add 1 cup balsamic vinegar and ½ cup brown sugar and bring to a boil. Stir, and allow to simmer for 15 minutes.  The mixture will be thick and syrupy after about 15 minutes.
Brush syrup glaze onto ribs and grill about 10 minutes – or return to a 350 degree oven and then broil for five minutes until ribs are dark brown and thick with the glaze. Brush remaining glaze on ribs before serving, and serving with additional glaze on the side.