Here's an easy and delicious breakfast or brunch sandwich that is bursting with flavor, yet it must be the lowest-calorie bagel sandwich in history. I used a scooped bagel (a bagel split in half and hollowed out to be filled with yummy things – hence the fewer calories,) leftover grilled and marinated tuna from the night before, wasabi mayonnaise, and black sesame seeds and chives for color. In the time it took to assemble (less than five minutes) I had a very cutting edge and California-esque meal that would be so appealing on a buffet table. The tuna was marinated in soy sauce and fresh ginger, and sprinkled with sesame oil to keep it juicy. Enjoy!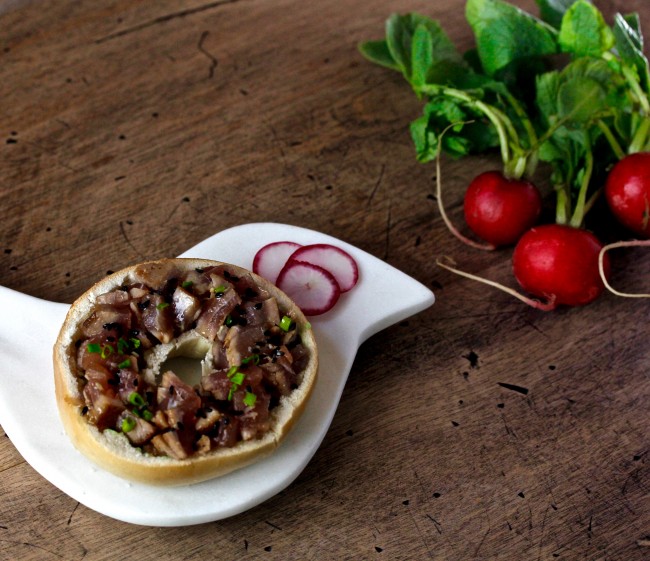 Scooped Tuna and Wasabi Bagel
Serves: 4
Prep time: 5 minutes to assemble, 35 minutes to marinate and grill the tuna

Ingredients
4 small bagels, cur in half with the insides scooped out with a melon baller
10 ounces fresh tuna steak, sushi grade
1 teaspoon fresh ginger, grated
2 tablespoons soy sauce
1 teaspoon sesame oil
1/8 teaspoon crushed fresh black pepper
1 tablespoon canola oil
1 tablespoons fresh chives, finely chopped
2 teaspoons black sesame seeds
For the wasabi mayonnaise: 
1 teaspoon powdered wasabi
¼ cup mayonnaise or vegenaise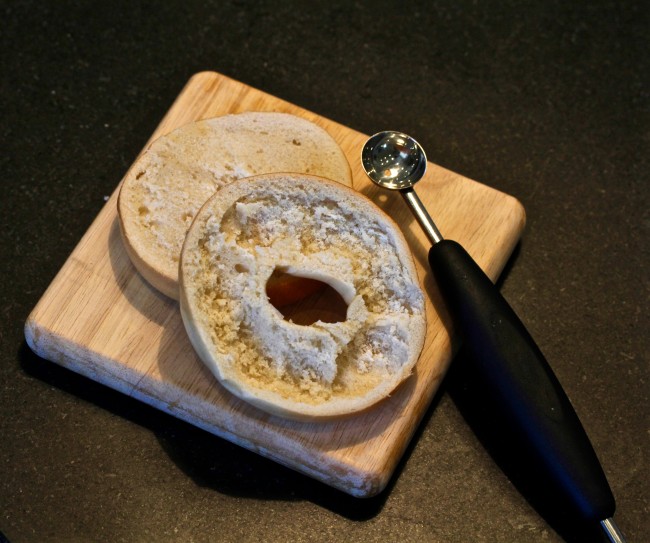 Directions
Marinate the tuna steak in a mixture of soy sauce, sesame oil, and ginger for half an hour.
Mix powdered wasabi and mayonnaise together and set aside.
Put canola oil into a skillet and heat to high temperature. Sear tuna 3 minutes on each side.
Allow tuna to cool, then cut into small cubes and season with 1 teaspoon soy sauce and 1/8 teaspoon fresh pepper.
Spread the wasabi mayonnaise into the base of the hollowed out bagels.
Top with tuna mixture. Sprinkle with black sesame seeds and chives. Serve.