In my travels around the local farmers' markets and online food purveyors, I came upon rose petal jelly, and immediately ordered some because one of my children loves anything flavored with roses, violets, or lavender. In looking for another way to serve it (other than on a piece of toast), I added it to a favorite dinner salad of grilled goat cheese and spring greens. The rose jelly elevates a fairly common salad combination to new heights of flavor – it's a piquant combination. It tastes of this time of year, when spring becomes summer and the first roses start to bloom.
And if you want to order the jelly, here's the link: https://www.etsy.com/listing/217033514/rose-petal-jelly-vegan-and-gluten-free?ref=shop_home_active_19
It's from a place in Vermont called Halifax Hollow, which makes beautiful, organic preserves and beauty products. (The lavender jelly is good, too!)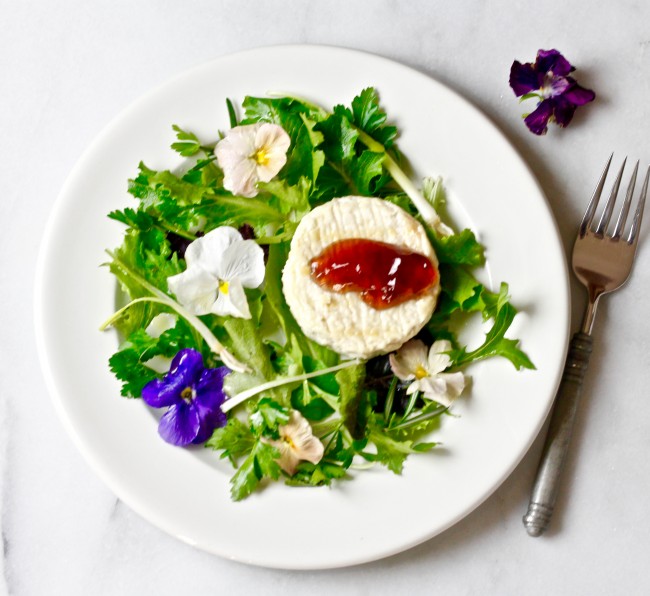 Serves: 4
Prep time: 20 minutes

Ingredients
8 cups fresh young salad greens mixed with fresh herbs of your choice and edible flowers like violets and pansies.
8 ounces of goat cheese
4 teaspoons of rose petal jelly
3 tablespoons olive oil
1 tablespoon lemon juice
Salt and pepper to taste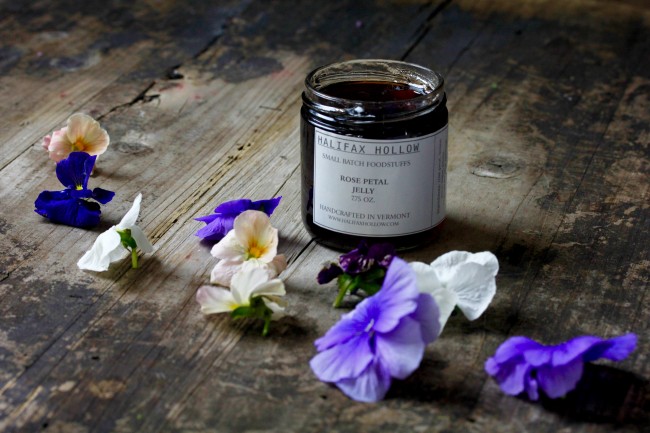 Directions
Place greens in a large salad bowl and toss with the lemon juice and olive oil.
Add salt and pepper to taste and divide among 4 dinner plates.
Place goat cheese on a very hot grill for just a few seconds, allowing it to sear the top before flipping over to sear the bottom.
Remove from grill before cheese starts to melt and cut into four pieces to add to each plate.
Add a teaspoonful of rose petal jelly beside the cheese and serve with fresh French bread.
If you don't have a grill, place the cheese on a baking sheet and put into a preheated 350 -degree oven for several minutes, until cheese begins to soften but not run.