There were beautiful spring pea shoots at the grocery this morning, which reminded me of a standout recipe in The Cheesemonger's Seasons by Chester Hastings, a cookbook to bring joy to the hearts of cheese lovers everywhere. The very best recipes have only a few ingredients, which, when combined, are so delicious that they draw your complete attention to the plate – making you grateful for the moment. This is one of those recipes. Some good burrata, a little olive oil, lemon, salt, pepper, and spring pea shoots (I also threw in a handle of fresh peas), and you've got a first course that is both elegant and rustic. The original recipe calls for lemon-infused olive oil, which sounds great, but since I didn't have any I squeezed a few drops of lemon juice over everything to get the same effect.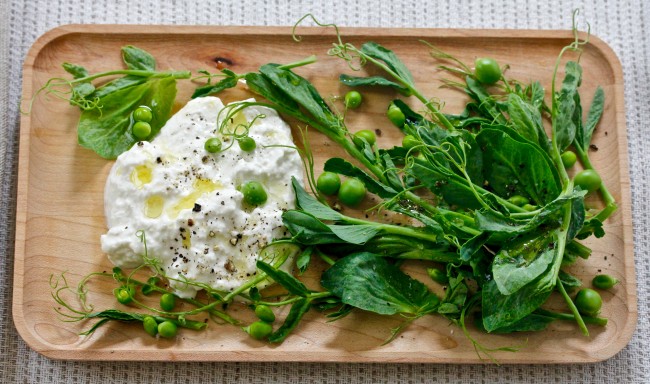 Adapted from The Cheesemonger's Seasons
Serves: 4
Prep time: 10 minutes

Ingredients
1 pound burrata cheese
2 cups fresh pea shoots
1 cup fresh peas
2 tablespoons sesame seeds, toasted
2 tablespoons olive oil
2 squeezes of lemon juice
sea salt and coarse pepper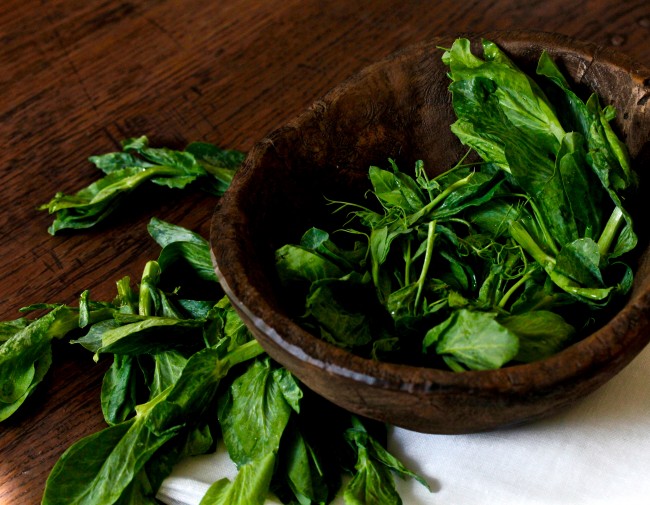 Directions
In a dry pan. Toast sesame seeds until golden, about ten minutes.
While they are toasting, wash and dry pea shoots and shell peas.
Cut burrata into four equal pieces and place the pea shoots and peas around them.
Squeeze lemon juice over salads and drizzle with olive oil. Add salt and pepper and sesame seeds, and serve.