If you're craving cheesecake but the caloric intake is making you think twice, these tarts are a light and lemony way to have your cheesecake and eat it too. Individual tarts have built-in portion control, and the amount of mascarpone is minimal but satisfying. I think the filling would be equally refreshing when made with limes instead of lemons, if you're more of a key lime lover. This recipe is adapted from The Cheesemonger's Seasons by Chester Hastings. I added a little sweetness to the crust by brushing a light coating of melted semisweet chocolate on the inside of the crust, to give the cocoa/pistachio flavor a boost.
These would make an elegant dinner dessert or Sunday brunch treat, and the contrast of dark crust and light filling is so pretty with the pop of bright green pistachios as garnish. Enjoy!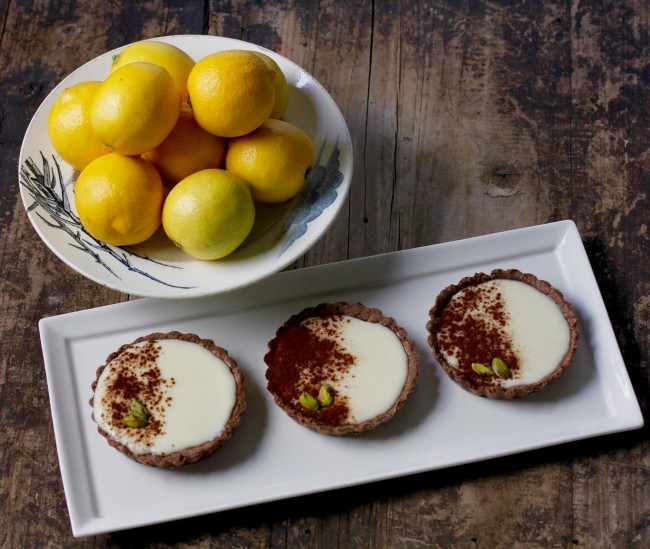 Adapted from The Cheesemonger's Seasons
Serves: 6
Prep time: 2 hours, including one hour to chill the crust and 15 minutes to bake
For the tart dough:
Ingredients
1 ½ cups flour
7 tablespoons unsalted butter, cut into small cubes and col
pinch of salt
2 tablespoons Dutch cocoa powder, unsweetened
½ cup sugar
1 egg, beaten
2 tablespoons ice water
3 ounces raw pistachios, finely chopped.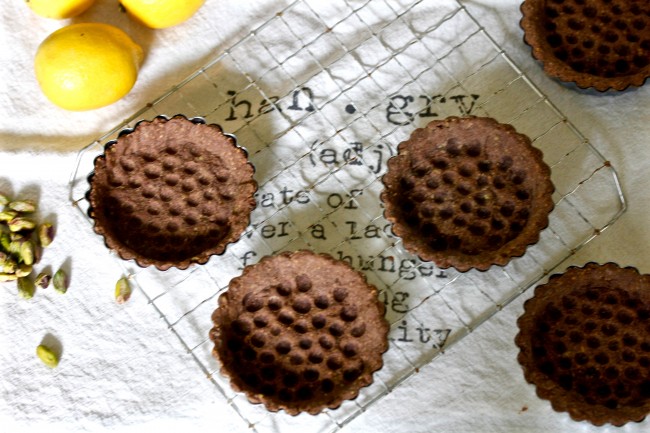 Directions
Place pistachios into a food processor and pulse until finely chopped.
Remove from food processor and set aside. In the food processor add flour, salt and cocoa and mix.
Add butter pieces and pulse until mixture is crumbly.
Add sugar, egg and water, and pulse just until dough comes together. Don't over-process or dough will be tough.
Wrap dough in plastic wrap and chill in refrigerator for at least one hour.
For the filling:
Ingredients
12 ounces mascarpone cheese, softened to room temperature
½ cup sugar
juice of 2 lemons (or 3 limes)
3 ounces semisweet chocolate chips
cocoa powder and shelled pistachio nuts for garnish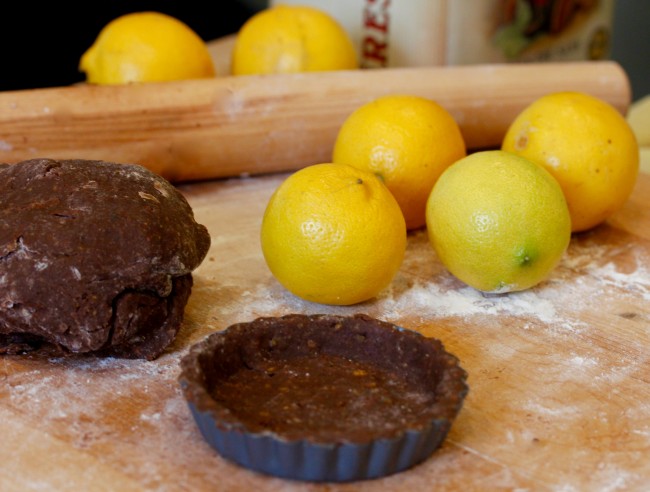 Directions
Combine mascarpone, sugar, and lemon juice and stir until smooth. Set aside.
Remove chilled dough from fridge and cut into 6 equal pieces.
Roll dough out to fit a five-inch tart mold, pressing the dough into the mold evenly with your fingers.
Dough should be about 1/3 of an inch thick. Line bottom of tarts with pie weights and bake in 350 degree oven for 15 minutes.
Remove tarts from oven, and remove pie weights before returning to oven for another 3 minutes for the bottom of the shells to bake.
Melt semisweet chips in the microwave in 30-second increments – it will take about 90 seconds – and brush the melted chocolate on the inside of the cooled chocolate shells.
When chocolate has hardened and pie shells are cool, pour mascarpone mixture into each shell and refrigerate for several hours.
Garnish with powdered cocoa and whole, shelled pistachios.

Serve.