William Shakespeare's 400th birthday is April 23rd, worth noting for lovers of great literature everywhere. When I worked at the White House, the President and Mrs. Bush hosted a dinner to celebrate Shakespeare's birthday one year, inviting scholars and actors whose professional lives revolved around the Bard, with an Elizabethan-period meal and performance of "As You Like It" in the East Room afterward. I LOVED planning this dinner, and the chefs and calligraphers outdid themselves with both the menu and the menucards (which were done on parchment, and included quotes from Shakespeare relevant to each course).
The cooking of the Elizabethan period has relevance today, as we look for innovative ways to serve vegetables and unusual spices to incorporate into cutting edge cooking. This recipe for cauliflower chowder comes from an old cookbook called "Shakespeare's Kitchen." It incorporates a really delicious soup stock called Renaissance stock, full of intriguing things like currants and almonds, which gives the base of the soup a nice, rich flavor. I roasted white, green and purple cauliflowers, to give the dish more color, but kept the base to roasted white cauliflower to avoid a muddy-looking color for the soup.
And if you've ever wondered what William Shakespeare really looked like, you may be interested in this drawing, recently uncovered by a British historian, and made by a man who actually knew Shakespeare. Here's the link: http://www.countrylife.co.uk/features/world-exclusive-the-true-face-of-shakespeare-revealed-for-the-first-time-video-72243
He's attractive and jolly-looking, just the way I'd like to think of him. Happy birthday, Will!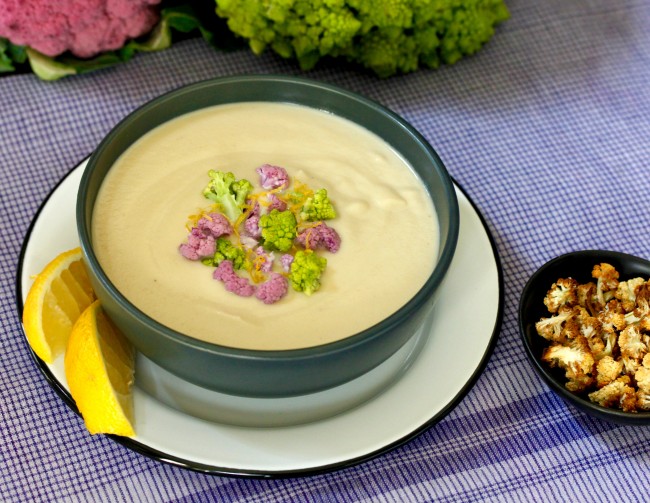 As adapted from Shakespeare's Kitchen
Serves: 6
Prep time: One hour and thirty minutes, including cooking time

Ingredients
1 head of cauliflower
1 large onion, diced
2 tablespoons butter
4 cups Renaissance stock (see recipe below)
salt and pepper to taste
½ cup sweet sherry
pinch of mace (about 1/16th of a teaspoon)
1 cup milk
1 tablespoon vinegar
1 teaspoon lemon zest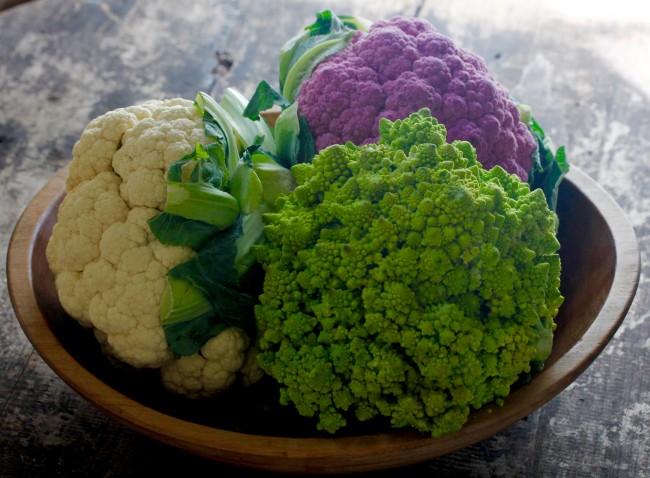 Directions
Preheat oven to 250 degrees. Remove 1 cup of cauliflower florets for garnish.
Chop the rest of the cauliflower roughly.
Sprinkle salt on a baking pan, add the cauliflower florets and bake for one hour until brown.
Remove cauliflower from baking sheet.
Cook onion in butter over low heat for about ten minutes and add the reserved chopped cauliflower.
Cook for 5-7 minutes. Add the Renaissance Stock (Recipe below), and sherry and mace and simmer for 20 minutes.
Remove mace and puree cauliflower until smooth. Add milk and simmer over low heat for ten minutes, stirring regularly. Add salt and pepper to taste.
Serve soup in bowls and garnish with baked cauliflower florets and lemon zest.
Renaissance Stock
Makes 2 quarts

Ingredients
4 pounds chicken parts, necks, backs, wings, giblets
1 lamb shank
2 ¾ quarts of water
2 sprigs rosemary
2 bay leaves
3 sprigs of mint
4 sprigs of parsley
1 pinch of mace
2 onions, peeled and quartered
1 cup white wine
½ cup ground, blanched almonds
8 dates, pitted and chopped
½ cup currants
salt and pepper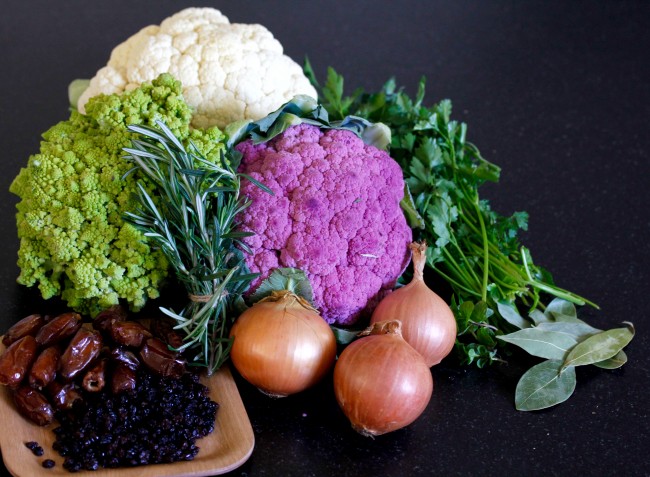 Directions
Put the chicken and lamb shank in a large soup pot and add water.
Bring to a boil. Skim the impurities from the top and add rosemary, bay, mint, parsley, mace and onions.
Simmer for 30 minutes. Add the wine, dates, almonds, and currants and simmer for one hour, skimming off the leavings from the top.
Strain broth through a fine mesh sieve, and add salt and pepper. Broth will keep in refrigerator for a week.