This recipe should carry a warning label: if you love coconut, this is the best macaroon cookie, completely, utterly addictive, and gluten-free. Even the cookie dough is so good it was all I could do to stop eating it. You know the process – drop a spoonful on the baking sheet, eat a spoonful, drop another 2 spoonfuls on the baking sheet, take another nibble… It's the joy of cooking – if there's some self-discipline involved. For that, you'll have to go to another blog.
The original recipe calls for a higher temperature oven and less baking time to make a very brown, crispy cookie. I prefer a lighter finish on the cookie, so I baked it at a lower temperature for twice as long. The inside is warm and chewy, the exterior crisp and shiny. After adding the chocolate and almonds it brings to mind the freshest, most delicious Almond Joy candy bar you've ever had, and the tiny bit of espresso keeps the cookie from being too sweet. Enjoy!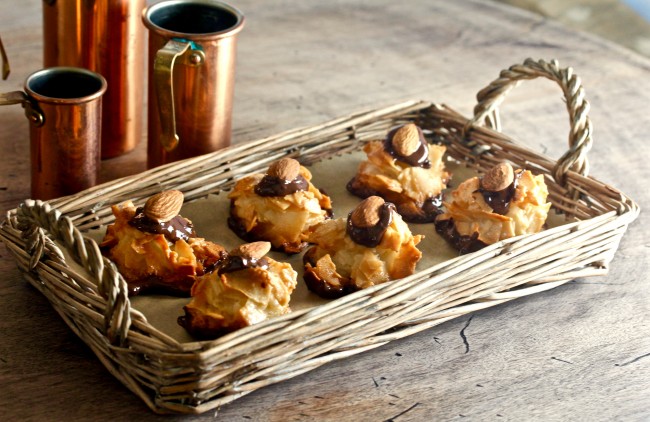 Adapted from a recipe by Alice Medrich in Food52: Genius Recipes
Serves: Makes 18 cookies (2 dozen if you don't eat too much of the dough)
Prep time: One hour, ten minutes, including time to let the dough set and baking time

Ingredients
4 large egg whites
3 cups unsweetened coconut chips
¾ cup sugar
2 teaspoons vanilla
¼ teaspoon salt
2 dozen whole almonds
1/4 teaspoon espresso powder
¾ cup semisweet chocolate chips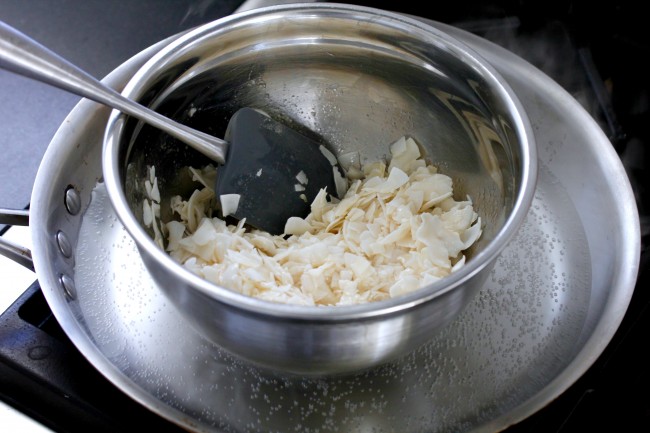 Directions
Combine egg whites, coconut, sugar, vanilla and salt in a steel or other heatproof bowl.
Put several inches of water into a large skillet and bring to a simmer.
Put the bowl of ingredients into the simmering water and stir regularly to prevent burning, until egg whites become opaque (5-7 minutes).
Remove from heat and allow batter to sit for half an hour.
Preheat oven to 325 degrees.
Line two cookie sheets with parchment.
Drop heaping teaspoons of the dough into the parchment, allowing several inches between each.
Using both baking racks, bake cookies for ten minutes, then switch the baking sheets from top to bottom and turn them to keep them baking evenly.
Return to oven and bake fifteen more minutes.
Cookies should be a light golden brown. Remove cookies from parchment.
While cookies are cooling, combine espresso powder and chocolate bits and melt in microwave in thirty second increments until chocolate is melted (it took 2 minutes total for me).
Stir to mix espresso into chocolate.
Dip bottoms of macaroons into chocolate and set to drain on a baking rack with wax paper or parchment beneath it to catch the drips.
Garnish the tops of each macaroon with a small dollop of chocolate and top with an almond.
Allow chocolate to harden before serving.
Cookies are best when eaten the same day they are made, but can be stored in an airtight container for several days.