Serves: 6
Prep time: 20 minutes, plus one hour for the dough to rise
For the dough: 
Use pre made
pizza
dough, for sale at most Italian markets.
For the toppings:
Ingredients
1 14-ounce jar of Jose Andres tomate frito sauce
1 6-ounce can tomato paste
4 ounces mozzarella cheese, shredded
4 ounces gouda cheese, shredded
13 mushrooms, sliced and cut into star shapes (using star-shaped cookie cutter)
1 eggplant, the exterior cut into 2 by 4 inch slices
1 teaspoon olive oil
juice of half of a lemon
1/2 teaspoon salt
1/4 teaspoon pepper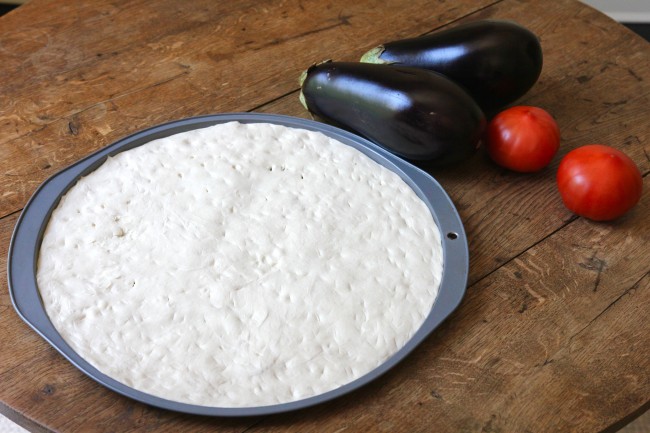 Directions
Cut out mushroom stars and allow to soak in a small bowl of cold water with the juice of half of a lemon, to keep them from turning brown.
Scoop the pulp from the eggplant, leaving the skin intact.
Trim skin of the eggplant in 2×4 inch slices, and fry in olive oil at medium heat for 3-4 minutes, until the eggplant is cooked through.
Remove from pan and set aside.
Cover

pizza

with gouda cheese first (gouda doesn't melt as fast as mozzarella does, so it helps to keep the

flag

"stripes" from running into the tomato sauce). Add mozzarella cheese on top of gouda.
Trim eggplant to cover over quarter of the

pizza

, and top with mushroom stars.

Mix the tomato frita and tomato paste in a saucepan and cook on low heat.
Add salt and pepper, and cook until mixture is thick.
Using an empty ketchup bottle, squirt tomato sauce in lines along the

pizza

to create red stripes.
Bake at 400 degrees for 20-25 minutes.