In my view, there aren't many foods that can't be improved upon by the addition of fresh ginger, and fried rice is no exception. The crisp, fresh ginger flavor is heightened by flash frying first, then setting it aside to add to the top of the fried rice just before serving. Fried rice can be heavy on the calories and carbs, but if you flip your proportions a bit – use more vegetables than rice – it makes a leaner, healthier meal, and I added stir-fried shrimp to boost the protein. I love this recipe because it makes especially good leftovers (who doesn't love cold Chinese straight out of the fridge?) and it's full of good things like shitake mushrooms and baby bok choy. There are no eggs in this fried rice recipe because there's enough flavor going on here already, but add it if you think you'll miss it. This is the kind of meal that gets into the regular weekday lineup and stays there!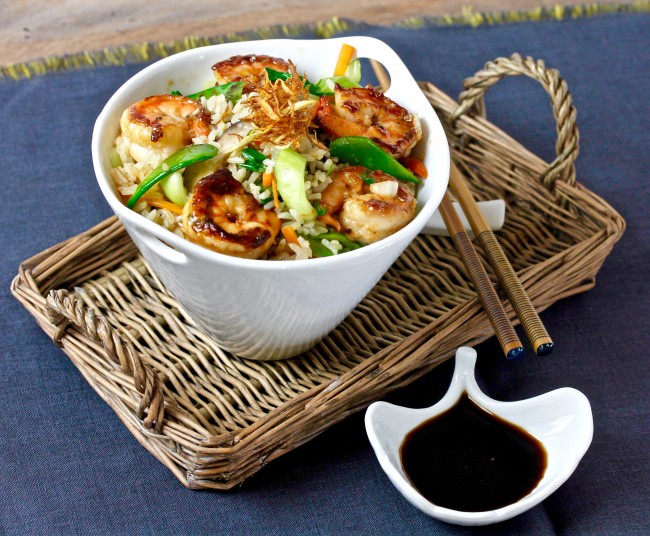 Ginger Fried Rice and Stir-fried Shrimp
Serves: 4
Prep time: 30 minutes
Ginger Fried Rice
Ingredients
3 cups leftover rice, brown or white
5 caps shitake mushrooms, sliced thinly
2 carrots, peeled and julienned
1 cup snow peas, thinly sliced
2 cups bokchoy, thinly sliced
2 spring onions, thinly sliced
1" by 1" peeled ginger, shredded
2 garlic cloves, minced
¼ cup canola oil
2 tablespoons soy sauce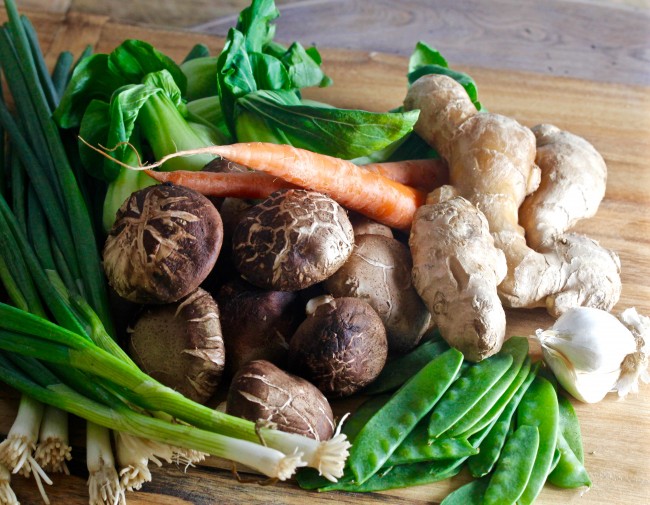 Directions
In a wok, heat oil until smoky hot, add shredded ginger and stir until golden brown, about 30 seconds.
Remove ginger from wok and set aside. Remove half of the oil from wok and reserve for use with shrimp.
Add garlic and other vegetables to wok and cook at high heat for two minutes. Add soy sauce.
Add rice and mix thoroughly. Top with fried ginger and set aside to make shrimp.


Stir-fried shrimp

Ingredients

1 pound medium shrimp, peeled and deveined
2 tablespoons oyster sauce
1 tablespoon soy sauce
½ teaspoon sugar
¼ teaspoon pepper flakes
¼ teaspoon freshly ground pepper
1 tablespoon garlic, minced
2 teaspoons cornstarch
½ cup spring onions, sliced
3 tablespoons canola oil

Directions

Mix together soy sauce, oyster sauce, sugar, pepper flakes, pepper and cornstarch. Add shrimp and marinate for 15 minutes.
Heat oil in frying pan or wok until hot and smoking. Add shrimp and stir fry until cooked through – about 5 minutes.
Add garlic, turn off heat and add spring onions. Stir and serve on top of ginger fried rice.