Bone broth has entered the realm of hip new foods that are said to have all kinds of big health benefits – good for the hair, the skin, the immune system, and the digestion. I have no idea just how good for you it really is, but it is delicious and nourishing. My grandmother used to make this when anyone in the family was getting over a long bout with the flu or a terrible cold, though she always added small liver dumplings that made it even richer and more fortifying.
Here's Grandma's bone broth recipe with a few modern additions, if you'd like to see what all the fuss is about. I made a big batch – enough to last for days – and drank some every day between meals when I was getting hungry and starting to think about cheese and chocolate and bread, and it did jolt me back to my current dieting reality. I'm thinking about making this a regular thing.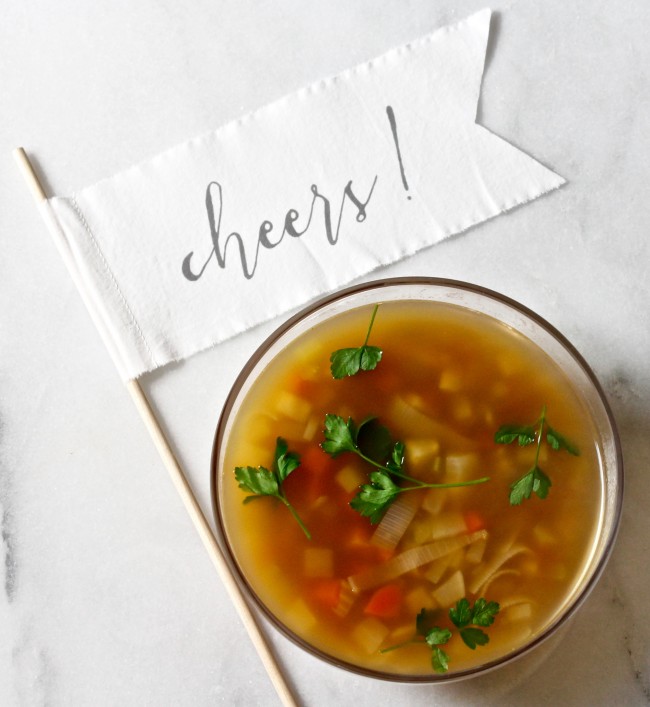 Bone Broth with Vegetables
Serves: Makes 2 ½ quarts
Prep time: 30 minutes plus four hours for simmering

Ingredients
4 pounds beef bones
2 leeks, washed, one cut into 4 chunks and the other sliced into thin slices
4 celery stalks, 2 cut into big chunks and 2 cut into fine slices
4 carrots, peeled, 2 cut into chunks and two finely diced
1 large celery root, half cut into chunks and the other half finely diced
1 large onion, peeled and cut into small pieces
2 medium-sized turnips, peeled, I cut into chunks and the other finely diced
4 cloves of garlic, smashed
1 large bunch flat-leaf parsley
1 tomato cut into quarters
2 bay leaves
1 tablespoon whole black pepper
10 cups water
1 tablespoon salt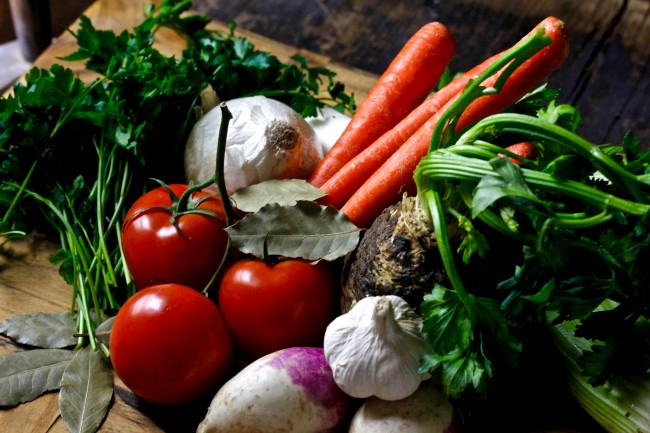 Directions
To make the broth, put bones into a large pot with water and salt. Add all the large chunks of vegetables, as well as the parsley, bay and black pepper.
Bring mixture to a boil, reduce heat and allow to simmer for 4 hours. Skim fat and other impurities that gather on top and discard.
Pour the broth through a cheesecloth to strain. Discard bones and solids.
Return the broth to the pot, add finely cut vegetables and cook about ten minutes until tender.
Correct salt and pepper seasoning and finish with parsley garnish.