If America's Table had a motto, it might be "No Month without a Bourbon Recipe." We might be overdoing it, but in the depths of miserable weather (and I'm referring to my friends in California), there's nothing like a hot toddy to calm the nerves and warm the soul. Just the words 'hot toddy' sound like something old-fashioned and comforting, a good memory that's slipped just past our recollection, but something we know we love.
This toddy comes from Bon Appetit magazine, where they've elevated it by infusing the bourbon with apples for several days (isn't your mouth beginning to water?). Add honey and lemon, and you've got all the fragrance, flavor, and potency to make any long day seem so much better in retrospect. If you leave the bourbon and apples infusing in the fridge, they'll be ready for the next Friday night that you need a little warming TLC.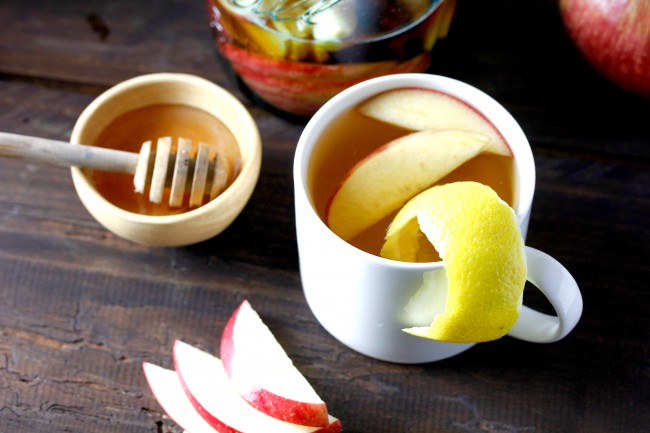 Honey Bourbon Hot Toddy
Serves: 4
Prep time: five minutes, plus several days to infuse apples and bourbon

Ingredients
12 ounces bourbon
4 apples, sliced
4 cinnamon sticks
2 tablespoons honey
4 cups water, just below boiling
lemon peel garnish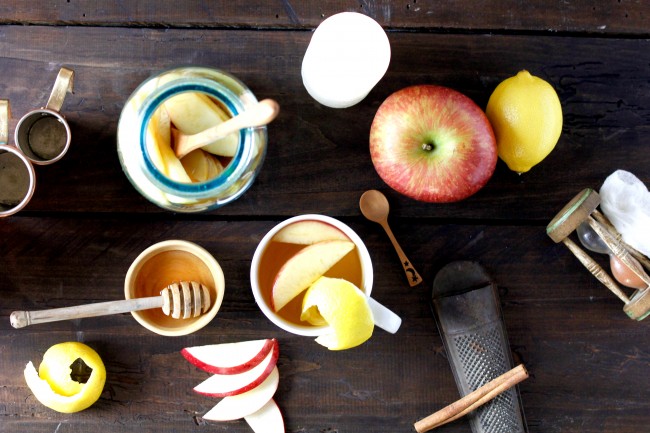 Directions
Combine bourbon, apples and cinnamon sticks in a covered jar and chill in refrigerator for 2-3 days (longer is fine).
Stir one tablespoon of honey and one cup of very hot water into each cup, to dissolve honey.
Strain apple bourbon mixture.
Add 3 tablespoons bourbon to each serving and twist a strip of lemon peel into each drink. Add cinnamon stick garnish and serve hot.