This probably does not seem like a Christmas recipe, but it's a part of our family tradition of Christmas Eve. My wonderful Jewish husband embraced the celebrating of Christmas with both hands, but I always wanted to make sure that he felt especially included, so we created our own tradition in his honor: we always end our Christmas eve meal with my husband's favorite chocolate sundae, garnished with thin pieces of meringue (which, when my girls were younger, they had fun spreading on the baking sheet themselves), and fresh blackberries. The meringue-chocolate-blackberry-vanilla ice cream combination is good at any time of year, but it makes a nice Christmas memory, and is a special one for us.  I hope you'll give it a try.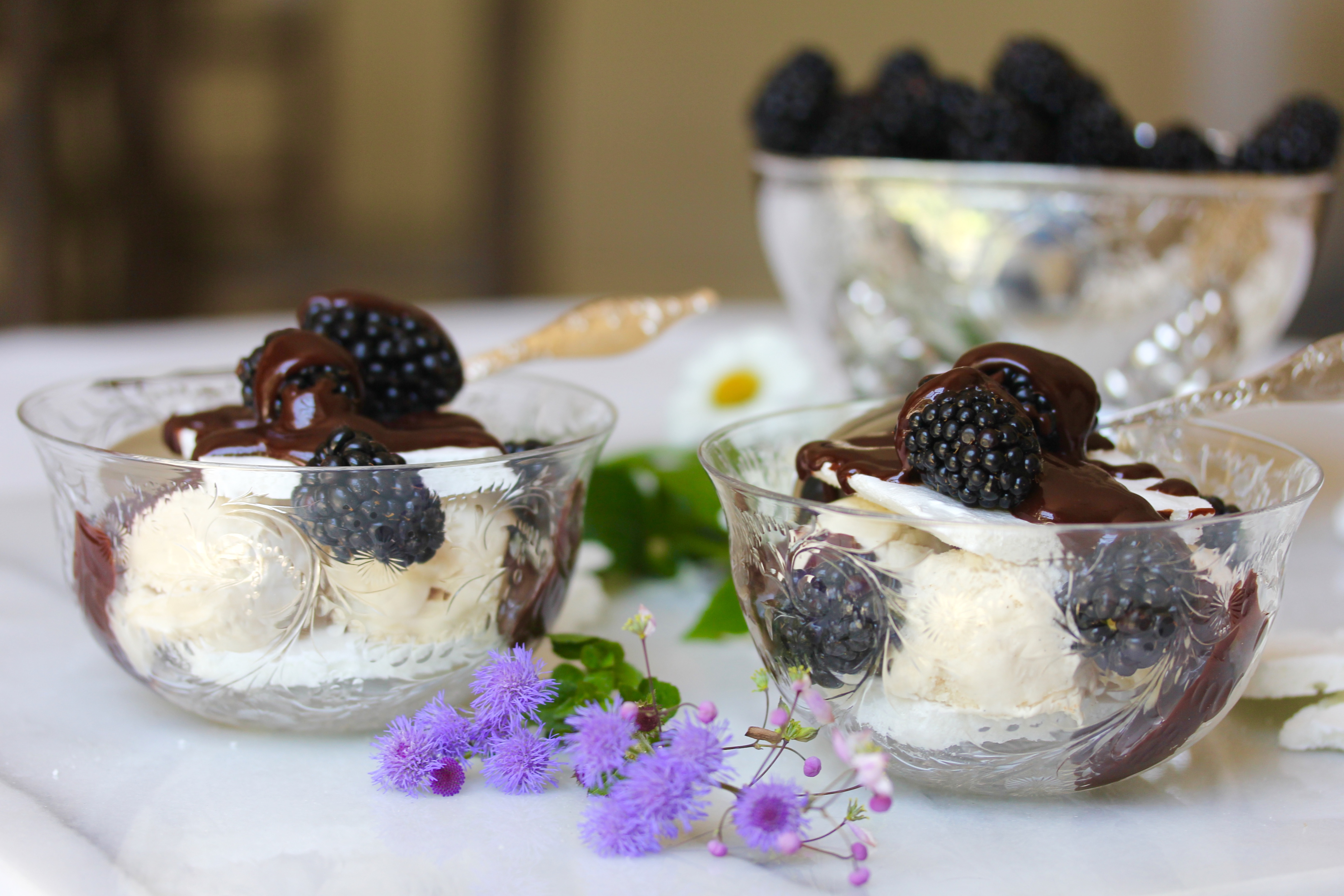 Prep time: 1.5 hours for the meringues, 10 minutes to assemble sundae 
Serves: 4 

Ingredients
1 quart good vanilla ice cream
2 pints blackberries, washed and rinsed
Chocolate sauce (see recipe below)
3 egg whites
¼ cup cream of tartar
¾ cup of sugar
1 teaspoon meringue powder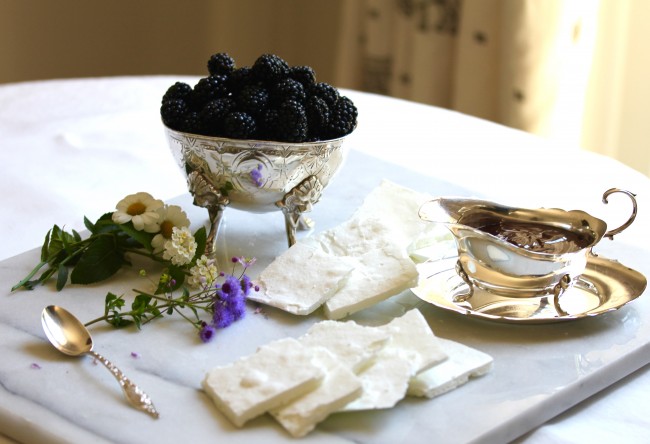 To make the meringues:

Directions
Line a baking sheet with parchment paper and preheat oven to 250 degrees.
In a mixer, beat egg whites, meringue powder and cream of tartar until stiff, about five minutes. Add sugar, one tablespoon at a time, and beat until the mixture looks white and glossy.
Spoon the meringue onto the parchment, spreading it very thin and flat – I used a pastry scraper to make the top smooth. Meringues should be about ¼ inch thick.
With a sharp knife, lightly score the meringue in three inch by three-inch squares, to make them easier to cut after baking.
Bake in low-heat oven for 90 minutes, remove and allow to cool. Use a  sharp knife to gently cut the meringues into squares.

Place a meringue square in the bottom of a small bowl. Top with four small scoops of vanilla ice cream (a cookie dough scoop is the perfect size for this.)
Top ice cream with another meringue, add a handful of blackberries and pour warm chocolate syrup over it. Serve immediately.
Chocolate Sauce
Ingredients
½ cup cream
1 cup semi-sweet chocolate chips
Directions
In a heavy saucepan, heat cream until steaming hot. 
Pour in chocolate, remove pot from heat and mix thoroughly until chocolate melts.
  Warm chocolate just before serving so that it pours easily.