As much as I love new year's, there's been enough celebrating, entertaining, and hostessing these last few weeks to last me for a while. That's why, when I got to the new year's recipe, I knew it had to be easy – so easy that you almost don't have to think about it. There are lots of great champagnes available now at very affordable prices, so what could be more of a treat than a punch made with a champagne base? I wanted to make it special, without adding six kinds of liquor to make it so strong that your guests' eyes will roll back in their heads, or adding fruit juice that make the punch so sweet it's undrinkable. So here it is: I bought pre-seeded pomegranate seeds and popped them into a round mold, then poured equal parts grenadine and pomegranate juice into the mold to cover the seeds.  The mold was frozen, and then floated in the bowl of champagne. As it melted, the tart pomegranate juice added dryness to the champagne, and the bright red of the seeds kept it festive looking. And if you don't have a punchbowl (which I don't), you can use any large, deep bowl, like a mixing bowl or salad bowl. Just don't make your pomegranate ring too big to fit inside the bowl! Happy new year!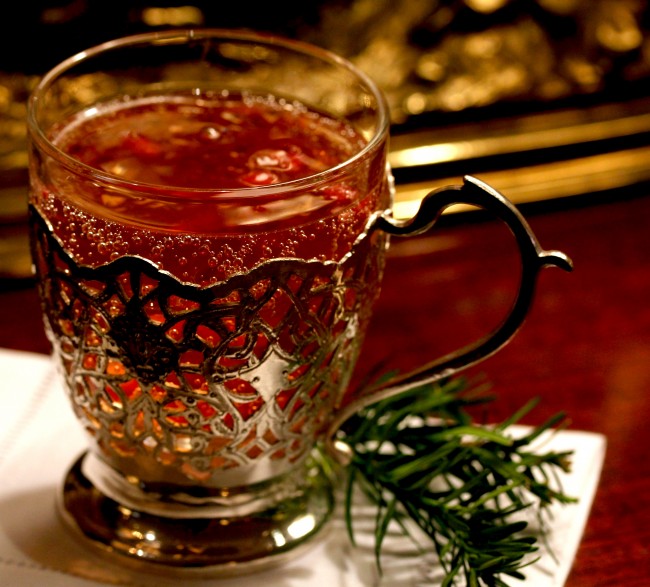 Serves: This depends upon the size of your punch bowl and the thirst of your guests – assume 4 glasses of champagne per bottle.  If you have 8 guests who will drink two glasses each, you'll need four bottles of champagne.  Because this recipe is so basic, you can continue to add champagne to the punchbowl as it is drained, without have to do anything else. 
Prep time: 15 minutes, plus at least 24 hours to freeze the pomegranate ring 

Ingredients
2 bottles dry champagne
8 ounces pomegranate seeds
2 ounces Grenadine
4 ounces pomegranate juice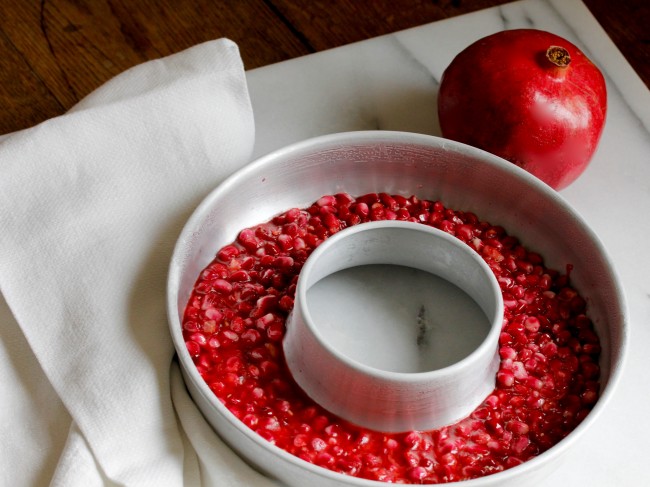 Directions
Pour pomegranate seeds into a ring mold, and add Grenadine and pomegranate juice.
Freeze in a freezer for at least 24 hours.
Just before serving, pour chilled champagne into a deep bowl.
Run warm water on the bottom of the ring mold to loosen frozen pomegranate ring from the mold.
Float mold in the champagne and serve. Pomegranate seeds will gradually loosen from ring and float in the punch, and the juice and Grenadine will turn the champagne a light pink. Enjoy!