CHOCOLATE BUNDT CAKE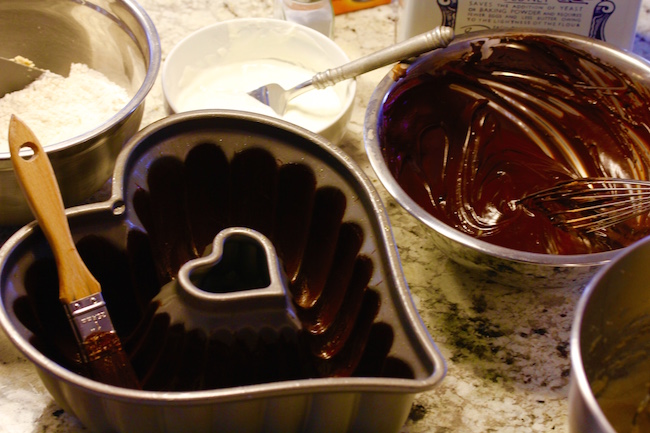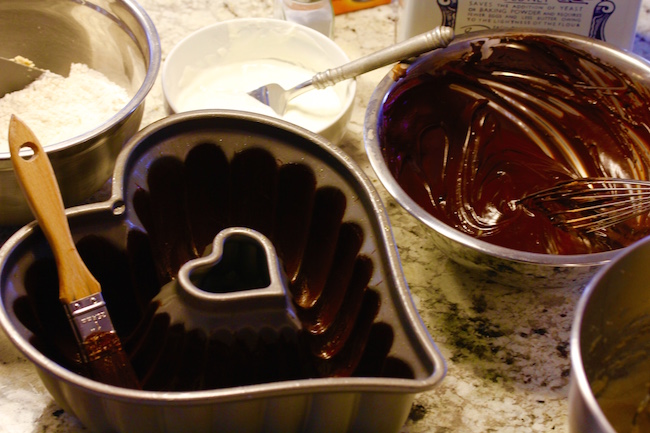 When I first learned to cook, my mother started me out on desserts – possibly to engage my culinary interest, or maybe because by the time she got to the end of the meal she had run out of steam and was glad to have someone else do the dessert. Bundt cakes were all the rage back then, and I made them in many forms: lemon, double chocolate, ginger molasses, and even a dark chocolate with coconut cream center – the Mounds bar of cakedom. This recipe is a variation on the chocolate, with sour cream and a bit of espresso to amp up the flavor. I've stopped adding frosting to the cake because it's sweet enough on it's own, and with the addition of some lovely red currants, raspberries and strawberries (and my heart-shaped bundt pan,) it's everything you need for a toothsome Valentine's Day dessert. Enjoy!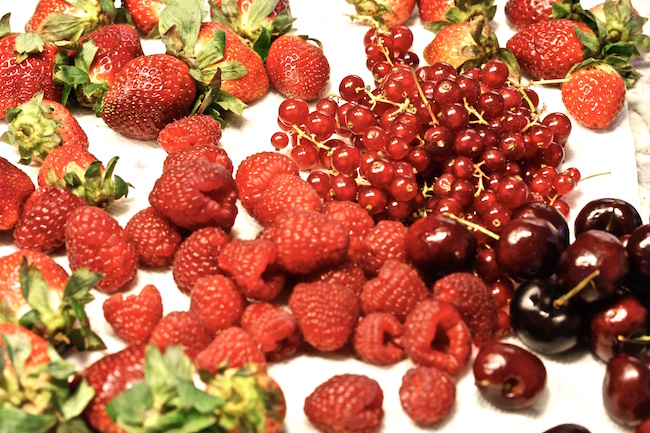 Chocolate Bundt Cake
Serves: 10
Prep time: one hour and 15 minutes

Ingredients
6 ounces bittersweet chocolate, well-chopped
¾ cup unsweetened cocoa powder, and 1 tablespoon powder for lining the bundt pan
1 teaspoon instant espresso powder
12 tablespoons unsalted butter, at room temperature and 1 tablespoon, melted, for lining the pan
1 cup sour cream
1 ¾ cups flour
¾ cup boiling water
1 teaspoon baking soda
1 teaspoon salt
2 cups light brown sugar
5 eggs
1 tablespoon vanilla
powdered sugar
berries of your choosing, washed and patted dry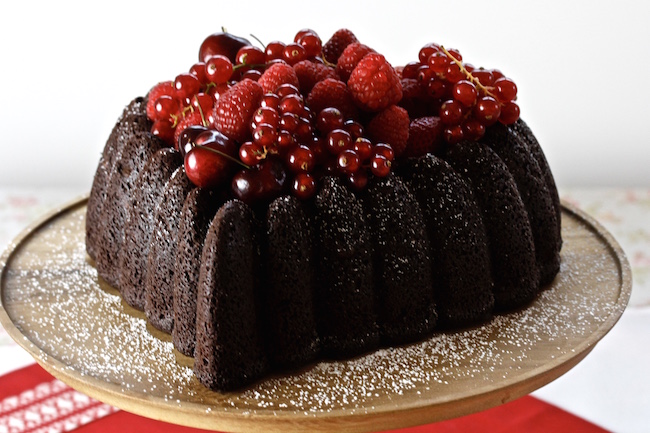 Directions
Mix together 1 tablespoon of cocoa powder with melted butter, and with a pastry brush, brush down the interior of the bundt pan.
Preheat oven to 350 degrees.
Mix together espresso powder, chocolate and the rest of the cocoa in a heatproof bowl. Add boiling water and allow to sit with a towel covering it for several minutes. Mix mixture until combined and allow to cool. When completely cool, whisk in sour cream.
In a separate bowl, mix together flour, salt and baking soda.
Beat butter, sugar and vanilla on high speed until pale and frothy. Add eggs one at a time and beat until combined.
Turn mixer speed to low and add flour in small increments. Add sour cream/chocolate mixture as well, and mix until it is well incorporated.
Put better into bundt pan and bake 45-50 minutes. Allow cake to cool, then invert onto rack. Dust with powdered sugar and garnish with berries.