SRIRACHA SESAME BEEF SKEWERS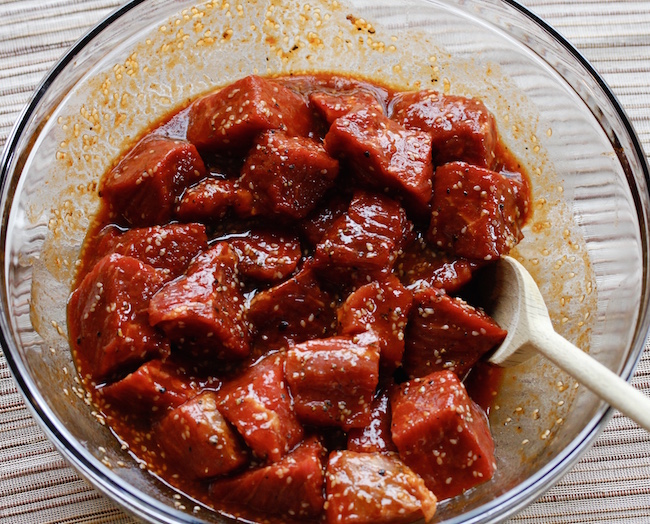 Sriracha is the chili sauce of the moment, an import from Thailand wildly embraced by every American fast food outlet from Applebee's to White Castle. That doesn't mean you should pass it by; on the contrary, sriracha is everywhere because it's a howling wake-up call for the tastebuds. It doesn't have to make tears stream down your face; used judiciously, it adds texture and heat that elevates a dish exotically. I added sriracha to my favorite sesame beef skewers, grilled them up, and served them on a bed of rice for an easy Asian dinner. I like this recipe because you can marinate and grill the beef in the time it takes to cook the rice, and deliver up a substantial meal in the wink of an eye. Delicious!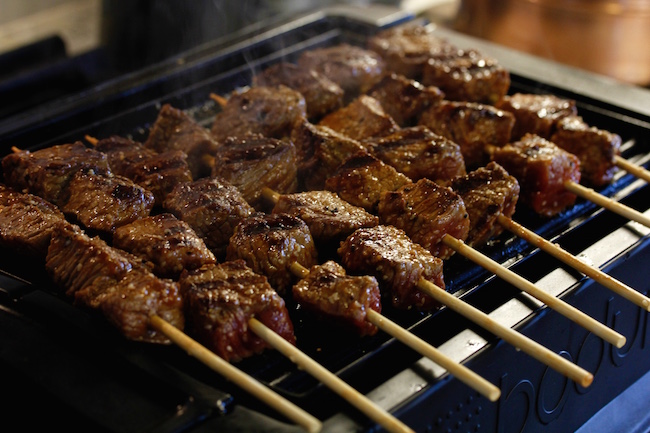 Sriracha Sesame Beef Skewers
Serves: 6
Prep time: 30 minutes

Ingredients
2 pounds sirloin, cut into 1 ½ inch cubes
2 tablespoons sriracha chili sauce
2 tablespoons sesame oil
1 tablespoon raw turbinado sugar
2 tablespoons sesame seeds, plus extra for garnish
2 tablespoon soy sauce
cracked black pepper and salt to taste
wooden skewers
Directions
Place the sriracha, sesame oil, sesame seeds, salt and pepper in a bowl and combine. Add cubes of beef and coat in sriracha mixture. Allow to marinate 10-15 minutes.
Heat grill to high. Thread chunks of steak on wooden skewers and grill for 6 minutes until meat is medium rare. Serve on a bed of rice and garnish with additional sesame seeds.