This kids' dessert is fun, healthy, and easy. The gluten-free little chocolate drops are my all-time favorite cookie, and so I never make them. (No self control around these things, but I make an exception to share this recipe with you!) It's my mom's recipe, though we never knew anything about 'gluten free' when I was a kid, we just liked the soft chocolate taste and texture.  And this is not just a kids' cookie; they're great with an afternoon cup of coffee or for a TV-watching snack.
I skewered the cookies, along with some fresh berries, on a wooden kebab stick, to make an easy-to-serve dessert treat. The cookies have only five ingredients and are low in sugar, so eating three little cookies off the kebab won't send anyone into a sugar craze. There is a crafting opportunity for kids as well, if you want to let them design their own little paper pennants for the tops of the wooden sticks. I used reversible wrapping paper and glued on the little triangles with Elmer's glue. This is a great playdate activity, because kids can make the pennants while the cookies are baking, and then assemble the kebabs themselves.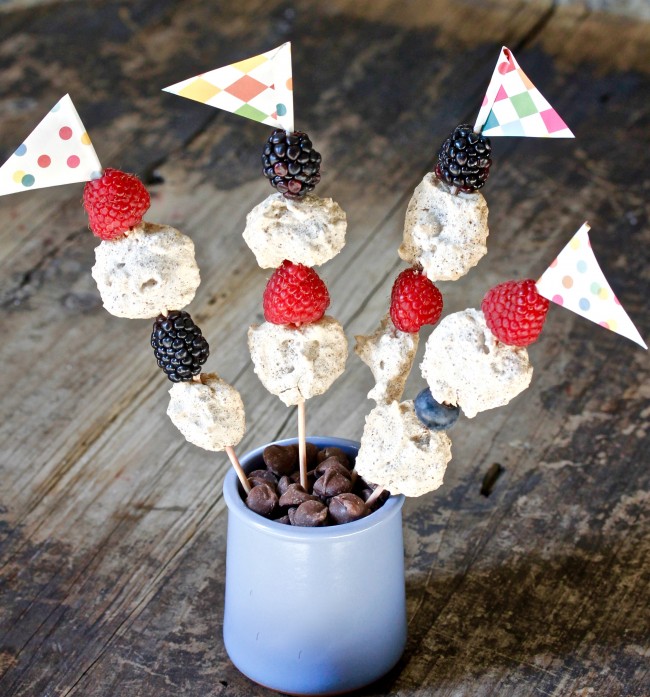 Little Chocolate Drops
Serves: makes four dozen medium-sized cookies 
Prep time: 45 minutes 

Ingredients
3 egg whites
1/8 teaspoon salt
1/2 cup sugar
¾ cup unblanched almonds, grated finely
4 ounces milk chocolate, grated finely
assorted berries, banana slices or tangerine segments for skewers
wooden kebab skewers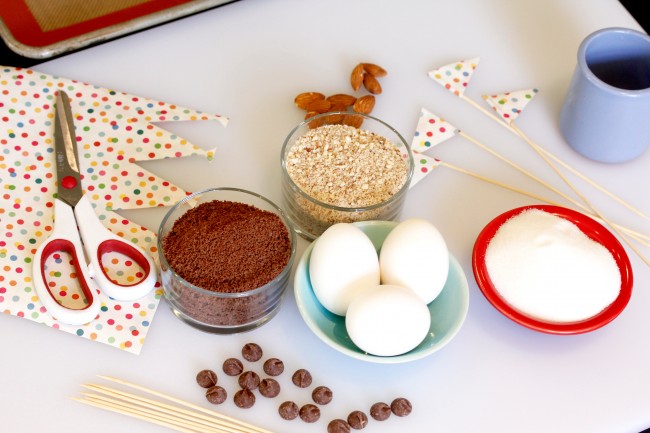 Directions
Preheat oven to 275 degrees.
Beat egg whites with salt until soft white peaks form.
Add sugar slowly, mixing at medium speed. Beat for two more minutes after last sugar has been added.
Fold in almonds and chocolate gently, then spoon on to a Silpat-covered baking sheet and bake for 30 minutes.
Cookies will be soft when they come out of the oven, and it's easiest to skewer them while they're still warm.
Slide fruit and cookies on to wooden skewers.
I used a piece of oasis in a ceramic cup to stick the kebabs into, and topped the oasis with a layer of chocolate chips to make a finished presentation. Enjoy!