Here's a combination of two things kids love: chicken soup and alphabet pasta. If you're thinking you don't have time to make soup, think again, because this recipe takes less than an hour – in fact, it's best when served as soon as it's ready, while the vegetables are still crunchy and bursting with flavor. I added fresh spinach to sneak in a green veg, and the lemon juice brightens the flavor of the broth – but don't forget the celery leaves for garnish, because their fragrant rawness is so clean and refreshing.
Then there's the pasta – of course you can use any small pasta or noodle, but the little pasta letters turn a simple bowl of soup into a game and a lesson. (It's fun to leave some of the pasta uncooked for the kids to play with; my girls always liked to arrange the letters to make messages and glue them on to paper.) The temptation to spell when these alphabet letters are around is so great that you'll have to keep little fingers out of the soup – they'll be picking words out before you can stop them! Enjoy!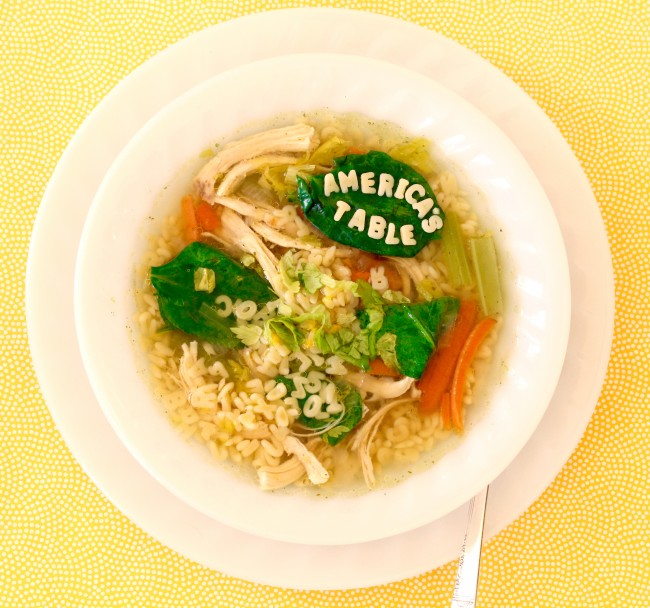 Serves: 4 
Prep time: 50 minutes 

Ingredients
2 large chicken breasts on the bone
3 quarts water
5 Knorr chicken bouillon cubes
1 1/2 cups carrots, chopped
1 large onion, finely chopped
1 cup celery, chopped
2 cups fresh spinach
1 cup celery leaves for garnish
1 tablespoon fresh lemon juice
1 tablespoon fresh grated lemon zest, for garnish
6 ounces alphabet pasta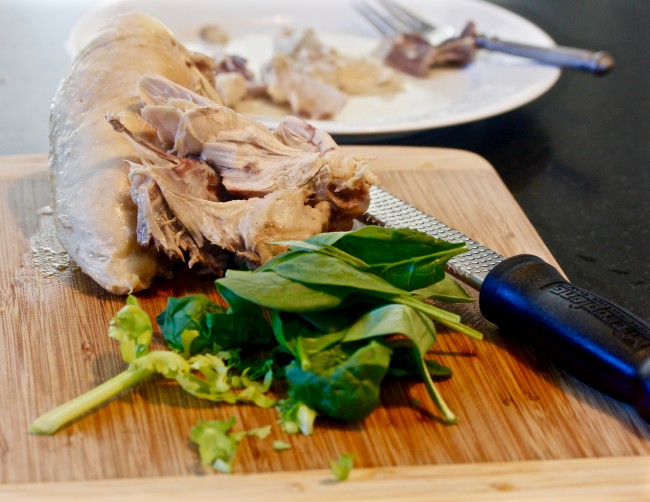 Directions
Pour water into a large soup pot and add chicken breasts, cook on medium heat.
Add chopped onions, carrots and celery.
After 30 minutes, chicken should be cooked through.
Remove chicken from pot and allow to cool, then shred chicken and return to the soup, discarding bones.
Cook alphabet pasta in salted water for about five minutes until tender.
Remove from heat and drain well.
Add fresh spinach, lemon juice, and alphabet pasta two minutes before serving.
Garnish with fresh celery leaves and lemon zest. Serve hot.