This post started with a good idea but many obstacles. I wanted to make a rabbit cake that looked like the Velveteen Rabbit – you remember, that lovingly-worn stuffed bunny who became real through the magical loving memory of his little boy. (See link below.) Easter lambs are pretty common at this time of year, and adorable, but if you've ever tried to make one you know how frustrating it can be: the heads fall off, chunks of the cake get stuck in the mold, the batter overflows the mold, and they won't stand upright. Then it becomes a reclamation project with the frosting, trying to cover up the fact that the ears are missing and half of the hind end oozed out of the mold while baking because the mold wasn't tied firmly shut. File this under "not worth the effort." And because it's almost Easter, a bunny really is in order.

That's why I did everything differently, and very simply, to get my version of a velveteen rabbit cake. First, I used a gingerbread recipe of my aunt's, which is dense and doesn't fall apart as easily as a standard cake. Secondly, I used an iron rabbit mold, which bakes the batter through more effectively than an aluminum mold. Third, a wash of sugar and milk created the worn-looking patches on the rabbit, brushed on with a pastry brush rather than doing a big frosting extravaganza. I reinforced the ears and head with the strategic placement of some wooden skewers on top of the batter before baking. (These adjustments came after multiple failed attempts – I make mistakes so you don't have to!)
The result is a natural-looking bunny that is not smothered in sugar but does have a bright, gingery flavor that tastes especially good with a dollop of plain yogurt – a simple little rabbit for how we eat now, and a beautiful story to savor along with it.
Link to The Velveteen Rabbit by Margery Williams: http://www.amazon.com/Velveteen-Rabbit-Margery-Williams/dp/0385077254/ref=sr_1_1?ie=UTF8&qid=1455808573&sr=8-1&keywords=book+The+Velveteen+Rabbit
Link to rabbit cake mold: http://www.amazon.com/Kitchen-Supply-Jack-Rabbit-Cake/dp/B001BNUZ3C/ref=sr_1_1?ie=UTF8&qid=1455809349&sr=8-1&keywords=rabbit+cake+mould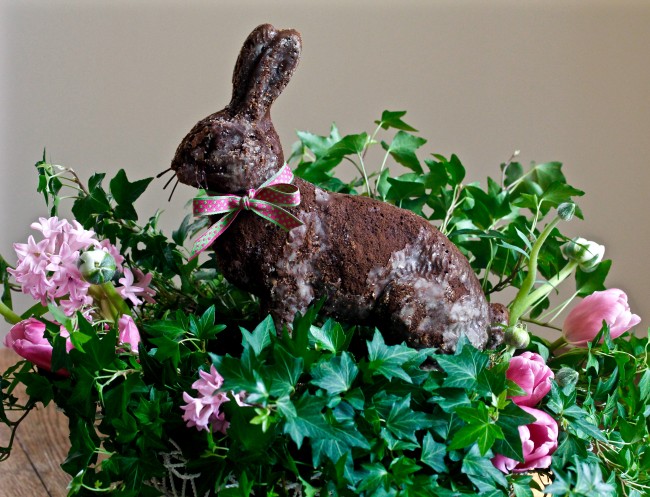 The Gingerbread Bunny
Serves: 6
Prep time: One hour, 15 minutes, including baking time
Ingredients
1 ¾ cups flour

3 unbeaten eggs

½ cup molasses

1 teaspoon dried ginger plus one tablespoon fresh ginger

¼ teaspoon salt
½ cup butter
¾ cup sugar
1 teaspoon baking powder
1 teaspoon cinnamon
½ cup milk
wooden skewers for reinforcing head and ears
kitchen string

1 tablespoon

powdered

sugar plus 1 tablespoon of milk for a light glaze

Honey to hold cake to plate
Small twigs for whiskers
Plain yogurt for garnish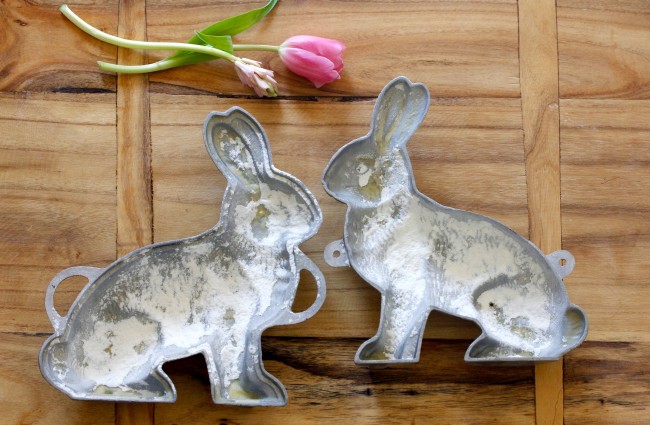 Directions
Preheat oven to 350 degrees.
Cream together butter and sugar.
Add all other ingredients and mix well.
Mixture will be think.
Place into pan (or mold) that has been greased and floured.(Note – this is critical to the cake coming out of the mold later.)
Using wooden skewers cut to size, place a skewer in the middle of the ear, allowing it to run at least into the head.
Place another skewer across the head and into the body, then gently push both skewers into the batter, which will bake over them so that they disappear.
Bake for 30 minutes in a baking pan, 45 minutes if using a mold.
The mold may have a screw and wingnut that should be fastened snugly to hold the two sides of the mold together.
If it doesn't, use kitchen string and tie the mold together tightly so that batter can't leak out.
After baking, allow mold for sit for 30 minutes before removing the top.
Remove the top gently.
Using a knife, and pulling gently with your fingers all around the edges, prise the cake away from the mold, being especially careful around the ears and feet. When it feels loose enough, gently turn it out onto a flat surface, holding the neck to reinforce it.
Brush some honey on the serving plate and place the rabbit into the honey to hold it upright.
If the bottom of the cake is uneven, you will need to trim it a bit so that it stands on its own, or decorate with a few colored eggs at the base to hold the cake up.
Mix powdered sugar and milk into the white glaze and dot around the cake with a pastry brush to create the look of worn spots.
I used tiny birch twigs as whiskers, pushing in several on each side.
Serve with yogurt or whipped cream.