I've been making these chicken potpies since my girls were little, and, over the years, I started getting special requests for the fillings in the pies. My husband wanted extra peas and pearl onions but no potatoes, one daughter is allergic to carrots, another liked the original version, and it became fun, and a special treat, to 'customize' the potpies. I marked the top of each with the initial of the person whose pie it was using a small cookie cutter (and often had help from the girls with this part). It's a good idea to involve kids in cooking so they begin to learn about food and nutrition, understand the effort required to make a meal, and experience the pleasure of doing it. People who cook for themselves tend to eat more healthfully, so getting kids engaged in food prep is setting them up for a lifetime of healthier eating.
Potpies take some advance preparation, but if you have leftover roasted chicken to use, that will save you a step. The rest is a matter of assembling the vegetables and cooking the filling. The pastry dough I use for these pies is a little heavier than most pie dough, but what you lose in flakiness you make up for in sturdiness. This is like a Cornish pasty dough – you can pick up one of these pies and eat it with your hands – a great grab-and-go lunch or after-school snack. I used a large muffin tin to make this batch, but you can also make them in individual ovenproof bowls if you'd like to serve larger portions. This is a good meal to assemble in double or triple batches to freeze, because it doesn't take much longer to make more, and they freeze really well. (The leftovers are also pretty good eaten while standing in front of an open refrigerator at midnight.) It's a great do-ahead, cold weather treat. Enjoy!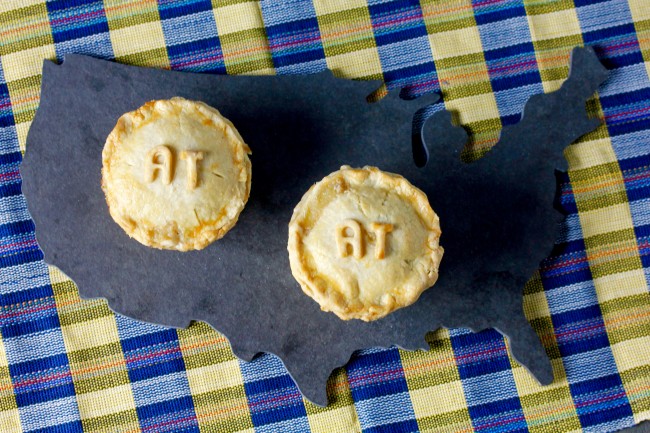 Serves: 6 
Prep time: 90 minutes 
For the filling: 

Ingredients
2 skinless, boneless cooked chicken breasts, or any leftover cooked chicken that has been cut into small pieces
2 small potatoes
2 parsnips
3 carrot
12 pearl onions, peeled
1 leek, rinsed and cut into small pieces
1 pint button mushrooms, quartered
1 cup fresh or frozen peas
2 teaspoons chopped parsley
4 tablespoons butter
4 tablespoons flour
1 cup cream or whole milk
1 cup chicken broth
(Add any favorite veggies you like!)
For the pastry dough: 

Ingredients
2 cups flour
½ teaspoon salt
½ cup of vegetable shortening (I used Crisco)
1 beaten egg
1 tablespoons water
2 teaspoons vinegar
1 egg beaten with 1 tablespoon of water, for a wash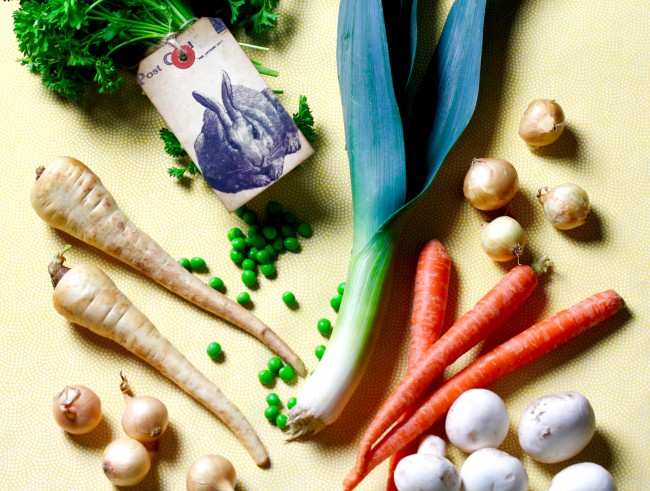 Directions
Preheat oven to 450 degrees.
Boil potatoes, parsnips and carrots until tender, removing parsnips and carrots a few minutes before the potatoes.
Vegetables should be firm, not mushy. Allow them to cool.
Peel and cut into cubes.
In the same saucepan over medium heat, melt butter.
Add leeks and pearl onions and cook until soft, about 5 minutes.
Stir in flour.
Add cream and chicken broth and simmer over medium-low heat until thick.
Add chicken and remaining vegetables, season to taste with salt and pepper.
Set aside to cool.

To make the pastry dough: 

Combine flour and salt.
Cut shortening into small pieces and add to flour and salt mixture.
Cut shortening into the flour with your fingers, mixing until the mixture is crumbly.
Beat the egg, vinegar, and water together and sprinkle it over the flour mixture.
Gather dough together and knead gently. Divide dough into 4 pieces, cover with plastic wrap and chill for an hour.
When dough has been cooled, place on a floured surface and roll out to ¼-inch thickness, then cut into in rounds to fit the inside of each muffin tin.
Line the sides of each tin with a small piece of parchment paper, cut to fit around the sides (this makes getting the potpies out of the tin a breeze).
Fit the dough rounds into each muffin tin.
Fill with filling mixture to the top, then brush egg wash along top of dough before covering each potpie with a round of dough (about 6 inches by 6 inches.) If you prefer not to cut initials into the pies, be sure to poke the dough with a fork to allow steam to escape as they bake.
Bake for 25 minutes or until golden brown.
If you want to freeze the potpies, unbaked, bake at 350 degrees for 40 minutes (no thawing needed). If you have already baked the potpies and want to freeze them, bake at 325 degrees for 30 minutes.