The Search for Delicious is not just a great book by Natalie Babbitt; it's a lifetime quest, seeking food that satisfies our heads and hearts, as well as our stomachs. Before you dig in, remember that what you're about to eat is going to become a part of you. You deserve to be healthy, so give yourself permission to eat what will keep you strong and well.
Here are two delicious breakfast foods to warm up the cold winter mornings. Both can be made in advance to cut down on prep time in the morning, for those of us who prefer not to work around hot stoves or sharp knives before that first cup of coffee. A cup of the warm cinnamon quinoa will keep you going strong well past lunch, if you have a hectic day ahead, and the apricot granola is delicious without the rose petals – it just makes me happy to use them.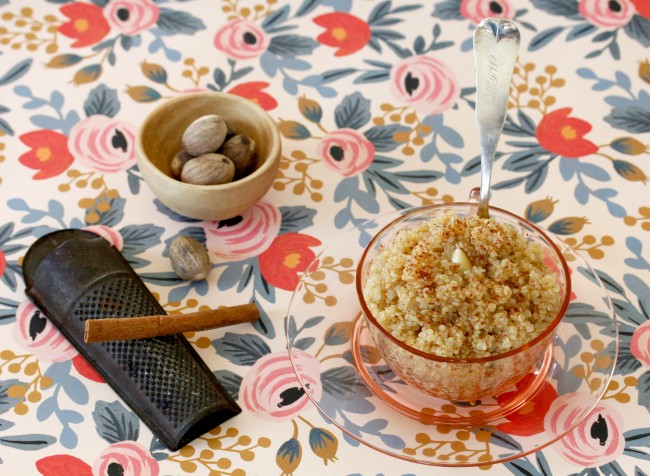 Cinnamon Breakfast Quinoa
Adapted from "Gourmet Comfort Food"

Ingredients
1 cup white quinoa
2 cinnamon sticks
¼ teaspoon salt
1 ½ cups water
1 tablespoon honey
dashes of cinnamon and nutmeg for garnish
½ pat of butter for garnish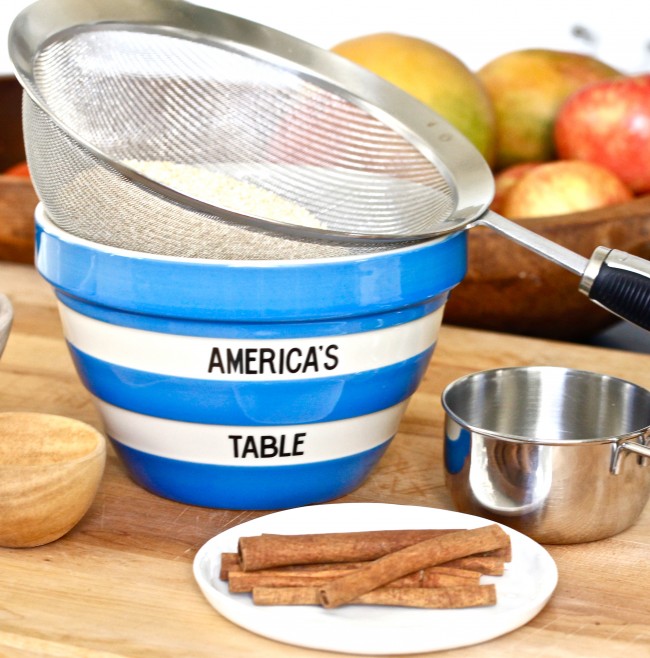 NOTE: There are two tricks to making quinoa: 1) the quinoa has to be well-washed before cooking, because the husk of the quinoa carries a bitter taste. If you don't rinse the quinoa well, the cereal will have a bitter aftertaste. 2) When cooking quinoa, place a paper towel between the lid of the pot and the pot to absorb moisture. This keeps the quinoa from sticking together. It should be light and fluffy.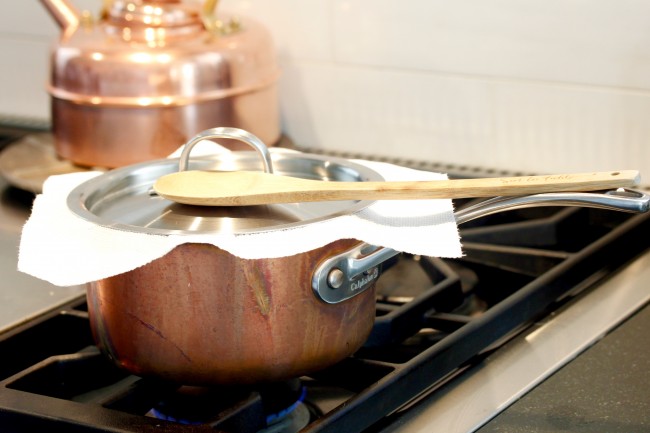 Directions
Rinse quinoa well, using your hand to help rub the powdered husk off the quinoa and washing off until water you're rinsing it in runs clear. Drain water off quinoa.
Combine quinoa, water, salt and 2 cinnamon sticks in saucepan and bring to a boil.
Reduce heat to medium low, add a paper towel between pot and lid and allow quinoa to cook 15-18 minutes until water is absorbed.
Allow mixture to rest five minutes, fluff with a spoon and serve with cinnamon, nutmeg, butter, and honey garnish.
Also good with a fresh fruit topping – and you can leave out the butter then.

Apricot Rose Granola
Adapted from SophieConran.com

Ingredients
1 cup slivered blanched almonds
1 1/2 cups whole unrolled oats
½ cup sunflower seeds
1/4 cup desiccated coconut
1 ¼ cup ounces dried apricots, roughly chopped
½ cup pumpkin seeds
¼ cup raw unsalted cashews, roughly chopped
optional: handful of dried rose petals
For the syrup: 

Ingredients
¼ teaspoon salt
3 tablespoons water
6 tablespoons coconut oil
½ cup maple syrup
½ cup honey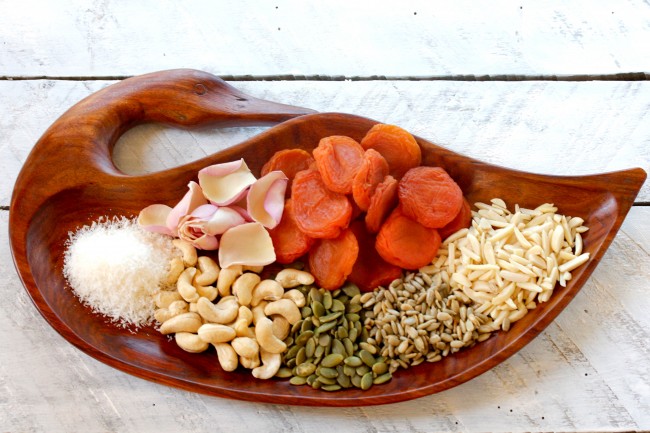 Directions
Preheat oven to 300 degrees.
Melt the maple syrup, honey, coconut oil, water and salt in a small saucepan at medium heat.
While syrup is heating, mix together the oats, almonds, sunflower seeds, pumpkin seeds, cashews, and coconut in a large bowl.
Pour the melted syrup over the oat and nut mixture and stir until well coated.
Line a baking sheet with parchment paper or a Silpat sheet.
Spread the granola in an even layer, place in middle rack of oven and roast for 15 minutes.
Mix granola well and return to oven for another ten minutes.
Repeat mixing and toasting until the granola is golden. Remove from oven and cool.
Add apricots and rose petals. Store in an airtight jar – should keep for 2-3 weeks.