Growing up with a Bohemian grandmother – that's big "B" Bohemian, as in small eastern European country, not small "b" bohemian like Birkenstocks and VW vans – I know something about dumplings. They're the most uber-satisfying, slide-down-the-gullet comfort food of all time. But, whether they're made from potatoes or from flour, they definitely aren't lean cuisine. Dumplings hearken back to a time when food options were few, so making a filling meal out of a potato was a valuable culinary skill. We ate dumplings a lot when I was growing up (maybe that's why we all looked like dumplings!) because that was our tradition. Here's my downsized version of the chicken-and-dumpling classic, using Cornish game hen, tender baby dumplings, and lots and lots of veggies. You get all the satisfaction of tender poultry, young spring vegetables, and light clouds of chive dumplettes without the massive carb and calorie intake. It's the perfect Sunday dinner, if you're feeling big 'B' Bohemian – or just really, really hungry.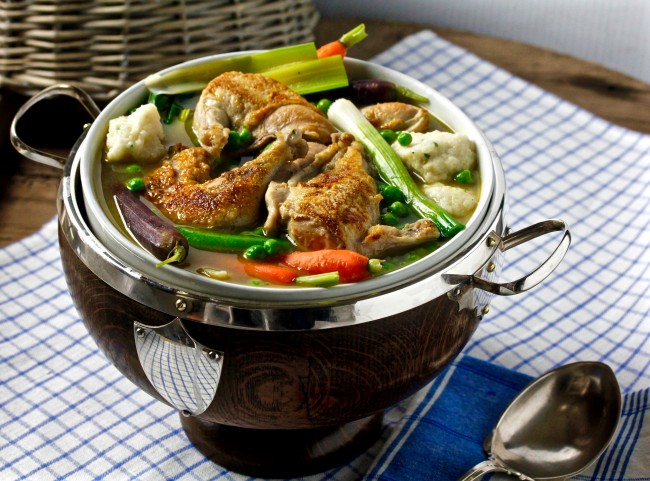 Serves: 4 
Prep time: one hour to prepare, 2-3 hours for broth to simmer
For the chicken broth: 

Ingredients
10 cups water
1 chicken carcass from a roasted chicken
3 leeks, sliced
3 carrots, sliced
2 parsnips, sliced
1 onion, chopped
2 tablespoons parsley
2 bay leaves
1 tablespoon thyme
3 teaspoons salt
2 Cornish game hens, quartered
2 tablespoons canola oil
6 green onions, cleaned and cut to 5 inch lengths
4 carrots, peeled and kept whole
1 leek, clean, peeled and kept whole
2 cups peas
For the chive dumplings: 
2 ½ cups flour
1 teaspoon salt
1/8 teaspoon pepper
2 egg yolks, well beaten
4 tablespoons butter
¾ cup of milk
2 tablespoons chives, finely chopped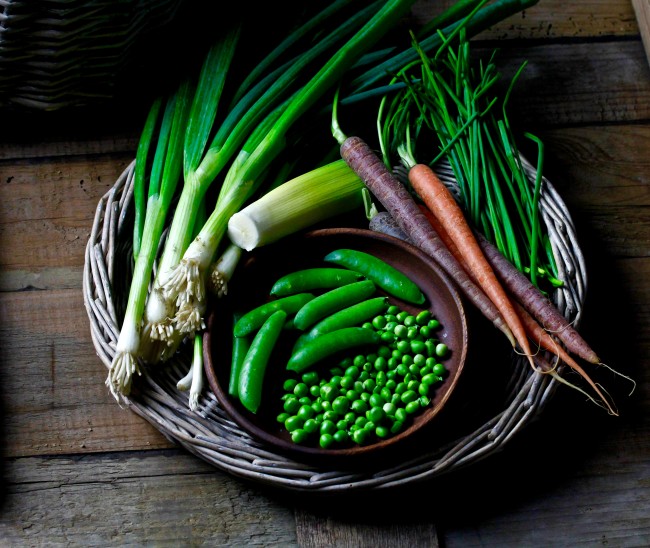 Directions
Bring all ingredients for the chicken broth to a boil, then simmer for 2-3 hours. Remove carcass and vegetables from the broth, straining through a mesh strainer, and set aside.
In a large frying pan, cook pieces of game hen until browned, about 15 minutes.
Add chicken and green onions, leek, peas, and carrots to broth and allow to simmer for fifteen minutes for hens and remaining vegetables to finish cooking through.
To make the dumplings: 
While broth is simmering, sift flour, salt, and pepper together. Combine egg yolks, butter and milk. Mix wet and dry ingredients and add chives. Mix together and let dough stand for 15 minutes.
Set aside one quart of broth and bring to a boil.  Drop dough by tablespoons into boiling broth, lower heat and cook until dumplings are soft – about 15 minutes.
Add dumplings to chicken, vegetable mixture and serve very hot in large soup bowls.