Finger food is especially appealing to small children who are able to feed themselves, but haven't yet mastered the use of a knife and fork. I'm for anything that encourages kids to feed themselves and give them confidence at the table. This is a really simple way to offer a 'serve yourself' breakfast or brunch to a group of toddlers – just some good old-fashioned buttermilk waffles served with small pieces of bacon and fresh berries – all arranged on a single platter and accompanied with little bowls of syrup for some messy, creative dunking.
My waffle iron's segments happen to be heart-shaped, and I discovered that if I put a heaping teaspoon of batter in the center of the waffle iron, it created a 'flower' of a waffle, a novelty that made a pretty presentation. If your waffle iron makes squares, you can use the same technique and make shamrock shapes, just for the novelty of it. This is a breakfast that most people love (and can make easily), but it's the presentation that makes it special. It's simple, but when you're up to your ears in work and kids and home, simple is what we can do – and still make the day a little bit special. Enjoy!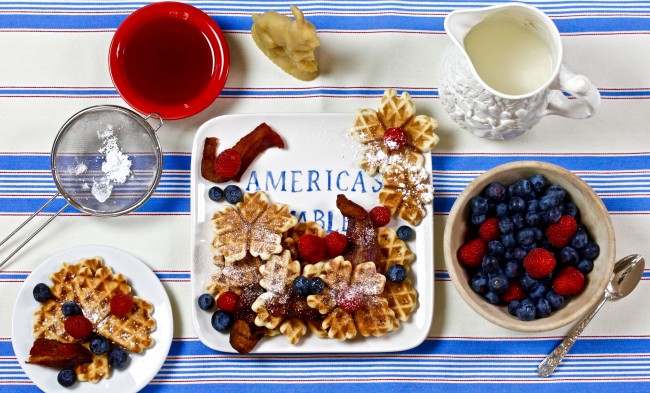 Buttermilk Waffles
Serves: 4 full waffles, or 16 waffle pieces 

Ingredients
1 egg
1 cup buttermilk
1 cup flour
1/2 teaspoons soda
¼ teaspoon salt
1 teaspoon baking powder
1/4 cup butter
Powdered sugar and maple syrup for garnish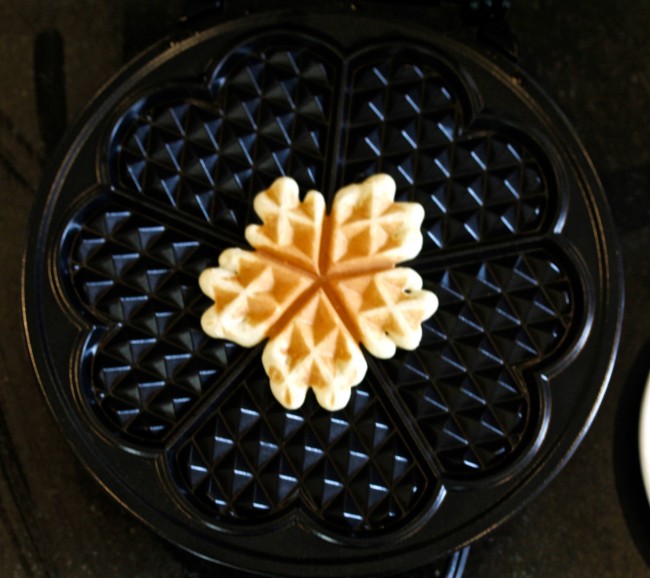 Directions
Heat waffle iron. Whisk all ingredients together until batter is smooth. Batter should be thick but pourable.
Pour batter into waffle iron and close.
Allow to cook four minutes, then raise top of waffle iron to see how they look – the heat in waffle irons vary, and the waffles should cook until they are golden brown.
That might be four minutes, but it could be longer with some irons.
Stack waffles, bacon pieces and berries at random on a platter.
Put maple syrup in small bowls for dipping. Serve immediately.
For the bacon:
Directions
Fry bacon in a large frying pan until brown and crispy.
Remove from frying pan and allow to drain and harden. Break each bacon slice into thirds to serve.
For the fruit:
Ingredients
1 pint fresh blueberries
1 pint red raspberries
Directions
Wash berries and drain. Sprinkle over waffles and bacon and serve.