I love a salad you can make a meal out of, and this rice salad will appeal to both vegetarians and meat-eaters. It's simple, as things should be in August. Just the crisp, tangy ingredients of a Greek salad combined with cold, cooked rice. If you want extra protein, grilled salmon or chicken are flavorful additions. I had this salad three times over the course of the weekend: once with warmed pita bread for lunch, another time with grilled boneless chicken breasts for dinner, and finally, standing in front of the fridge, fork in hand, as a late-night nibble. One of the nice things about being an empty nester is that you can do things like that – there's nobody else around to be considered. We haven't started drinking out of milk cartons…yet, but there are some advantages to being on our own again.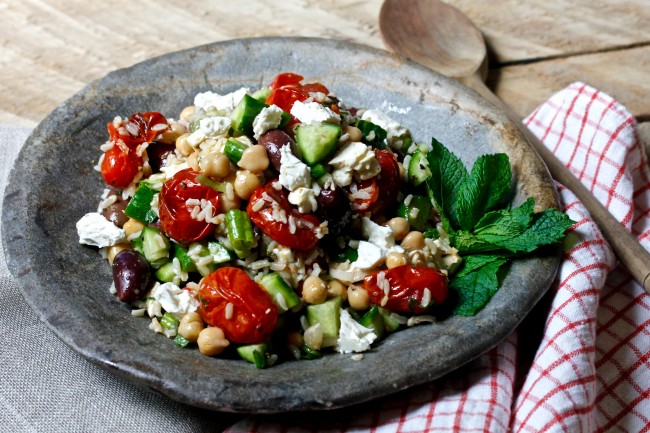 Greek Rice Salad
Prep time: 45 minutes
Serves: 4

Ingredients
1 cup chickpeas
3 cups cooked brown rice
1 cup cherry tomatoes, roasted
2 cup cucumbers, diced
½ cup scallions, minced
¼ cup feta cheese, crumbled
½ cup black olives, pitted, sliced
zest and juice of a lemon
1 tablespoon olive oil
1 tablespoon fresh mint, shredded
1 garlic clove, crushed
salt and pepper to taste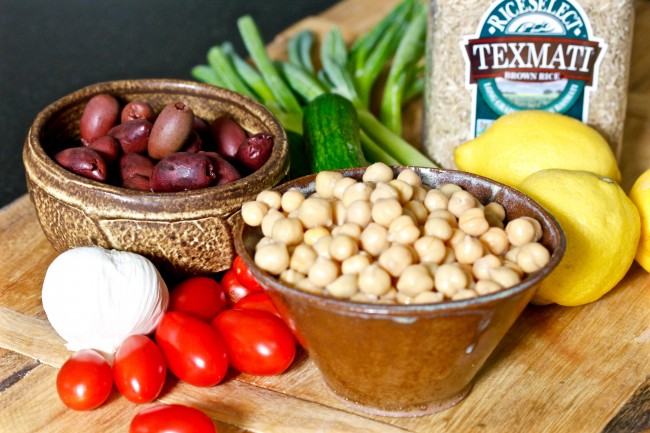 Directions
Roast cherry tomatoes drizzled with olive oil, salt, and pepper at 400 degrees for 30 minutes.
Set aside and allow to cool.
In a large bowl, combine rice, tomatoes, chickpeas, cucumber, scallions, feta and olives.
Add lemon juice and zest, olive oil, mint, garlic, salt and pepper.
Cool in refrigerator for 30 minutes and serve.