I'm a big fan of Gourmet magazine (I still miss the monthly version), and I found this appealing summer salad recipe in their grilling issue a few months ago. It's fresh, and very beautiful – all the bounty of summer on one big treat-yourself plate. Pair this with a baguette and a glass of icy white wine, and you've got a brilliant, elegant meal.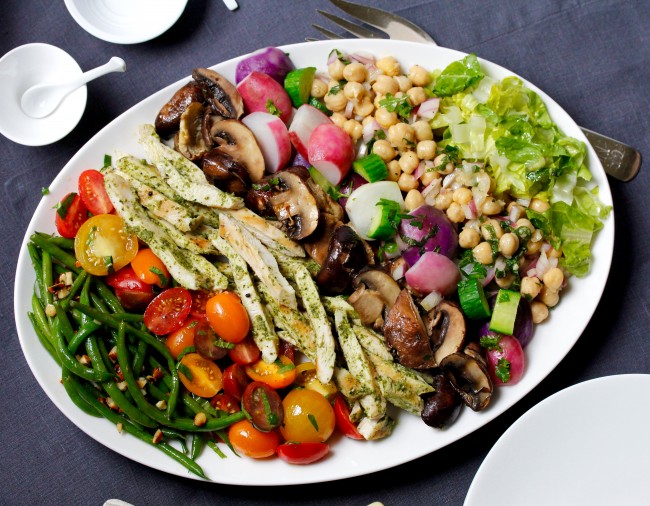 Grilled Chicken Salad
Prep time: 1 ½ hours
Serves: 4
Adapted from Gourmet magazine
For lettuce: 

Ingredients
4 cups romaine of Bibb lettuce, thinly sliced
For tomato salad: 
Ingredients
2 medium tomatoes, cut into wedges
¼ cup basil, thinly sliced
 For grilled mushrooms and chicken: 
Ingredients
¾ pound cremini mushrooms, cut in half
¾ pound fresh shitake mushroom stems, caps cut in half, stems reserved for another purpose
2 pounds skinless, boneless chicken breasts
½ cup basil pesto
For green bean salad: 
Ingredients
1 pound fresh green beans
½ cup whole almonds with skin, toasted and chopped coarsely
For chickpea salad: 
Ingredients
1 15-ounce can chickpeas, rinsed and drained
¼ cup red onion, finely chopped
Salt and pepper to taste
For radish cucumber salad: 
Ingredients
1/3 cup salt
2 tablespoons sugar
4 garlic cloves, smashed
1 teaspoon black pepper
1 bunch radishes
4 small cucumbers or 1 seedless cucumber
½ cup flat leaf parsley, chopped
For vinaigrette: 
Ingredients
5 tablespoons red wine vinegar
1 tablespoon and 1 teaspoon fresh lemon juice
1 tablespoon Dijon mustard
2 small garlic clove, minced
¾ teaspoon sugar
¾ cup olive oil
¼ cup chives
½ teaspoon salt
¼ teaspoon pepper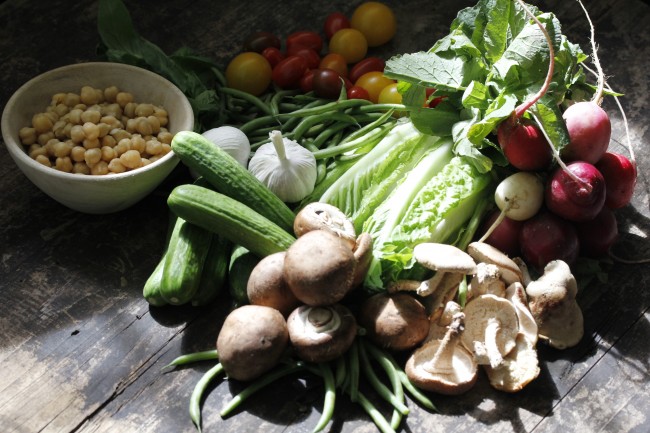 To make the vinaigrette: 

Directions
Whisk together vinegar, lemon juice, mustard, garlic cloves, sugar, olive oil and chives with ½ teaspoons salt and ¼ teaspoon pepper.

For the tomato salad:

Combine tomato segments and finely chopped basil.

For the radish-cucumber salad:

Boil 4 cups of water with salt, sugar, garlic, and pepper in a 4-quart pot for ten minutes.
Trim and halve radishes. Halve cucumbers lengthwise and cut into ½ inch slices.
Remove brine from heat and add radishes and cucumbers, allowing them to stand uncovered for ten minutes.
Drain in a colander, and remove garlic.
Put radishes and cucumbers in an ice bath and drain well.
Chill for 20 minutes in refrigerator, and garnish with parsley.

For the chickpea salad: 

Combine chickpeas, onion, ¼ cup vinaigrette and salt and pepper to taste.

For the green beans: 

Cook green beans in a pot of well-salted boiling water until tender – 3-5 minutes.
Drain and transfer to ice bath to stop the cooking. Drain again and pat dry.

For the mushrooms and chicken: 

Heat grill to medium high. Mix mushrooms with 2 tablespoons vinaigrette and marinate for ten minutes.
Grill mushrooms on oiled grill until browned, about 5 minutes.
Toss grilled mushrooms with vinaigrette.
Season chicken with ½ teaspoon of salt and ½ teaspoon of pepper.
Grill chicken on oiled grill, turning as necessary until cooked through – about ten minutes.
Cut chicken into ½ inch slices and toss with pesto in a bowl.
Toss cucumbers and radishes with parsley, 3 tablespoons vinaigrette, and salt and pepper to taste.
Toss beans with 2 tablespoons vinaigrette and sprinkle with almonds.
Toss tomatoes with 3 tablespoons vinaigrette and basil.
Toss lettuce with 1 tablespoon vinaigrette. 
Arrange chicken, mushrooms and salads in long rows on a large platter, like a composed salad.
Serve remaining vinaigrette on the side.
Serve at room temperature.