I love a good Saturday afternoon sandwich, something unique and savory to wake up the taste buds and fortify myself for the afternoon. Have I mentioned that we just moved after 16 years in the same house? What a job to pack up all those memories; I admit there were some teary moments in the attic, finding old doll carriages under the eaves and dusty first-grade art projects.
Now it's on to really moving in to the new old house. It's old, and full of character, but like all of us who've reached a certain age, it needs a lot of care and maintenance. In the meantime, every spare moment is devoted to figuring out what needs to be fixed next, and it's heartening to look forward to a big, flavorful sandwich as a midday break. Here are recipes for a nicoise salad on baguette, and a brie, thyme and roasted grape sandwich on pain de campagne. You can assemble them in less than minutes, and it's worth the effort.  And now, back to the new attic…

Nicoise Salad on Baguette
Prep time: 15 minutes
Serves: 2

Ingredients
1 6-inch baguette
2 large Romaine leaves
1 hard-boiled egg
6 black olives, cut in half
4 cherry tomatoes, cut into quarters
1 can of tuna, water-packed, and broken into small chunks
1 tablespoon fresh chervil or parsley, chopped
1 tablespoon vinaigrette dressing
pepper
Directions
Boil egg until yolk is firm. While egg is boiling, slice baguette down the middle.
Layer the romaine leaves, tuna, tomatoes, and olives on the sandwich.
Slice egg into segments and place on top of sandwich.
Sprinkle with parsley and pepper, then drizzle with vinaigrette dressing.
Serve immediately.
Brie and Roasted Grapes with Thyme
Prep time: 15 minute
Serves: 2

Ingredients
4 slices of pain de campagne
20 fresh grapes
6 sprigs fresh thyme
4 ounces brie
1 teaspoon olive oil
salt to taste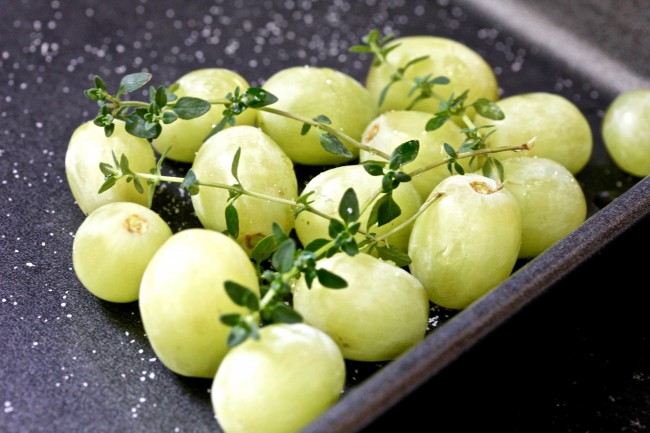 Directions
Preheat oven to 450 degrees.
Drizzle grapes with olive oil and salt and roast in oven for 8-10 minutes and put several sprigs of thyme on them.
Grapes will soften and begin to brown on the underside.
Toast (or grill) the bread and while still warm, spread with brie.
Add grapes on top of brie and garnish with fresh thyme sprigs.
Serve while cheese is still warm and runny.