Food and Wine magazine is one of my favorite sources of inspiration for new recipes, and last summer they had an intriguing recipe for cherry and onion salad with an Asian fish sauce and vinegar dressing. The fish sauce was strong, but when I tried it with a simple balsamic vinaigrette instead, it allowed the cilantro, cherries, and onions to meld without overwhelming them with additional flavor. I loved it! It reminds me of the mango and black bean salad I make regularly – sweet and savory in a way that's so refreshing. It's getting late for cherries, but when I saw these at the grocery store I took it as a sign to try this recipe. This is an original dish for a picnic – easy, fresh, and delicious.
With thanks to Food and Wine for a brilliant idea!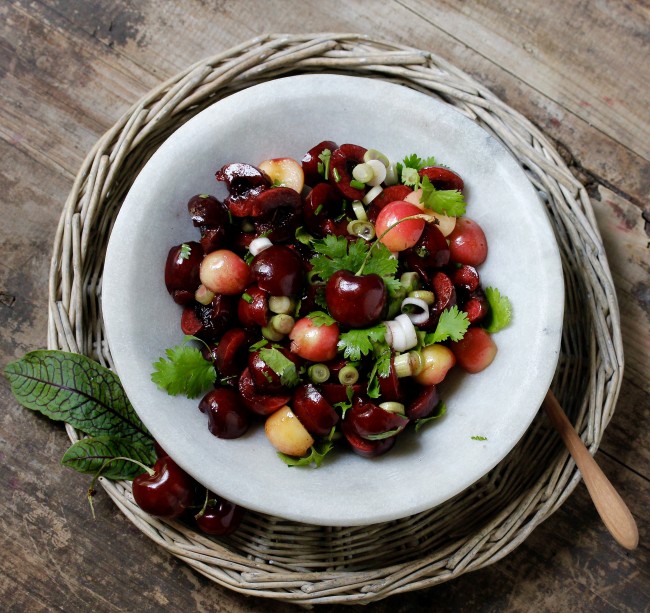 Cherry and Green Onion Salad
Prep time: 25 minutes
Serves: 4-6

Ingredients
2 pounds of fresh cherries, pitted and halved (a combination of red and yellow cherries is colorful and fun)
3 spring onions, sliced thinly
½ cup cilantro, roughly chopped, plus a few stalks for garnish
1 tablespoon fresh chives, finely chopped
2 tablespoons balsamic vinaigrette dressing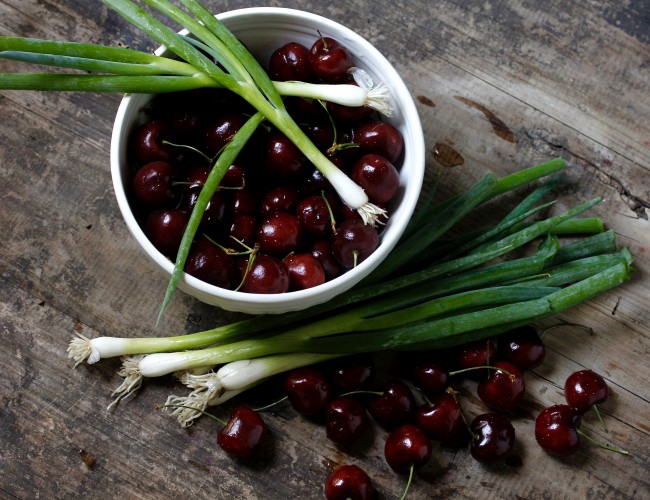 Directions
Mix ingredients together and garnish with cilantro.
Chill and serve.