Calvados in any apple dessert gives it substance and deeper flavor. This recipe is based on clafoutis, but uses caramelized apples instead of pears or cherries. If you love custard and baked fruit, this is about as easy and delicious as it gets. It's a great way to use up old apples, and makes a warm and welcoming hot dessert casserole for a buffet table or tailgate party. If you leave the calvados out, it's a big hit with little ones too!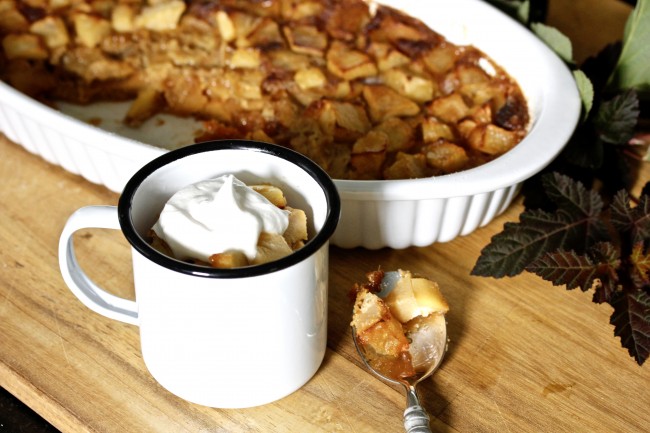 Baked Apple Terrine with Calvados
Serves: 6-8
Prep time: 1 hour, 20 minutes

Ingredients
8 tablespoons unsalted butter plus more for greasing
3 pounds of sweet-tart apples, peeled, cored and cut into ½ inch cubes (Fuji, Empire, Gala)
1 1/6 cup plus 2 tablespoons sugar
¼ cup calvados
1 teaspoon salt
2 tablespoons fresh lemon juice
8 eggs
whipped cream for garnish
Directions
Melt butter in a large frying pan and add two-thirds of the apples.
Add 2/3 cup of sugar and lemon juice.
Cook, stirring occasionally until apples caramelize – about 30 minutes.
Stir in the calvados and salt and remove from heat.
Allow to cool completely.
Preheat oven to 325 degrees and grease an oval baking dish with butter.
Combine ½ cup sugar with eggs and beat for 3 minutes until mixture is thick and pale.
Pour eggs into the cooked apples and fold in.
Scrape into the buttered dish and scatter remaining raw apples on top.
Bake until eggs are set – about 30-35 minutes.
Heat the broiler.
Remove baking dish and sprinkle with two tablespoons sugar, broiling for about 2 minutes until the sugar on top caramelizes.
Remove from oven and allow to cool.
Serve with whipped cream garnish.