Really good vegetable sides recipes are easy to find these days. Here are two – one new, and one dating back to the Kennedy White House. Both are memorable. They're the kinds of vegetable dishes that you'll want to make again, and I especially love the history behind the endive recipe.
I found it in a book called, "In the Kennedy Style," by my old friend Letitia Baldrige. Tish was Jacqueline Kennedy's social secretary and helped to bring high French style to the White House in the 1960s.  I've been thinking about Tish a lot these days, now that I'm writing my own book with good friend and former Obama social secretary, Jeremy Bernard. Our book is called "Treating People Well," and so much of what Tish used to tell us, and teach us, remains true: kindness and respect matter. Nothing good comes from unspecified anger; it's a distraction that allows others to manipulate us to their own ends. The next time you notice someone trying to rev up your anger, take a closer look at what they're really doing and don't let yourself be used. You're smarter than that.
Now back to the endive – it's an elegant summer dish that nicely complements the hot honey sweet potatoes. I found the sweet potato recipe in Bon Appetit a couple of months ago. By the way, if you don't read Bon Appetit, you should; it's cutting edge cooking at its best. Enjoy!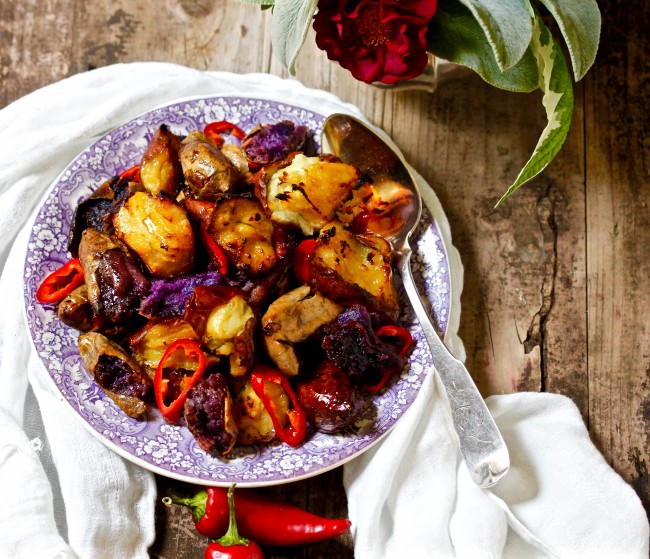 Braised Endive
Adapted from In the Kennedy Style by Letitia Baldrige
Serves: 6
Prep time: 25 minutes

Ingredients
3 cups vegetable or chicken stock
1 bay leaf
3 large heads Belgian endive, green or purple (I used both)
1 teaspoon lemon juice
1 tablespoon butter, unsalted
1 tablespoon fresh parsley, chopped
1 teaspoon salt
½ teaspoon pepper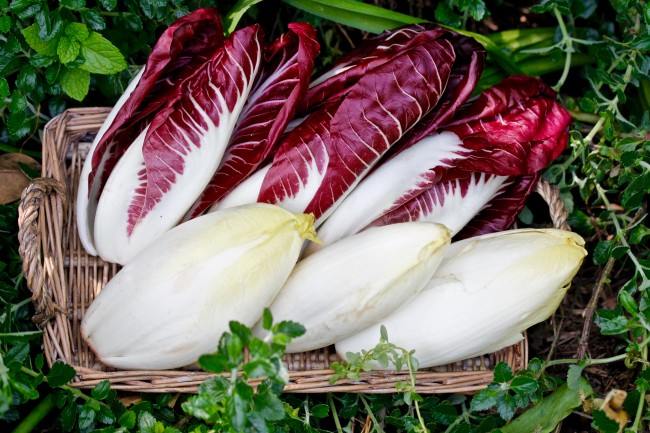 Directions
Bring stock and bay leaf to a boil in a large saucepan.
Slice endive heads in half the long way and immerse into stock.
Reduce heat, cover, and simmer for 6 minutes until tender.
Drain endive and place on a serving dish. Drizzle lemon juice over endive.
In a skillet, brown the butter at medium high heat until it is golden and smells nutty.
Drizzle the butter over the endive, sprinkle with parsley, and season with salt and pepper.
If the endive heads are very large, add a teaspoon of sugar to the boiling water, to offset the potential bitterness of larger heads of endive.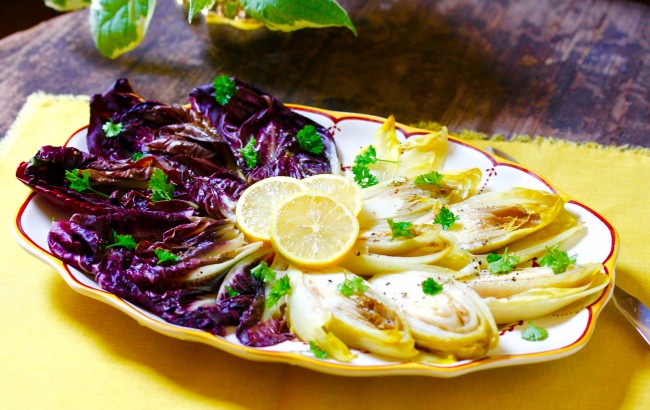 HOT HONEY SWEET POTATOES
Adapted from Bon Appetit magazine
Serves: 4
Prep time: One hour to roast potatoes, 15 minutes to assemble

Ingredients
3 medium sweet potatoes (I used baby sweet potatoes in several different colors, just for fun)
1 thinly sliced Fresno chile pepper (serrano peppers will work as well)
1/4 cup honey
4 tablespoons unsalted butter
¼ teaspoon salt
2 tablespoons apple cider vinegar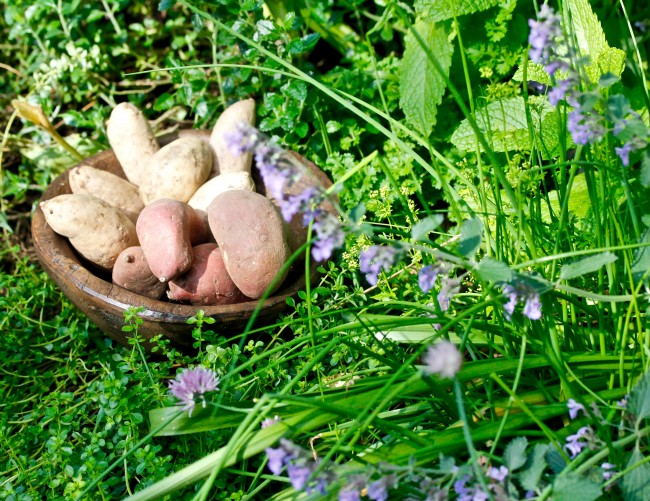 Directions
Wash and dry potatoes and wrap in foil.
Roast for one hour at 350 degrees, until cooked through.
Unwrap and allow potatoes to cool.
Increase oven temperature to 450 degrees.
In a small saucepan, combine 1 thinly-sliced Fresno chile, honey, and butter.
Add salt.
Simmer on low until ingredients are combined. Remove from heat and stir in vinegar.
Tear potatoes into irregular pieces in a large bowl and drizzle with half of the honey mixture.
Arrange sweet potatoes, skin side down, on an unlined baking sheet and roast until potatoes are browned and crisped around the edges – about 20 minutes.
Drizzle potatoes with remaining honey and chiles. Serve.