"Blueberries as big as the end of your thumb,
Real sky blue, and heavy, and ready to drum
In the cavernous pail of the first one to come!"
–Blueberries by Robert Frost
Blueberries are one of the greatest foods ever. They're so forgiving; toss them into a muffin, a cake, a pancake, a pie, and they bubble and ooze into all the other flavors, making everything taste better. Maybe we should all try to be more like the humble blueberry, making every place we go the better for our presence.
This is the best time of year for blueberries, and homegrown varieties are available in so many parts of the country, from tiny Maine blueberries, full of sweetness and perfect for a baked doughnut, to the thimble-sized big boys that turn an ordinary bowl of yogurt into a special breakfast. This recipe is gluten-free and easy to make as either baked doughnuts, a loaf cake, or muffins. If you're not a coconut lover, leave the coconut out and enjoy the lemon and blueberry combination on its own. (My husband hates coconut, and he was so disappointed to come into the kitchen and find that the appealing smells coming out of the oven were not yielding anything he could eat this time. C'est la vie, Wayne!)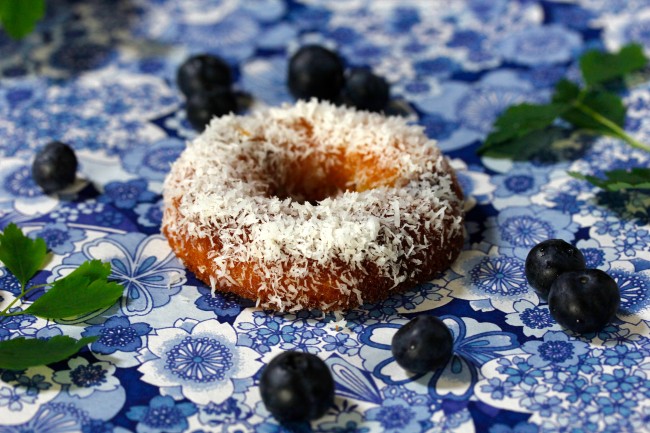 Blueberry Coconut Baked Doughnuts
Serves: 4
Prep time: 40 minutes

Ingredients
2 cups gluten-free flour
½ teaspoons baking soda
1 ½ teaspoons baking powder
½ teaspoon salt
zest of one lemon, grated
2 eggs
½ cup butter, melted, plus 1 tablespoon melted butter for brushing on to doughnuts before adding coconut flakes
2/3 cup sugar
1 cup cream or whole milk
1 cup blueberries, washed and drained
½ cup unsweetened shredded coconut flakes for sprinkling on doughnuts (Note: use the smallest size coconut flakes, or process coconut in the food processor so coconut pieces are very small.)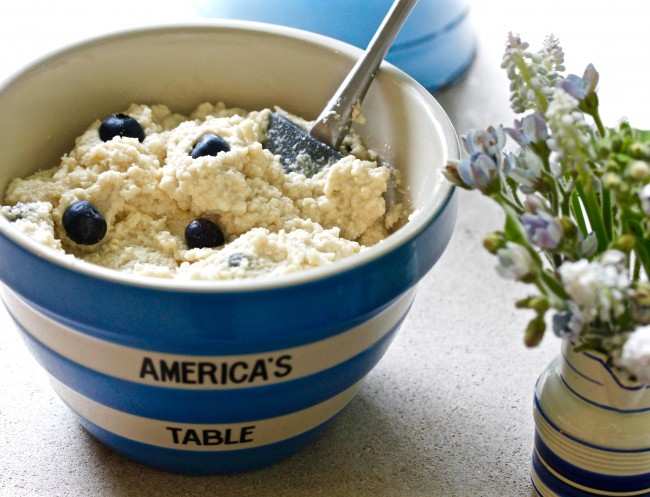 Directions
Preheat oven to 350 degrees.
Spray doughnut pan with cooking spray and set aside.
In a mixing bowl, blend flour, baking soda, baking powder, and salt. Add lemon zest.
In another bowl, beat eggs until well combined, add butter and sugar and whisk until incorporated.
Add milk or cream and mix in.
Add the blueberries and combine gently so blueberries aren't crushed and begin to stain the batter.
Spoon into doughnut pan and bake for twenty minutes.
Remove from pan as they cool and brush with melted butter, then sprinkle with coconut pieces – the butter will make the coconut stick to the doughnut.
Serve.