I can't believe how gorgeous this pasta is! It's so summery, with little striped bow ties and lengths of pasta that look like grosgrain ribbons nestled in a plate! The colors pop when you cook them, so there's no need for further embellishment. A simple meal like cacio e pepe – salt, pepper, cheeses, a little butter and the pasta of your choice, can become a stunning meal with these amazing pastas. Add a green salad, a chunk of crusty bread, and a glass of wine, and you've got a spectacular feast for the senses in less than 30 minutes.
I found the farfalline bianco rosso and the lingua di suocera at Via Umbria, an Italian food and kitchenware store in Georgetown, but you don't have to come to Washington to get it:
http://www.italianharvest.com/product/marella-pasta-puglia-organic-artisan/marella-pasta-pastificio-marella-organic
Some of these happy pastas – as I like to think of them – are also available at the local Whole Foods. I love everything about them – they're organic, they taste great, and they look like a rainbow – what a perfect summer supper, whether you serve it hot or cold. Mangia!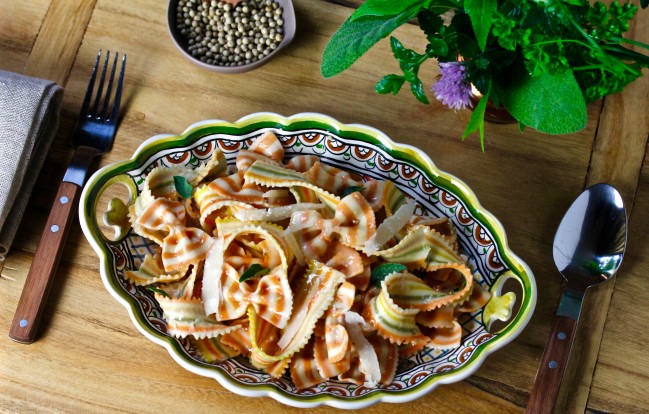 Cacio e Pepe
Serves: 4 for an entrée, 6 for a first course
Prep time: 25 minutes

Ingredients
12 ounces pasta of your choice (Note: if you're using more than one type of pasta, cook them separately, as the time required to cook pasta varies, based on the size of the pasta.)
1 teaspoon salt
4 tablespoons unsalted butter, cut into small pieces
¾ cup Parmesan cheese, finely grated
1/3 cup Pecorino cheese, finely grated
1 teaspoon fresh cracked pepper (I used white pepper, but you can use black just as well. I only used white because I thought the color looked better with the pasta.)
1 teaspoon fresh oregano, chopped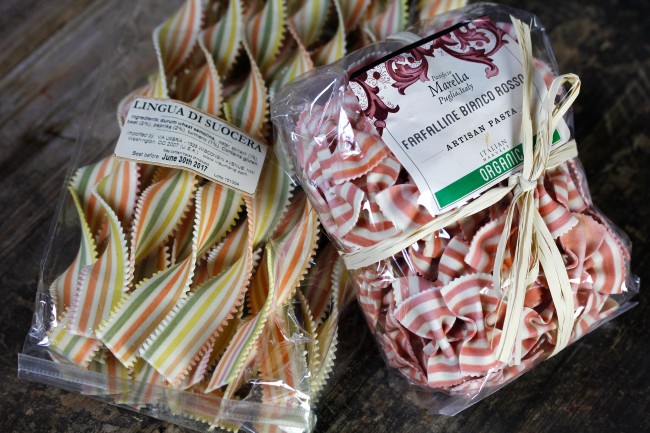 Directions
In a large pot, bring 4-5 quarts of water to a boil, add ½ teaspoon salt and the pasta.
Cook, stirring occasionally until pasta is almost al dente – just a minute or two before becoming tender.
Drain, and set aside 1 cup of the pasta water.
Melt 2 tablespoons butter in a heavy frying pan at medium heat.
Add pepper and ½ teaspoon salt and cook about one minute, until toasted.
Add ½ cup reserved pasta water to frying pan and simmer.
Add pasta and remaining butter.
Turn heat to low and add parmesan, stirring until melted.
Add oregano, then pecorino, and stir until cheese is fully melted.
Stir so that the sauce coats the pasta and cook for another minute until pasta becomes al dente.
Serve while hot.