We haven't had a Tex-Mex meal for a while, and it was starting to create a deep, dark hole in my psyche. There's something so joyous about Mexican food – the spices, the colors, the textures – where would we be without it?  The chocolate and cinnamon combination commonly found south of the border is the perfect marriage of two singular flavors, yet when they're combined, the whole becomes greater than the sum of the parts.  The cinnamon smooths out the bite of dark chocolate, and in this recipe, a graham cracker crust provides a not-too-sweet base for the chocolate-cinnamon cream.
One of my friends, Barb Henry, is keeping chickens now, and she brought me some of the biggest, most beautiful fresh eggs, which is what persuaded me to make a pie rather than another round of fish tacos. Really, is there anything more perfect or satisfying to photograph (or to eat) than an egg? And they're different, these fresh, organic eggs – they taste happy. If you haven't started buying free-range eggs, you may want to give it a try. They cost a bit more, but they really are better, and I like the idea of supporting our local organic egg farmers.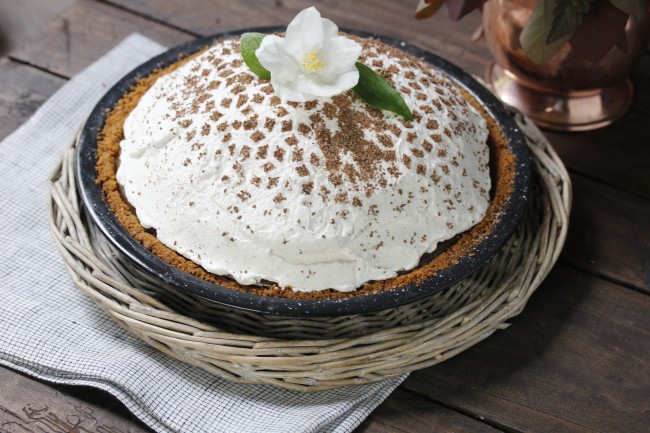 Tex-Mex Chocolate Cinnamon Cream Pie
Adapted from Gourmet magazine
Serves: 6
Prep time: 30 minutes, plus 3 hours for the pie to cool before adding whipped cream
For the crust:

Ingredients
1 ½ cups cinnamon graham crackers crumbs
6 tablespoons unsalted butter, melted
2 tablespoons sugar
¾ teaspoon salt
For the filling:
Ingredients
6 ounces bittersweet chocolate, no more than 60% cacao
2 tablespoons cornstarch
1/3 cup light brown sugar, packed
2 egg yolks
2 large whole eggs
2 cups of whole milk
½ cup heavy cream
1/8 teaspoon salt
½ stick unsalted butter, cut into pieces
1 teaspoon vanilla
For the whipped cream:
Ingredients
1 ½ cups chilled heavy cream
5 tablespoons powdered sugar
½ teaspoon cinnamon
For the chocolate curls:
Ingredients
One 3-4-inch thick chunk of bittersweet chocolate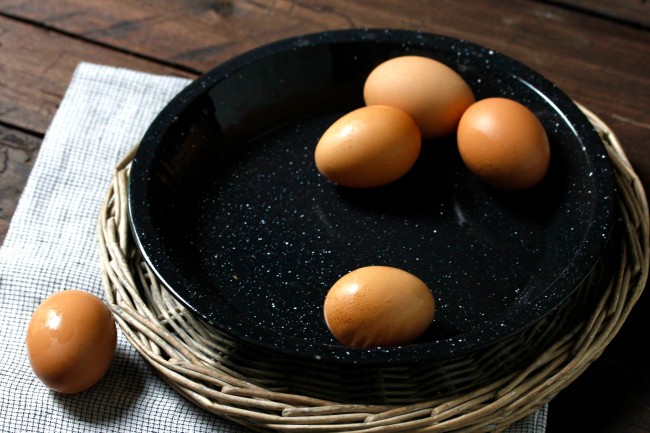 Directions
Preheat oven to 350 degrees, with the oven rack placed in the center of the oven.
Mix together melted butter, graham cracker crumbs, sugar, and salt and press into bottom and sides of a 9-inch pie plate.
Bake for 12-15 minutes, then allow crust to cool completely.
Melt chocolate in a large bowl in the microwave or over a double boiler on the stove.
Mix together cornstarch and 2 tablespoons of the brown sugar in a small bowl.
Whisk together whole eggs and yolks in a separate bowl, then whisk in cornstarch mixture.
In a heavy saucepan, stir together milk, cream, salt and the rest of the brown sugar, and bring to a boil at medium heat.
Pour half of milk into egg mixture, whisking, then pour egg mixture into remaining milk mixture.
Bring to a boil over medium heat, whisking constantly, then boil, whisking, for one minute.
Remove from heat and whisk in butter and vanilla. Strain through a sieve into melted chocolate and whisk to combine,
Pour hot filling into crust and chill for 3 hours, covering the surface with parchment paper to keep skin from forming on filling.
Whip heavy cream in a mixer, slowly adding sugar as it whips, and add cinnamon.
Whip until thick, fluffy peaks form, and spoon mixture on to top of pie (after removing parchment paper.)
Top whipped cream with chocolate curls.
Serve chilled.